The Night Arthur Godfrey Fired a Singer On Live Radio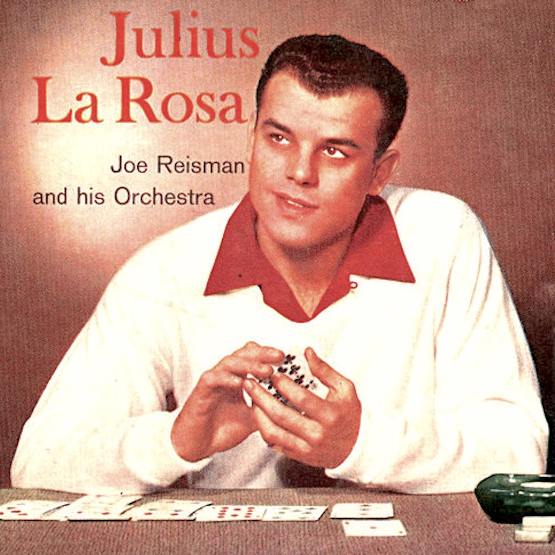 The last memory I have of Julius La Rosa was seeing him at the Italian Festival on Hertel Avenue about five or six years ago. He was about 70 years old then. He looked good and sounded great as he entertained the friendly crowd. Nowadays his singing engagements are limited mainly to Italian festivals and some nightclub gigs. In between his singing he gave a little monologue, and naturally the Arthur Godfrey thing came up. I was surprised to hear him say that he harbored no grudge or ill feelings towards Godfrey for the ruthless way he fired him live on the show all those many years ago.
La Rosa made his debut on Arthur Godfrey and His Friends November 19, 1951. He shared the limelight with the other "friends" including Frank Parker, Marianne Marlowe, Haelokie, Jeanette Davis, and the McGuire Sisters. Tony Marvin was the announcer, and Archie Bleyer was the orchestra leader. Bleyer would receive the same treatment as La Rosa met only a few years later. Although La Rosa would never reach the fame of a Frank Sinatra or Dean Martin, he was a very popular singing star in the early 1950s.
La Rosa was born in Brooklyn on January 2, 1930. La Rosa recalls those growing up days as wonderful. Even though times were tough and the neighborhood was a bit rough, he says he wouldn't have it any other way. You never had to lock your door or worry about getting mugged or be subjected to the more violent crime that is so prevalent today. He like many others grew up listening to Frank Sinatra. Frank was his idol. He also liked the big band leaders Tommy Dorsey and Glen Miller. "That was music," he would say. I tend to agree with him, considering what is forced down our eardrums these days.
After La Rosa finished high school he joined the Navy in the late 1940s. In his last nine months of service he had the opportunity to become the featured vocalist for the Navy Band in Washington D.C. It was here while performing that Godfrey first heard him sing. After the show Godfrey saw him backstage and said, "Young man, when you get out come and see me. You've got a job."
At this time Godfrey was a virtual superstar on CBS with three hit shows. Even before La Rosa left the Navy, Godfrey started promoting this new singing sensation he had discovered. When La Rosa joined the show he gave the appearance of being shy. La Rosa said, "I wasn't shy, I was scared to death." Considering he went from singing in the Navy to going on one of the most popular shows on the air, it was only natural to have a little stage fright. Anyhow the listeners loved him. After he was on the show for awhile he began moonlighting at clubs on weekends.
In 1952 Archie Bleyer formed Cadence Records and had La Rosa recording for him. La Rosa then hired a manager after his first hit record. This didn't go over too well with Sir Arthur, since none of Arthur's friends were allowed managers. La Rosa also refused (unlike all the other male stars on the show) to take dance lessons ordered by Godfrey. On top of this all, La Rosa had a thing for Dorothy McGuire. Godfrey himself also had a soft spot for McGuire. Finally on Oct. 19, 1953, La Rosa was canned right after singing "Manhattan." Godfrey called it La Rosa's "swan song."
Godfrey's reason for firing La Rosa was his lack of humility. For many years later, La Rosa contemplated what Godfrey meant by saying he lacked humility. Most of the press and all of the audience sided with La Rosa. Godfrey's popularity took a dip and he never regained the admiration he once held.
La Rosa had a few good years after he left Godfrey, including a number two hit record, "Eh Cumpari." Eventually things slowed down. Rock and roll evolved, and this was not in La Rosa's genre. He became a successful disc jockey in New York City and still sang occasionally. As I said before, he's still singing for ethnic groups and doing a little Vegas work. He lives in Westchester County. He is married with an older son and daughter.
One might wonder what sort of career could he have achieved if he would have remained on the Godfrey shows. One can only guess. Back in 1953 however, he was a somebody and he was also a contender.
Comments
Wish he would've sang, Del Monte, Del Monte. Where can I find this song?
Add a Comment
All comments are moderated before publication. These HTML tags are permitted: <p>, <b>, <i>, <a>, and <blockquote>.