Abbott and Costello's 1938 Radio Debut on the Kate Smith Hour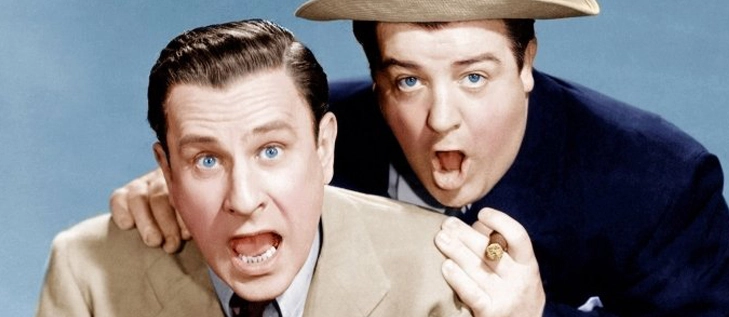 A year and a half ago a couple of comics stepped up to the microphone of the Kate Smith Hour for a 10-minute, one-appearance guest performance. No one -- with the possible exception of the comics themselves -- had any idea that their appearance was anything other than the simple guest performance it seemed, for their comedy was rowdy, hilarious, low-born, and to use their own words, "the hokiest of hokum."
Bud Abbott and Lou Costello are still making their weekly appearances with Kate Smith, and this season are answering wider demands upon their services by bringing their rowdy comedy to the New York stage in that hit show Streets of Paris, as well. Which may go to show that we haven't changed our entertainment tastes much since the custard-throwing days of Mack Sennett. More likely, however, it proves that these two rascals of low-born repartee were exactly right when they maintained that, in times of stress, people like to have a little comedy that isn't so subtle and modern that they have to strain their gray matter to catch the point. What these two lads deal out is comedy that slaps you in the face.
For example, look at these lines from a recent show:
Abbott: Costello, do you realize you've said hello to everybody on the program except Ted Collins. How did you come to miss him?

Costello: How did I come to miss him? He ducked! I'd have given him two black eyes if I hadn't been stopped.

Abbott: Who stopped you?

Costello: Ted Collins.
Or the time Abbott and Costello opened their dog nursery:
Abbott: What did you do with these newborn puppies?

Costello: I put them in the dog incubator.

Abbott: We don't have any dog incubator.

Costello: No? Then what's that can in the backyard marked "Deposit litter here'?
On another occasion this irrepressible pair went in for football, and to Bud's dismay Lou got mad and quit the team:
Costello: I'll take my football with me, too. You can use Ted Collins.

Abbott: Why should I use Mr. Collins for a football?

Costello: Because he's thick-skinned, tight-laced and a bag of wind!
But the prize gags of the duo always end with the now famous line:
Abbott: Suddenly the lion roars! He leaps for you! It takes the two of us to kill that lion!

Costello: You're wrong. It will only take one of us. I ain't going to be there.

Abbott: Isn't that something! I figure out a scheme to make some money. Am I selfish about it? No. Did I try to hunt lions alone? No. I'm willing to let you capture the lion and what thanks do I get? You want to run away.

Costello: I'm a bad boy!
The phrase has caught on. Kids repeat it in mock Costello tones, and school principals all over the country admit that Abbott and Costello, through their constant repetition of the line, have made children more "behavior-conscious." Public School 17 of Manhattan even decorated the pair with gold medals in recognition of their salutary effect on its pupils. But while the phrase is well known, it has not been repeated as much as listeners think. As a matter of record, the "I'm a bad boy" gag is used only once in each broadcast.
Comments
I still think their "Who's on First" is the funniest routine ever done. It got them an appointment to a place in Cooperstown MLB Hall of Fame. The only persons so inducted with no connection to baseball.
Add a Comment
All comments are moderated before publication. These HTML tags are permitted: <p>, <b>, <i>, <a>, and <blockquote>.