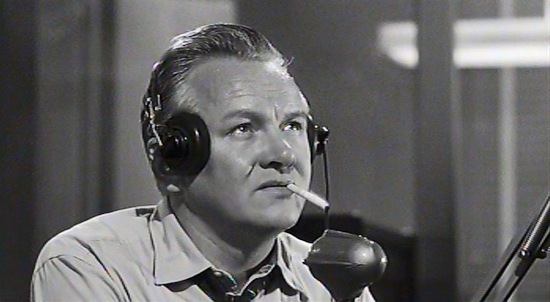 With the musical refrain of "I'll Take Manhattan," and the sound of impatient car horns in the background, another episode of Broadway is My Beat begins. New York police detective Danny Clover informs us that "Broadway is my beat. From Times Square to Columbus Circle -- the gaudiest, the most violent, the lonesomest mile in the world."
Homicide detective Clover, played by Larry Thor, narrates the introduction to each program's plot. In "The Thomas Hart Case," broadcast April 14, 1951, his calm, yet intense voice begins another episode, his narration blending smoothly into the action of the story.
"The day without color is only six hours old and the restlessness begins to eat at Broadway. The waiting, the longing for the night time begins to grow like hunger, like thirst, because Broadway's night is a banquet, loaded with delicacies. The scarlet wine of neon. The forbidden fruit of a trumpet's scream. The lukewarm stew offered on a tin plate through an alley doorway. But, Broadway's day -- that's the drab time, kid, the empty time. The time of leaning against sun-warmed stalls and waiting. And you wait for the rest of Broadway, because it'll come -- something will come. And it does. You know that, because Broadway nudges you with an elbow, winks and says 'follow me, kid.' The day has turned bright and it's not far away where the day is bright -- on 39th Street just off 7th Avenue in the garment center. The crowd is already there ahead of you, toothpicking its last bite of lunch, digesting the spectacle of a man sprawled on the pavement. There was a scissors in his back."
And so, with poetic metaphor, Clover is challenged with another crime, another mystery, another case to solve.
The show originally was broadcast from New York, February 27 to May 29, 1949. Actor Anthony Ross was the original Clover. In July 1949, the series moved to Hollywood. The title of each show was the name of that week's victim. The first Los Angeles launched episode, "Jimmy Dorn," began a seven-week summer season that ran from July 7 through August 25 of that year. The first full season program, "Mei Ling," was heard November 5, 1949. The final broadcast, "Floyd Decker," was aired August 1, 1954. In all, there were 194 episodes.
Anthony Ross continued to play Clover through June 23, 1950. Then, on July 3, 1950, when the show moved from Fridays to Mondays, Larry Thor became Clover. Before starring in Broadway is My Beat, Thor was the announcer for two other crime/adventure series: Rocky Jordan (1945-47) and The Green Lama (June to August 1949). Other case regulars on Broadway is My Beat were Charles Calvert as Sgt. Gino Tataglia (no other known credits) and Jack Kruschen as Sgt. Muggavan. Kruschen also had worked on many other shows, including Pete Kelly's Blues, Escape and Gunsmoke.
A "Who's Who" list of Hollywood radio actors had periodic supporting roles on Broadway is My Beat. Some of the better-known cast members included Hy Averback, Harry Bartell, Herb Butterfield, Mary Jane Croft, Lawrence Dobkin, Herb Ellis, Sam Edwards, Sheldon Leonard, Barney Phillips, Irene Tedrow, Anne Whitfield and Ben Wright. Most of these character actors also had performed on one or more of the following shows: Gunsmoke, Escape, Crime Classics, On Stage, Nightbeat, Pete Kelly's Blues and Yours Truly Johnny Dollar, to mention just a few.
Bill Anders did the announcing. He also had been the announcer on the short-lived (July to September 1951) Mr. Aladdin detective show starring Paul Frees, written by Dick Powell and directed by Elliot Lewis. The musical score for Broadway is My Beat was composed and conducted by Alexander Courage. He would later write the theme music for the original Star Trek television series.
Lewis, the show's producer and director, was a man of many talents. He had already established himself as a versatile radio actor, writer and producer. But Broadway is My Beat was his first directing effort. Lewis had an advantage as a director. He was born in Manhattan and had first-hand knowledge of the flavor, pulse and pace of the city. Some of his major acting credits include playing Frankie Remley on The Phil Harris and Alice Faye Show (1946-48), Archie on The Adventures of Nero Wolfe (1943-44), Captain Bart Friday on Adventures by Morse (1944-45 -- shared with David Ellis and Russell Thorson), and Gregory Hood on The Cast Book of Gregory Hood (1948).
In addition, he directed the CBS Radio Workshop and was creator-producer-director of Crime Classics. In his later years, Lewis wrote a series of detective novels and served as a script consultant on the Remington Steele television show. For Broadway is My Beat, Lewis used three sound men to recreate the sometimes noise sounds of the city. Simply stated, in his words, "Even the people in New York are noisy."
Morton Fine and David Friedkin wrote the finely honed and creative scripts for Broadway is My Beat. They also collaborated on scripts for Bold Venture, Crime Classics, The Front Page, The Lineup, Phillip Morris Playhouse, On Stage and Yours Truly, Johnny Dollar, among others. In addition, they were two of the producer-directors of Escape.
To say that Broadway is My Beat had the services of some very talented and creative people would lean towards understatement.
The CBS network press kit provides some insight into the main character of the series. "As a kid, Danny Clover sold papers and shined shoes along the Great White Way, and later pounded the beat as a policeman. He knows everything along Broadway, from panhandler to operatic prima donna, but he's still sentimental about the street -- forever a wonderland of glamour to him."
Now, back to the Thomas Hart Case. Having successfully brought the criminal to justice, Clover ends the show with the following reflections:
"In the April night, Broadway echoes with sounds heard only in darkness. The whispers that speckle places where there's no sun. There's a touch on your coat. You turn. There's no one. Nothing. Only the trail of dust on your shoulder. It's Broadway. The gaudiest, the most violent, the lonesomest mile in the world. Broadway. My beat!"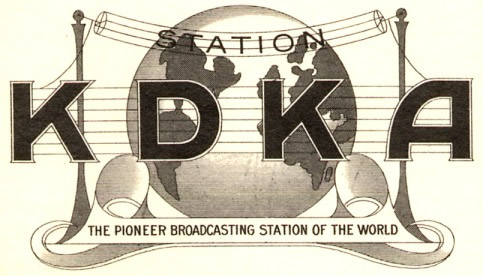 The National Broadcasting Company's Silver Jubilee celebration on November 15, 1951, brings to mind another, even earlier, November day when the world's first scheduled broadcast was heard over KDKA, Pittsburgh, pioneer radio station. Presentation of this inaugural broadcast on November 2, 1920, came about as the result of several strange and seemingly unrelated circumstances.
It all began in 1915 with a Westinghouse engineer, Frank Conrad. Westinghouse had been experimenting with the vacuum tube while working on government contracts. To settle a five-dollar bet on the accuracy of his twelve-dollar watch, Conrad built a small receiver to hear time signals from the Naval Observatory at Arlington, Virginia. Fascinated by his new hobby, Conrad turned next to construction of a transmitter, licensed as 8XK, which he installed above his garage in the rear of his home. It is from this station that KDKA stems and with it, radio broadcasting as it is today.
By 1919, messages from 8XK were heard in widely separated locations -- messages discussing the kind of equipment being used and results obtained. Bored by this routine, Conrad, on October 17, 1919, placed his microphone before a phonograph and substituted music for the voice. The music saved Conrad's voice, but more -- it delighted and amazed "hams" all over the country.
Conrad continued to broadcast music on a two-a-week schedule and by late summer 1920, interest had become so general that the Joseph Home Co., a Pittsburgh department store, ran an ad in the Pittsburgh Sun offering "Amateur Wireless Sets for sale -- $10.00 and up."
To H. P. Davis, Westinghouse vice president, who had been an ardent follower of the Conrad ventures, the ad was an inspiration. If this was a fair example of popular reaction to Conrad's broadcasts, the real radio industry lay in the manufacture of home receivers, he reasoned, and in supplying radio programs which would make people want to own such receivers. Davis set about winning other Westinghouse officials to the same view, and so persuasive were his arguments that a station was authorized and election night selected for the grand opening.
The broadcast originated in a tiny, makeshift shack atop one of the Westinghouse buildings in East Pittsburgh. There was no studio. A single room accommodated transmitting equipment, turntable for records; and the first broadcast staff handled telephone lines to the Pittsburgh Post where arrangements had been made to secure election returns by telephone.
Broadcasting began at 8 o'clock election night and continued until noon of the following day, even though James Cox, hours earlier, had conceded the election to Warren Harding. Throughout the night, while the usual crowds stood in a driving rain before outdoor bulletin boards to see returns, a fortunate few, early-morning fans, equipped with crystal sets and earphones, were hearing the same returns in the comfort of their homes. In addition, between returns and occasional music, they heard this request over and over again: "Will anyone hearing this broadcast communicate with us, as we are anxious to know how far the broadcast is reaching and how it is being received." So KDKA was born.
Much of the early history of KDKA is actually the early history of radio. Many of its notable "firsts" are "firsts" of the industry as well. And these KDKA "firsts" have put the station in history books.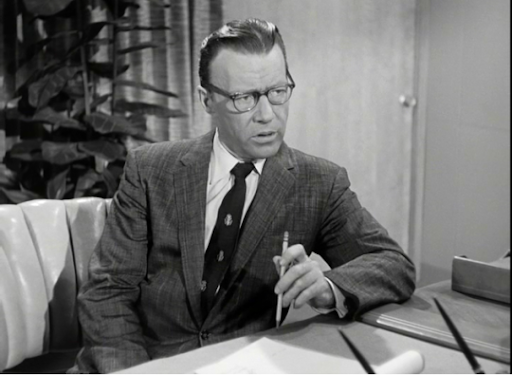 My former agent just forwarded to me the letter you wrote inquiring as to my present whereabouts. As this letter will attest, I'm alive and well, continuing to ply my craft in southern California.
You must have a great ear for voices to have remembered mine over a span of some 25 years.
Since the demise of Straight Arrow I continued to work in television, theatrical movies and radio, until drama disappeared from the audio waves. Recently, during a brief resurgence of the radio art, I worked many of the Sears and Mutual Radio Theater shows.
Frank Bingman, the announcer on Straight Arrow, is retired, living on his hilly 60-acre ranch above the Mojave Desert in L.A. County. I see him occasionally.
Fred Howard, "Packy," I have lost track of and fear he may have shuffled off this mortal coil. He had retired several years ago in an area near Oceanside. That's between L.A. and San Diego.
Gwen Delano, "Mesquite Molly," died just a few years after the series ended.
The original director of the show retired several years ago as vice president of the ad agency that produced the show for Nabisco. You may have read something of him in recent months -- Neil Reagan, older brother of the current president of the United States.
I have had the pleasure of working several radio shows with Ronald, and found him to be an intelligent, hard-working, pleasant individual.
That should bring you up to date on the status of the regular crew from the old Straight Arrow show, plus a bonus sidebar on our First Family.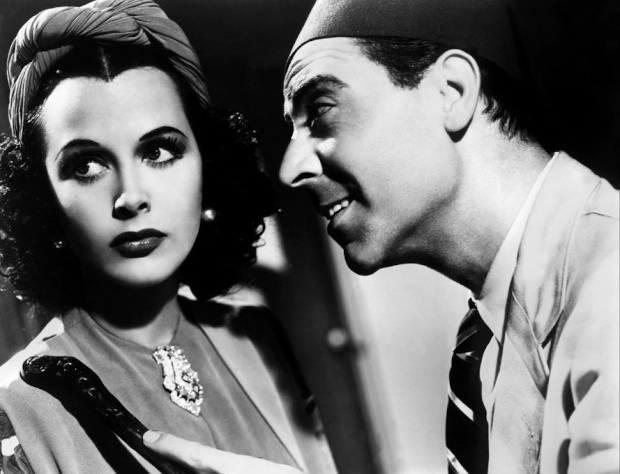 Since Metro-Goldwyn-Mayer's picture Come Live With Me with Jimmy Stewart, little has been heard from Hedy Lamarr, one of Hollywood's most glamorous ladies who broke into screen fame with her rather unclad part in Ecstasy, a European picture. It was therefore with interest that the editors of Movie-Radio Guide observed that Hedy (she likes it pronounced Hay'-dee) was booked by the DeMille Radio Theater to co-star with Charles Boyer in a radio adaptation of their Algiers.
This was news from two points -- first, because it was the final performance of the season for the Radio Theater, and second, because it was Lamarr's very first radio broadcast.
A third point of interest was the rumor that the Viennese ex-stenographer had been feuding with her home studio and was on suspension. At radio rehearsal she was interviewed.
"Have you been off pay or on suspension?" she was asked. "I haven't missed a single week getting my paycheck," she replied. "Here, do you want to see it?" I did, naturally enough, but being a gentleman said no and let it pass. But I did observe in talking to her that she obviously was under a great tension just before the broadcast. Who wouldn't be -- breaking into radio in a program with 25 million listeners throughout the country waiting to say, "she's awful!"
It developed during our chat that Lamarr has been on a three-month vacation following Come Live With Me.
The glamorous brunette was clad in a black chiffon floor-length dress, and was wearing black wedgie sandals over bare feet, with her toenails enameled a cherry red. She was plenty nervous about that first broadcast, too, but was calmed considerably by Cecil B. DeMille, producer of the program, who succeeded in making her laugh just before the "on the air" sign flashed, and also the ever calm Charles Boyer.
We listened to her Algiers. She'd lost much of her accent, and her radio version was not quite as sure as her screen Algiers. We checked with our better half for her opinion. She said: "Hedy sounded just like Joan Bennett." That was a compliment, because La Bennett is an accomplished sure-fire radio performer.
Gene Markey would have agreed. He was married to both actresses in turn.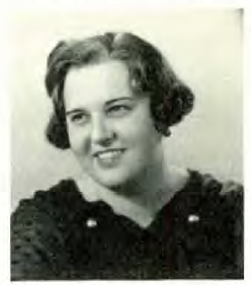 Hymns have always been joyous and inspirational music to Amanda Snow, NBC's newest singing personality. Perhaps that is why she is now a radio star.
To begin with, Snow sang in the Rockford, Illinois, Mission Tabernacle and its Bethesda Church. She later sang in the First Swedish Baptist Church of Minneapolis before coming to New York. And when she finally came to the Big City, she didn't forget her hymns.
When Snow came to New York for an audition, she was reluctant to offer hymns as a sample of what she had to offer a large audience, After all, she concluded that perhaps hymns and homey patter were all right for listeners back in Minneapolis. But maybe this audience was different. What would their reaction be?
Accordingly Snow devoted the first part of her audition to semi-classical selections. But it was the second half in which she sang her beloved hymns and spoke in her cheery voice, that really impressed the auditioning executives. The result found her with a six-times weekly program over a large network of stations.
Strangely enough, though, the "voice in the old village choir" began her commercial singing career in, of all places -- a nightclub.
Snow was residing in Minneapolis at the time, and although she sang soprano for the church congregation, she had no idea of becoming a singer, Her sister, Miriam, was the "voice" of the family. Miriam was a professional singer in a Minneapolis nightclub, while Snow was the "home girl" of the family. One night Miriam could not fulfill her engagement and pleaded with Amanda to take her place,
Amanda Snow agreed only because a singer was absolutely necessary to satisfy the club's patrons. When the manager asked her what type of songs were her specialty, you can just picture the expression on his face when Snow told him in one word. Simply "hymns."
Under the doubtful eye of the manager, Snow came out on the night club floor, and instead of singing torchy numbers amazed the gathering with several beautiful hymns. To her surprise-and the manager's, she received encore after encore and as a result was offered a professional contract on the spot. She accepted on condition that she be allowed to choose the numbers she would sing. And while sister Miriam sang hot, torchy numbers, Amanda stuck to her hymns.
When she was offered a chance to sing on station WTCN in Minneapolis, she left the employ of the nightclub and remained with the station for some time. Here, she had an opportunity to sing all the hymns she pleased and had ample time to take vocal lessons and increase her repertoire. Then she came on to New York and auditioned successfully.
Snow weighs 287 pounds but she doesn't care who knows it. In fact, she tells people she weighs 300 pounds. "After all," she says, "I have a round figure so I might as well make it a round number."
She doesn't resent anyone kidding her about her weight but when it is carried too far she's ready with fitting reply. There was the time a particularly persistent heckler asked her where she came from and she good-naturedly replied "Minneapolis." The would-be smart guy smirkingly inquired if they had enough room for her there. "Don't forget," squelched the alertful Snow, "Minneapolis is called the Twin City."
Snow intends to adhere to the homey type of program featuring the old-fashioned favorites, hymns and her cheery patter. Religion she believes, should be given more emphasis through radio.
"Perhaps the public is realizing," says Snow, "that religion, of which trust and faith are the forerunners, does bring happiness. All music should be sung joyfully-and religious music most of all. People are undoubtedly also realizing that hymns can be gay and joyful too, In radio generally the mood is being felt in the increasing popularity of religious programs and singers. The Hymn Singer, Ed McHugh, the Gospel Singer, The Hymns of All Churches program and Smilin' Ed McConnell are all programs having a large audience.
"If your heart is happy and you are sincere, then you can sing hymns with meaning, Proof of this is found in the many letters I receive from persons who say the old songs about the simple virtues make them happy. That is exactly what real religion should do for everyone."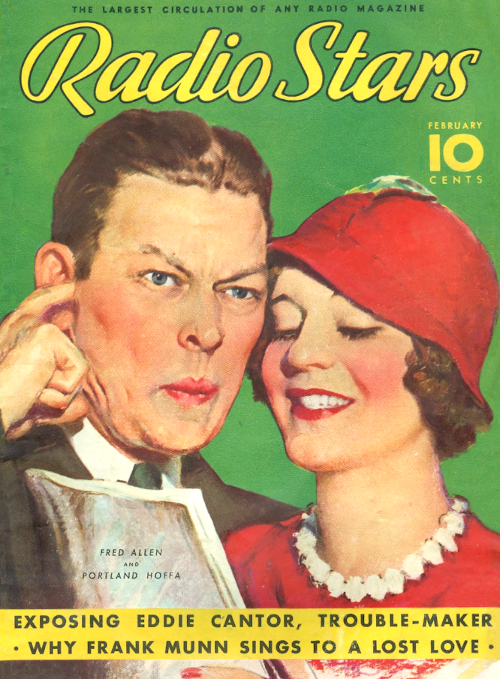 The day of which I write was approximately five years ago. It was behind the scenes of The Passing Show, a fleshy, flashy piece of rhinestone entertainment on pre-Depression Broadway. It was one of those days on which stars have headaches, hoofers get runs in their stockings, and comedians look as full of joie de vivre as Egyptian mummies.
It was a day on which a tall young man called Fred Allen, despondently leaning against a backdrop, considered that life was pretty dull. Life -- what was it but a bunch of old gags to make over, let down the hems, and pin onto new political problems. And the dear public? What was the dear public but a bunch of people who sometimes laughed at gags but usually didn't. In short Allen was feeling what is colloquially known as "lousy." Very.
Now, in case you haven't recognized the principal of this merry piece, the Fred Allen already mentioned is the self same zany who cavorts Sunday-nightly in your loudspeakers for Linit and the Bath Club. And the hoofer who -- in my story -- is about to enter Monsieur Allen's life is none other than the dumb-cluckish young thing named Portland on the same program who claims residence in Schenectady and asks first primer questions with the guilelessness of Lorelei Lee.
This hoofer in The Passing Show had a run in her stocking, probably, but it didn't get her down. She had the sort of face, Allen noticed covertly, that never quite lost hope. Turned up nose, you know; amused blue eyes that held a quiet merriment. Though dressed like innumerable other hoofers, she shone as distinctively as the night's first star, as far as Allen was concerned.
Some newspaperman who knew her had written this line: "Portland Hoffa was a hoofer, and she held herself aloofer." That is to say, she didn't chew gum like cud-punishing bossy, say "gawd," or wear orchids every payday. To Allen, she was a miracle, for she yanked him straight out of his private chasm of despair and changed his opinion of the Younger Generation.
Twirling his false mustache, our boy friend decided to find out more about her. "Such a cute girl ought to get out before it gets her."
So what did Allen do about it? He married her and made her a stooge. His stooge. He made a hoofer into a stooge -- and what happened? But wait. Maybe you don't know what a hoofer is. Well, suh, the sons and daughters of vaudeville call all dancers "hoofers." And a stooge? That's the guy planted in the audience to heckle the comedian on stage. Sometimes he has a seat in the first row downstairs. Usually, he is in a box. Or he may be on the stage. No matter where he makes his headquarters, he "feeds" the dumb, oaf-like queries that give the comedian his chance to spring his laugh line. That's your stooge. Understand?
Hoffa became a stooge, but before she surrendered, believe you me, it took a deal of crafty Allen strategy.
That first day approximately five years ago when an uninvited impulse prodded Allen to learn more about the girl, he employed the method of his grease-painted profession. He wisecracked, he did. And lo! the first faint fires of romance were lighted.
"I'm a doctor's daughter," Hoffa advised him. "My father named me after the city where I was born. Out in Oregon, you know."
"I know," said Allen. ''You ought to be glad you weren't born in Terre Haute or Gila Bend or Hastings-on-the- Hudson."
"One of my sisters was called Lebanon and another Last One," said Hoffa.
"Good gracious."
"Dad thought she'd be the last one," Hoffa continued serenely, "but she wasn't. So he changed her name to Next-to-Last."
So they fell to talking. He told her he'd like to be a novelist, but he kept catching himself laughing up his sleeve and that didn't incubate the heart throbs demanded in literature. Said he wrote and sold vaudeville skits because it was more profitable to sell them than to have them stolen. Said that he'd been born in Cambridge, Massachusetts, and started through life as a children's librarian. With that background, he had dared hit the trail in vaudeville, first as a bum juggler, then cashing in on his dry humor in mill towns through New England. He told her he hated dryads, farthingales, wimples, whifflletrees, pogo sticks, arch supporters, duennas, and house deteckatifs.
You can see how well they were getting on. Clicked from the beginning. Before Hoffa could put on the brakes, she got a look behind the comedian's eyes and saw that he was lonely and disillusioned and weary of looking at life through rose-colored footlights. But whether he was trying to be funny with her, or something, she couldn't quite decide. She thought not.
He and Hoffa got to meeting each other. Apparently just coincidentally. And Hoffa found out that even funny guys that looked like judges, could be awfully romantic. And Allen found out that little hoofers, even in the midst of a harum-scarum existence, and without benefit of a throne room, could be as queenly as anything. So presently Allen married the girl, and that huge, ingratiating bunch of solemnity and wit became "my husband" to Hoffa.
Allen hadn't thought of getting himself encumbered. But with the destinies of two to consider, he thought it out pretty deliberately. There was nothing left to do but to break her in as a stooge. He broke her in. That was at Lake Nipmuc, Massachusetts. The first time, she was cold and clammy with fright. He had to hold her hand, pat her on the shoulder, and promise to buy her a soda afterwards if she was a good girl and went through with it without any more jitters. Just when it was time to go on, the manager came backstage and said that there wasn't enough of an audience to bother.
It was better after that. He had a way of welcoming her on the stage. He said, "Anybody who looks at me now is crazy." She liked that. And the first thing anybody knew, she was the stooge supreme, piping out the right silly questions as if absolutely devoid of any sense.
Three years at that. Stooging up and down the back roads of vaudeville circuits. Working their way to the front. And finally getting a job on Broadway. It was a show called Polly, and Hoffa was so weary of acting the goof that she stayed home and read books while actor Allen went out and sang for his supper. And how Allen missed her. He begged her to come back. So she bravely took up the yoke of her stoogedom in the memorable First Little Show and Thee's a Crowd.
In the Little Show, Hoffa wore a pair of shorts and a satin blouse. One night she heard gales of laughter. She got quite cocky over the way she was getting the laughs. In fact, she was planning to call Allen's attention to it later in the dressing room. As she was about to jump into her dance routine, husband Allen placed firm hands about her waist and walked her off. Not until then did she discover that her velvet tights had split, and a white silk inner lining that looked like something else had stimulated all the laughter.
Working night after night on Broadway soon exhausted both of them. They decided to Get Away From It All. They decided to go to Europe, to the gaiety of gay Paree. They went. Somehow, it wasn't what they expected. Within a fortnight, they were back in the U.S.A., basking on the sun-drenched sands of Atlantic City. Home-folks, those Aliens. From that day on, they bought American.
In 1932, Allen brought his dry conclusive voice to radio. Hoffa, too. And suddenly life became for her a matter of being quiet while her husband worked. The old bugaboo of New Material stared them in the face, and threatened to separate them. Resignedly, Allen retired to his office and began to dictate to Hoffa's younger sister. With him, gags are a science, and he revamps such wheezes as used to give Caesar hysterics, and applies them to modem conditions. While he writes programs and magazine stories, Hoffa keeps quiet and works jigsaw puzzles. Sunday nights, she speaks her pretty piece, mentions Schenectady again, and heckles ol' Mister Allen. Allen's used to it by this time. No matter how it sounds, it's all put on. It's all just a gag. A gag of five years' standing. Actually, they're closer than this, and the love that brought them together and helped to conquer Broadway is still the talk of the Big Town's radio row.
And that is my little tale's happy ending. It's the only kind of ending possible. when the girl is a goil like Portland and the guy is a feller like Fred.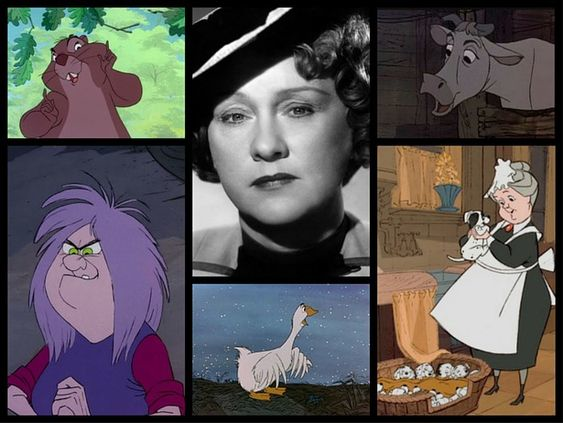 A salute to the unsung heroes of radio: the men and women whose voices were much more famous than their names. Those who specialized in dialects and impersonating children, ancients and even animals! Radio was a most magical medium -- one could never really be sure to whom any particular voice belonged. The crying baby was usually some shapely young actress, the little boy just might be some plump matron, and in real life the animals were always human, of course, and could be in either male or female form. Sometimes these funny female voices we heard really came from male bodies.
Let's begin with the baby voices. Pretty 20-year-old Shirley Bell Cox was one of the first actresses to specialize in child voices on the air. A native of West Virginia, she had once worked at an orphanage where she listened carefully to the wailing waifs and then duplicated the sounds. She supplied the crying baby voice on the early series Raising Junior.
Madeline Lee was born in Dallas, Texas, one October 28; the petite 5-foot-2 Lee began in radio playing a baby role. She did voices for both girls and boys. During 1930-32 her versatile voice was heard in various roles on The Cuckoo Hour with Raymond Knight. On the Henry Morgan Show she was heard in roles such as Mrs. Beethoven and Gerdrood. On November 23, 1937, she began a role for which she is best remembered: the sultry sounding Miss Genevieve Blue, secretary to Amos 'n Andy. Later she was heard as baby Wendy on The Second Mrs. Burton. In real life she is married to comedian Jack Gilford.
Madeleine Pierce was another radio crybaby who impersonated children of varying ages, such as the nine-month-old son of Front Page Farrell and the four-year-old granddaughter of Stella Dallas.
Dolores Gillen utilized her baby voice for both of the howling twins on Abbie's Irish Rose and Pepper Young's Family. She was also young Sammy Davis on When a Girl Marries.
Sara E. Fussell was yet another actress who made child's work out of children's roles. Her specialty was doing little boy voices. She played young Herbie Pettingill on the Snow Village Sketches. She was also featured on I Love a Mystery, The Right to Happiness and made appearances on The Goldbergs. She was heard as the voice of young Wiki on Just Plain Bill. She was also featured on such radio fare as The March of Time and Cavalcade of America. She retired in the late '50s and went to live at Friends Hall in West Chester, Pennsylvania, where she died at the age of 61 in April 1978.
The role of Baby Snooks' little brother, Robespierre, was assigned to Leone Ledoux. She was als heard as Baby Dumpling on the Blondie show. On One Man's Family, Ledoux was kept quite busy supplying the voices for all three of the triplets -- Abigail, Deborah and Constance -- as well as the Barbours' first great-grandchild, Paul John Farnsworth.
Other actresses who specialized in children's voices were Wilda Hinkle, Zel DeCyr and, of course, Ireene Wicker, radio's beloved singing lady who was equally adept at playing old men.
An actor known as Captain James Rosen was a 44-year-old little person weighing 63 pounds and standing 3-foot-8 who frequently played child roles on the air. He had a 15-week run on the Bobby Benson Show. Born in Siberia, he came to the U.S. at the age of six months. He was a graduate of the University of Minnesota. He represented many fellow small performers as an agent.
Tommy Riggs was a ventriloquist of sorts, although he never used a dummy as part of his act. On the air he supplied the voice for his imaginary impish seven-year-old niece Betty Lou. Born in Pittsburgh, Pennsylvania, on October 26, 1909, he entered radio in 1928. Riggs once had his dual voice examined at the Cornell Medical College in New York City, where doctors explained that his dual voices were due to the unusual size and strength of his throat muscles. In later years Riggs had his own television show in Alabama, and then returned to his native Pittsburgh, where he was a disc jockey on station WCAE. He died at the age of 57 on May 21, 1967.
Actress Cecil Roy was known as the "Gal with 1,000 Voices" and was also called the "Cradle-to-Grave Lady" as she could imitate anyone with vocal chords. On one daily broadcast, she played 17 different roles -- including that of a dog! On Amanda of Honeymoon Hill she was heard as an old corncob-pipe smoking philosopher of the hills, Aunt Mazie.
Back in 1936 Elsie Mae Gordon was being billed as the "Girl of 100 Voices;" she was an imitator of most any animal sound -- cricket or cat, dog or frog. In 1944 she portrayed many roles on the Deadline Dramas program.
Martha Wentworth was known as the "female Lon Chaney of the Air." A master of vocal disguises, she was heard in hundreds of roles -- one of which was the grizzly old panhandler who constantly mooched cigarettes from Red Skelton on his program. An expert at 37 dialects, Wentworth was heard as Joe Penner's mother on his comedy series, and for a time was Old Nancy on The Witch's Tale. On the highly popular 1937 syndicated series The Cinnamon Bear, she was heard as the Wintergreen Witch. She was also active in films.
Harriette Widmer was born in Mississippi in 1893; she entered radio in 1930 playing in a sketch she wrote herself. Very active in radio in the '30s and early '40s, she was heard frequently on Grand Hotel and The First Nighter programs. Specializing in southern dialects, she was heard on The Sinclair Minstrels Show in 1936, and in 1936 played Madame Queen for Amos 'n Andy. During 1937-38 she was heard as Aunt Jemima in The Cabin at the Crossroads program for Quaker Oats. Also, she was featured on The Carters of Elm Street. In 1942 she was heard as Peggy, the elevator operator, on Lonely Women.