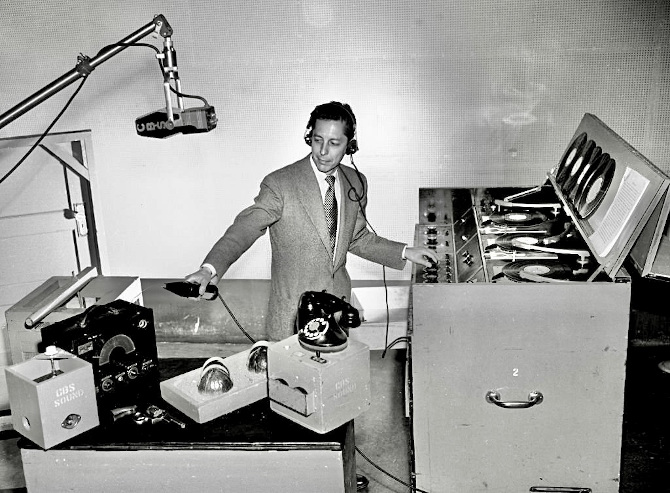 When the script for CBS' Escape called for the sound of a horde of rats attacking a lighthouse, squealing, clawing at the windows, gnawing through a trap door and boarding a ship, it would seem almost enough to stump even a veteran radio soundperson. Escape's two veteran radio technicians, Bill Gould and Cliff Thorsness, admit that creating this effect was certainly about their toughest challenge. Their work on it deserves a Distinguished Achievement Award.
"It was a tough show to work out the sound on," the technicians acknowledged when we cornered them for a behind-the-scenes discussion, "because none of the effects called for were straight, legitimate ones. They couldn't be found in any sound library -- and CBS had the finest. We had sound recordings of individual rats, but none of them in quantity or doing the things this script called for them to be doing. So we had to start strictly from scratch."
Working under the supervision of Al Span, head of the CBS sound department, Thorsness and Gould set about manufacturing the realistic noises of a rat attack.
Three full days of preparation were required, including one day of special recording. To create the noise of rats in great quantity, the sound technicians combined recordings of mice, birds, pigs and monkeys, playing them back at diverse RPM speeds. They recorded for four solid hours, employing 10 turntables.
To create the sound of rats clawing at the windows, a big round stiff brush (off the janitor's giant sweeping broom) was hit upon as the most effective prop. The noise of the brush being swept across actual glass, amplified through a contact mic (the "throat mic" such as was used by Army pilots during the war) produced the desired effect.
For the sound of the rats gnawing through a wooden trap door, berry boxes were crunched, not as customarily in the hand, but in the technicians' mouths, because the actual noise made by the contact of wood against teeth made the difference between an unconvincing sound and a startlingly real one.
For the sound of the rats' teeth working on the metal parts of the trap door, tin cans were used and again a contact mic was employed.
The technicians reported that one of the most difficult effects to create for the show was the noise of the rats as they cling to the revolving beacon atop the lighthouse. For this, the volume of the rats' squealing was increased, then faded out, to produce the realism of their closeness as they were swung towards the hearer.
Another of the more difficult effects, according to the two technicians, came about when the script had one of the rats breaking away from the park, calling for the noise of a single rat to be heard effectively against the combined squealings and clawings of the horde.
The final difficult effect called for was the sound of the rodents vacating the lighthouse to scamper aboard a boat.
An additional reason the show was particularly challenging, the two sound effects people declared, was the fact that Escape's producer William N. Robson is a strong perfectionist. "An effect might sound very satisfactory," they clarified, "but with Robson, it had to sound really real."
"We were pleased," they admitted, "when Harry Bartell, one of the actors, told us we'd made the rats real enough to smell them."
Billy Gould laughed. "They became real enough to me -- I actually found myself not able to eat."
Escape's rats, however, weren't the first eerie effect which Gould and Thorsness have been called upon to produce.
"Remember," smiled Billy, ready to spoil his appetite again, "Arch Oboler's man-eating spider on Lights Out?"
"And," supplied Cliff, with a weak grin, "the attack of the ands on Escape's broadcast of Leiningen vs. the Ants!"
Thorsness also recalled working on the Norman Corwin production which starred sound entitled The Anatomy of Sound.
"That one wasn't easy," he remembered. "It was a narration built around all the ordinary sounds one hears throughout a day. It was a problem of producing simple sounds in a natural way yet making the listener very aware of them."
In addition to Escape, Thorsness works sound on other drama shows as Family Hour and Philip Marlowe, and has created effects in the past for Norman Corwin, Orson Welles, Man Called X, Big Town, Hollywood Star Time and Blondie.
Gould is soundperson on Escape, Johnny Dollar, the Joan Davis show and Our Miss Brooks, and previously worked Suspense, The Whistler, Fletcher Markel's Ford Theater, the Jack Kirkwood series, and the Jimmy Durante program.
Both Gould and Thorsness have been with the CBS sound department for more than 10 years.
Prior to this, Thorsness have manager of LA's downtown Orpheum Theater, and Gould was show-business veteran, having worked in vaudeville and tent shows since the age of seven.
Gould's goal is to produce and direct variety shows for television. Thorsness aspires to the production end of radio dramatic productions.
As a perfect tag for this story dealing with their creation of realistic radio rats, Thorsness made a confession.
"I can't stand mice. When it comes to taking a mouse out of a trap, I make my wife do it."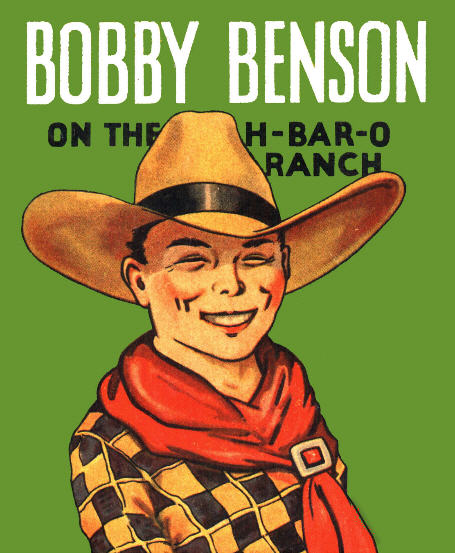 Bobby Benson was one of those rare network shows that had two distinct radio series, with over a decade separating both runs. The original show was aired on CBS from 1932 to 1936. Thirteen years after its demise, it was resurrected with a new cast on Mutual in 1949 and it continued on the air until 1955.
Despite the fact that both versions were of relatively short tenure, and were aimed almost exclusively at a juvenile audience, the Bobby Benson show did accomplish at least two significant things. It permanently forged the personality of the leader of the Dead End Kids and it launched the career of a comedian who eventually won five Emmy Awards on network television.
Herbert C. Rice gets the credit for creating the Bobby Benson show. The premise of this kids' adventure program was that a young boy inherited a ranch in the Big Bend country of Texas, near the banks of the Rio Grande River. Aided by his foreman Texas Mason (originally named Buck Mason) and a bunch of other adult cowpokes, including Waco, Harka and Irish, this young lad rode the range to adventure and mystery on a white horse named Silver Spot.
The 1930s show was sponsored by the Hecker H-O Company, the makers of H-O Oats, Hecker's Cream Farina, Presto Cake Flour and other grain products. In deference to the sponsor, Bobby's cattle spread was called the H-Bar-O Ranch.
I haven't determined how many youngsters were the radio voice of the Cowboy Kid in the 1930s version, but the principal one was Billy Halop, who was about 12 years old at that time. His sister Florence was also in the cast and she played Polly Armstead, Bobby's companion. Both of the Halops had started early in New York City radio; Billy was on Skippy, The March of Time, The Children's Hour and Lady Next Door.
Billy Halop was given star treatment as Bobby Benson; his photo was prominent in several radio premiums and he toured the U.S. in W.T. Johnson's Circus Rodeo as a feature act. It was heady stuff for the young radio actor and Halop never got over it, despite his later success on Broadway and in Hollywood.
In the fall of 1935 Billy left the Bobby Benson show to join rehearsals of Sidney Kingsley's new play Dead End, which opened on Broadway at the Belasco Theater on October 29, 1935. Halop, then 16, portrayed the leader of a gang of street urchins, some of whom were played by other young radio actors. Henry Hall, using his childhood nickname of Huntz as his stage name, was the same age as Halp and had been in many a series: Coast to Coast on a Bus, Home Sweet Home, The Rich Kid and Life of Jimmy Braddock. Bobby Jordan, youngest of the gang at 13, was also on several radio programs, including Peter Bachelor.
Rounding out the Dead End Kids in the play were Sidney Lumet, Gabe Dell (who was born Gabriel Del Vecchio), Charles Duncan, Bernard Punsley and the Gorcey brothers, Leo and David. Dell, Duncan and Punsley had some stage experience but none on radio. The two Gorceys had no acting experience at all, but their father, diminutive Bernard Gorcey, had been a lead in Broadway's long running Abie's Irish Rose and also played radio's Popeye. Billy's sister Florence was not cast in Dead End but Gabe Dell's sister Ethel was.
Dead End did not open to critical acclaim, but it slowly built its popularity and eventually ran for 687 performances, a fine record for those days. For comparison, the original Broadway runs of Our Town and The Little Foxes totaled less than 300 and 400 performances, respectively.
Duncan, who had the secondary lead in the gang, quit the show in the summer of 1936 to take a major role in another drama called Bright Honor. Leo Gorcey, his understudy, took over the role. Bright Honr was anything but; it closed after 17 performances and Duncan disappeared with it.
By that time Warner Brothers had bought the movie rights to Dead End and all the major kids in the cast (minus Duncan and Lumet) headed for Hollywood. The wise-cracking hoodlums made about half-a-dozen successful films for Warners, supporting leads like Humphrey Bogart, Jimmy Cagney, Pat O'Brien and Ronald Reagan. Eventually, minus Halop, the boys went on to make nearly a hundred movies as the Dead End Kids, the East Side Kids and the Bowery Boys.
In August 1974 I interviewed Huntz Hall in St. Louis where he was making a stage appearance on the Goldenrod Showboat, a riverboat theater. Speaking of his Dead End Kids days in New York and Hollywood, Hall said, "It's sad, but Billy never got along with us and we never got along with him. He just never got over being Bobby Benson. He had to be the star and insisted on making more money than the rest of us. It just wasn't fair. Between movie scenes at Warners, Billy would be arguing for more money in his contract while the rest of us kids were playing on a mock-up pirate ship on the back lot."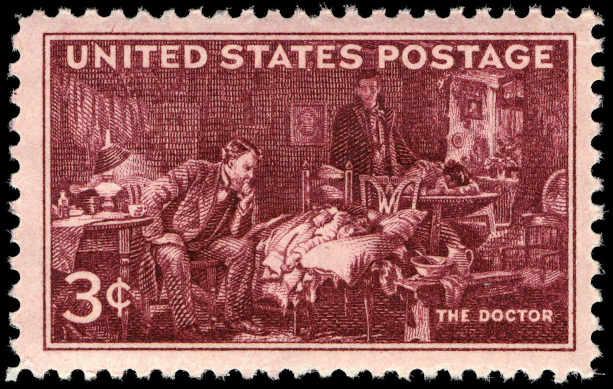 They laughed when the after dinner speaker, talking about the shows and ratings, referred to Lederle Laboratories' The Doctors Talk It Over. When the snickers died down, an advertising agency executive remarked, "The program must have something. It's in its third year on the air and the American Cyanamid Company (Lederle's parent company) doesn't throw away a quarter of a million dollars a year for anything, not even a broadcast program."
Lederle spends more on its air program than the entire advertising budget of all the rest of Cyanamid's units. It spends it to reach a tiny segment of the dialing audience, the medical profession. It has nothing to sell the public. It sells only ethical pharmaceuticals and biologicals, products used by hospitals and dispensed by druggists upon doctors' prescriptions. It sells nothing on the air, the program having none of the aspects of commercialization expected on a sponsored program. Sole identification of the billpayer is the opening, which states:
Lederle Laboratories, Incorporated, a unit of American Cyanamid Company and manufacturers of pharmaceutical and biological products, present transcribed: The Doctors Talk It Over.
That's all that directly or indirectly ties into the business of the sponsor until the signoff, when once again the announcer states:
The Doctors Talk It Over has been a transcribed presentation of Lederle Laboratories, Incorporated, a unit of American Cyanamid Company, and manufacturers of pharmaceutical and biological products.
There is generally also an offer of a free copy of the talk to professional listeners "by writing to Lederle Laboratories, 30 Rockefeller Plaza, New York 20, New York."
Just three mentions of the corporate title, that's all, weekly at 10 to 10:15 p.m. EST for well over $300,000 a year.
The program rating is usually between 1 and 2 (March 2 broadcast reached a 2.2), ranking, report after report, at the bottom of all sponsored shows on the air.
Lederle wants to reach just one audience -- MDs. Its rating is so low that there are no audience composition figures available from normal rating sources, nor are these same sources able to produce sponsor identification figures. That necessitated a special study, for it couldn't be taken for granted that The Doctors Talk It Over was reaching the correct audience. These special studies have been made three times. The returns indicate that doctors are listening and that regardless of the restricted air commercial, they know who is sponsoring the show.
The apparently small percentage of those who have heard the program who listen regularly is not unusual in the medical segment of the listening audience, since medical professionals are for obvious reasons in no position to listen regularly at any time of the day, although 10-10:15 p.m. is a period when the greatest percentage of medicos is likely to be available to listen.
It is also impossible to choose medical subjects that are of interest to all doctors, since of necessity some of the programs are addressed to specialists and others to general practitioners.
Finally, the program has to fight for medical ears against purely entertainment programs. For the latter reason the program has switched from Friday to Tuesday to Monday seeking a period when it wouldn't have to fight Bob Hope, Fibber McGee or Bing Crosby. That it does reach and influence as large a segment of the medical profession as it does is a tribute to the thinking behind the program.
It is not a pseudo-medical broadcast. The doctors who talk it over are leading figures in the medical field. At first they looked with a suspicious eye upon broadcasting under the sponsorship of a commercial firm. Most of that looking askance is no longer evident. Even the medical associations, both country and national, now feel that The Doctors Talk It Over is the nearest thing possible to a closed-circuit meeting with the people who mean the most to the professional. It is "ethical publicity" for the doctors who talk and a professional brush-up for listeners.
Like all successful broadcasting, and The Doctors Talk It Over is successful despite its bottom rating, the program is not required to travel under its own steam alone. Promotion of the program differs from that for a general-appeal air show.
The direct mail and giveaways are sent 100 percent to the medical professional. Over 123,000 announcement cards are sent out monthly to the medical and allied professions. They are decorative as a railroad timetable, but they do list the subjects, the authorities and the stations.
Each week an average of 1,800 reprints of the broadcast are requested and sent out. An offer of two bound volumes containing the actual scripts of the first 52 broadcasts brought in 85,000 requests. That meant 85,000 doctors impressed with Lederle Laboratories. Disks of each broadcast are made part of a circulating library and are drawn upon regularly by schools, medical societies, nursing schools and allied professional groups. This service, provided without charge, has built extra respect among these groups for the ethical character of the program and its sponsor.
Not only has the program given Lederle the medical personality it desired but its medical representatives, numbering about 250, find it has made their job of contacting the profession and hospitals far easier and much more productive. The 50 branch offices also note that direct calls from pharmacists have increased progressively as the program has been on the air.
Nurses and attendants also feel a glow when Lederle is mentioned, for several broadcasts have placed the nursing profession before the medical profession. A recent program was devoted 100 percent to the Massachusetts Plan, which establishes regular increments for not only the nurses in hospitals but attendants as well. Since the plan also regards the nurse as a professional person and looks forward to the day that nursing will not include maid and porter duties, it's natural that Lederle, who brought information about the plan to the profession and the public eavesdroppers who listened in on the program (March 17), won more friends through the broadcast.
The presentation was one of the first network transcribed programs. The reason it is transcribed is that it would be impossible to guarantee that any practicing physician could be available for broadcast at any specific time. Then too a doctor is not a professional broadcaster and plenty of work with each guest authority is essential if they are to sound as their coworkers in the field expect.
Milton Cross is the reporter on the show, and with Joseph L. Boland, Jr., of the agency travels to each recording date, with the authority outlining the scope and factual context of the show for the writer.
The Doctors Talk It Over may not rate among popular broadcast vehicles but it's right for the profession to which it's addressed and has justified its cost of a quarter of a million a year to a firm that had spent practically nothing before for advertising.
Today the outstanding ethical pharmaceutical house -- to the medical profession -- is Lederle. The company has arrived at that pinnacle through not selling on the air.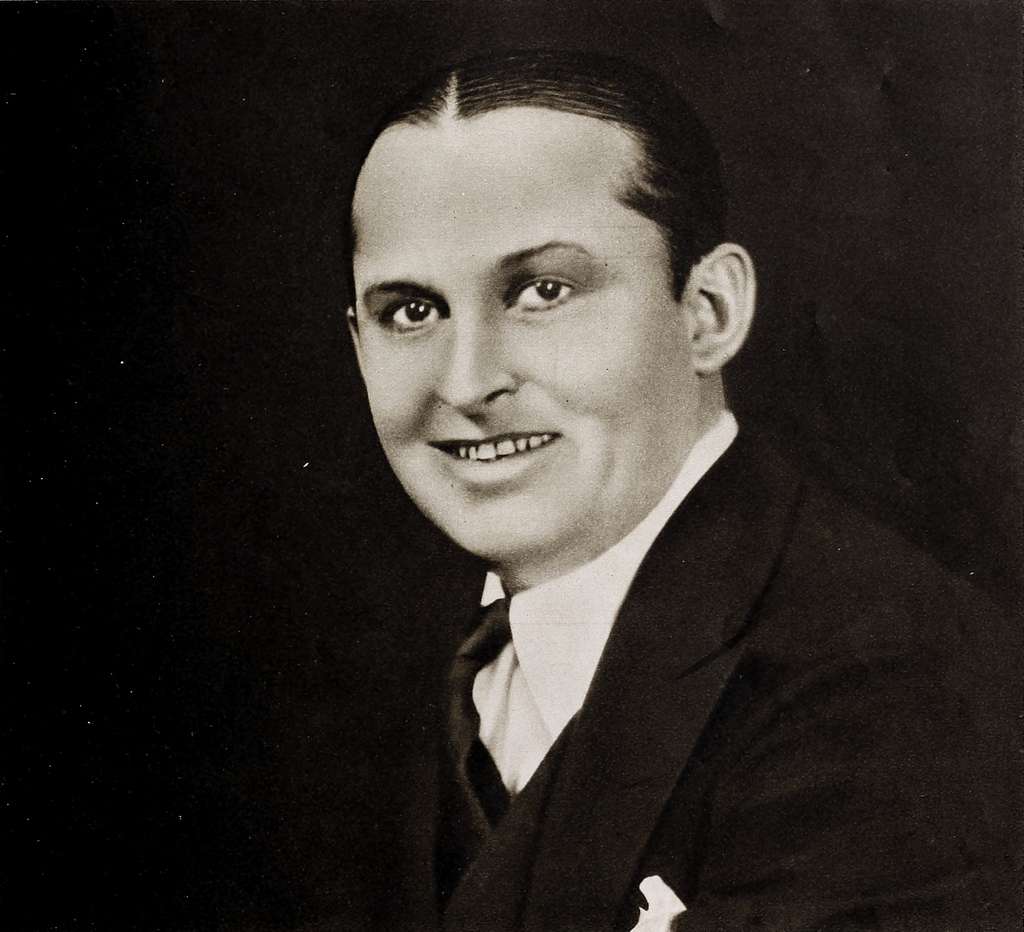 It was really aversion to silence that resulted in the professional debut of Ben Bernie. Years ago, but not too many says the Old Maestro, in the shadow of the Brooklyn Bridge in a tiny blacksmith shop, a son with a rhythmic cry was born.
The father, a master smithy, wanted him to become an engineer, but the mother, a gentle-voiced little person who was sometimes discovered gazing entranced into a violin store window, held out for their son to be a musician. Bernie developed into a dutiful son. He studied to be an engineer and learned to play the violin in his spare time.
But fate interjected a long slim finger which pointed another way. Bernie was seventeen and he was a violin salesman in a New York department store. It was his duty from nine to five each day to produce melodies of one kind or another on the $4.98 instruments marked down from $7.50.
They were pretty bad as fiddles go, and so apparently was Bernie. He took to explaining to what prospective customers there were that if his playing annoyed them, it was even worse on him because he had to stay with it.
Somehow the patter caught hold, just as it did years later on dance floors all over the country. Crowds fell into the way of gathering around the original violin salesman. Because he told them that the violins were awful and the upkeep was something terrible, he sold more than anybody else ever had.
One night Bernie wished on the stars on his way home and the next morning a visiting booking agent happened along. He veni-ed, he vidi-ed, he vici-ed and Bernie signed on the dotted line. The Old Maestro was launched in the show business!
After success as a single act in which he discovered his patter combined with his violin was an unbeatable team, he found himself on the same vaudeville bill as Phil Baker. They tell this story that happened in a small Minnesota town. Bernie was standing out front one evening talking to the cashier when a husky miner came up and put down a quarter.
"But it will cost you 50 cents," said the cashier.
The customer pointed a knobby finger at a sign reading "Evenings, 50 cents; matinees, 25 cents," and demanded, "How about that?
"Yes, but that 25 cents is for the matinees."
"Oh, that's all right," responded the son of toil. "I'd just as soon sit in one of those."
After the war, Bernie organized an orchestra with himself as its wise-cracking leader. It was an immediate vaudeville hit and a one-month engagement at the Roosevelt Grill in New York stretched into five years. His stomping ground of late has been the College Inn in Chicago.
It was there that he developed his penchant for 20 long, black cigars a day; there, too, that his love for horse racing first became known. Bernie says he has paid for more horses than the Whitneys or Vanderbilts, but they never let him take them home.
Right now Bernie and his orchestra are on tour, but in the fall they will be back at the Inn. "I hope you like it," says Bernie, and slowly knocks the ashes from the end of his slim cigar.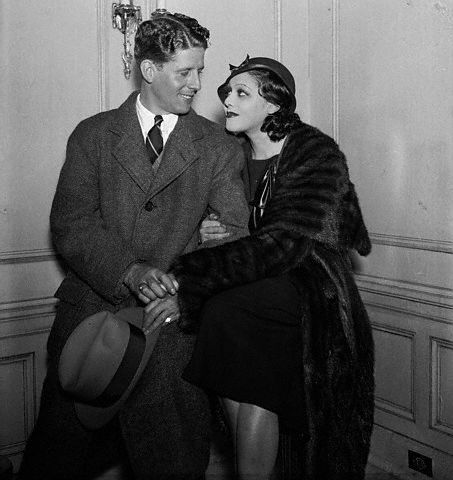 Will Rudy Vallee abdicate his throne as King of the Crooners? He will. But when Vallee steps away from the microphone for the last time, he will march into a high executive post in the radio world.
Vallee may become the highly paid chieftain of the artists' bureau in a great network. Many believe it is more likely that he will be enshrined as the first Will Hays of radio -- the dictator of the air needed to pour oil on the so frequently troubled ether waves. This is the consensus of opinions of those who have closely watched the latest chapters in the vivid, colorful Vallee saga.
Charles A. Lindbergh flew the Atlantic and, from the status of a pilot, rose to become a financial power in the world of aviation.
Vallee captured the applause and admiration of millions when he started this crooning business. After the first overwhelming rush of adulation had passed, he wisely reserved his personality and voice for a few selected broadcasts.
Thus his public was not sated, and he retained his fame and popularity while other stars rose and then waned. He made a million or more dollars before the microphone. He realized every ambition that a radio star can possibly entertain -- and he knows that sooner or later every star must grow dim.
He is as popular with the radio magnates as he is with the fans -- because he has not developed temperamental complexes, and still works as hard as when his Connecticut Yankees were barnstorming the studios.
So he believes that, just as Lindbergh became a mogul of aviation, he can become a big businessman of radio.
Vallee is now studying law under Dean Gleason L. Archer of the Suffolk Law School in Boston. He has probably been secretly perusing the statute books for more than a year. He is studying law not as a whim, or to croon to juries -- as some facetious commentators have smilingly indicated -- but for a mature purpose.
He is concentrating on law as he concentrated on music -- in dead earnest -- despite the soft voice and the wavy locks. If Vallee is to become the dictator of the radio industry he must know law. Didn't baseball pick a judge as its arbitrator? And isn't Hays an attorney?
How soon will the great transition take place? That depends. At present Vallee's voice is heard on the ether but once a week. Vallee is smart that way. It is understood that he is considering contracts that will carry him through the next two years.
Two years from now Vallee's law course will have been completed -- and he'll probably know more about the ins and outs of courtroom practice, under the expert tutelage of Dean Archer, than most young attorneys. So two years isn't a bad guess.
It might be sooner, however. There are whispers wandering around the New York broadcasting castles. The whispers hint that Vallee fears he is losing his voice. It sounds silly -- his voice on the air sounds as clear as ever -- but the whisperers want to know why Vallee has installed expensive air conditioning machines in his home, why he is so careful to sing only under perfect conditions, and then infrequently.
There is something else to be considered. Some observers believe that Vallee, when he abdicates the throne, will not become a radio dictator but a politician. Can Vallee be elected governor of Maine? Can he climb to the top of the political regime with the same ease as he ascended to the throne of radio?
Seriously, there are many who believe that if an election were held today he would become Maine's governor. They idolize Vallee in Maine. His Stein Song is the national anthem on the rocky and rugged coast. And there is no doubt whatsoever that he would get almost all of the women's votes.
How will Vallee's Horatio Alger tale end -- from crooner to radio dictator, or from crooner to governor?
Either job will be acceptable to Vallee.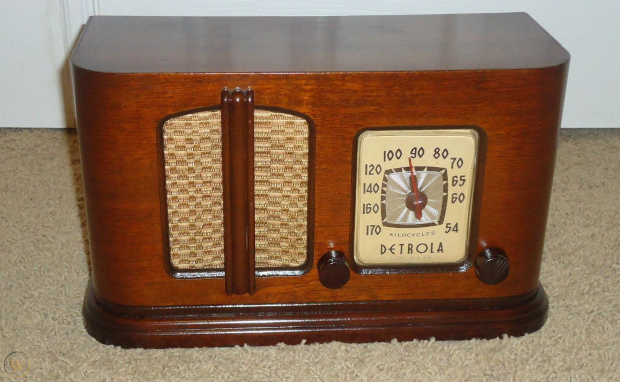 I remember the Detrola table model radio being on the end of the kitchen counter close to the window. Part of the morning ritual was turning it on to hear the mellow voice of Clint Buehlman giving the weather and traffic reports. If I was real lucky he would be giving the school closings, and maybe, just maybe, he would be closing mine.
The radio was magic. I didn't know how it worked. I could figure out the gas stove. Just a pipe to the burner, light a match and one could boil water. I crawled behind the refrigerator one day, only to find a mechanical hutch for dust bunnies. One couldn't get excited about a stove or fridge.
What made the radio work? I peeked in the back, being careful not to get a shock. The five tubes glowed with a reddish-orange light. I saw the dial light. I could see the dial cord move when I turned the tuning knob. Oh, it has some wires, and a metal chassis, but unlike my bike or scooter, I couldn't see what made it work.
On Sunday evenings my parents would take it into the living room, place it on a chair and we would listen to our special programs. "Good evening Mr. and Mrs. America and all the ships at sea." Wow! The same guy who was talking to us was broadcasting to the ships far out at sea! Yes, we enjoyed the Lone Ranger, Gunsmoke and all the usual favorites, while we waited for television to be improved. Maybe next year my dad would buy a TV but for now the radio would do.
Even after the TV came, the radio was still part of the morning routine. With the advent of top 40 stations of the 1950s and early '60s, the old wooden radio seemed out of place. Old programs should come out of it, not the "latest and greatest hits," but still the radio did its yeoman's duty.
Through the years, with technical study, I found out how it worked. I was able to keep it in repair by replacing tubes, the line cord and dial cord. It is a simple radio.
A few years ago, I was able to purchase a "state of the art" radio. It is completely solid state, microprocessor-controlled and has 32 memories. It took me a few hours just to learn how to operate it. It covers the broadcast band and the entire high frequency region. It can do all modes: AM, FM, Sideband and Radioteletype, as well as being controlled by a computer.
It does this with cold efficiency, and I do mean cold. It has no tubes. No heat from tubes. It has no memories of school day mornings and Sunday evening programs.
The Old Wooden Radio is mine now, and with it I can tune in to the warmth of bygone years. I still peek into the back of it, because real radios glow in the dark.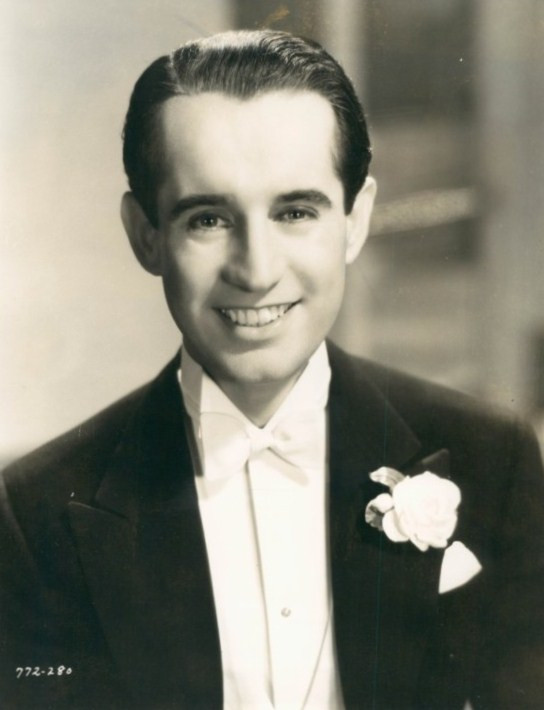 Frank Parker already is an outstanding tenor, and under the tutelage of that master jester Jack Benny, he is garnering laurels as a comedian. Now they would make of him an oracle -- and Parker doesn't want any part of that. Even if he's the current matinee idol of the air, Parker is so level-headed that he has no idea that his achievements have equipped him to advise those whom fortune has spurned.
What's more, he doesn't think people should ask advice. His formula for getting ahead is so simple that he feels it should be axiomatic. His sole suggestion to aspirants in any field is merely this: Be ready.
The theory that you can lurk in corners awaiting opportunity and then catch it by putting on its tail the salt of somebody else's experience is first-degree delusion so far as Parker is concerned.
And in spite of his empathic feeling in the matter, the anxious have made a beaten path to his door. Every delivery brings Parker volumes of mail seeking his secret of success, and even his safely guarded telephone offers little protection against his harassers.
"I'm too busy making good myself to be able to advise the other fellow," Parker declares. "Right now anybody with a little talent has an even chance with me, so who am I to don the prophet's toga and spread advice about something I'm not any too sure of myself?"
Parker of course is quoted literally on the foregoing. He is too modest really -- too much of a gentleman bred -- to tell the straight of the point he was discussing. And the truth is that Parker probably spends more of his free time helping others to get started than any of the stars.
A question he really would like to have answered is, whatever gave anybody the idea that he had set himself up as a seer? Not that he wouldn't willingly give another person a hand up, but he feels that he just doesn't qualify.
"That simple injunction, be ready," he says, "should cover every bid made by opportunity. But it's surprising how many persons chase ambition and hope, only to find themselves unprepared when they catch up with them. Ability is like water in that it seeks its own level, and you could squelch talent no more than you could the current of a stream -- if its possessor is on their toes when the moment of opportunity comes."
Doubtless the many who have sought out Parker for his advice have been attracted to him because of his cordial friendliness and his own swift ascent to the top. But he still cannot reason out how the idea seems to have become so prevalent so suddenly.
What Parker fails to take into account is the natural weakness of the thwarted in believing that there is some predetermined formula for success, some mystic cabalistic sign that serves as a passport to the gates of achievement. Probably he rejects that theory because success was not his without the vigilance which he prescribes.
Most persons' greatest fault is their impatience. "I don't like to say it to you," wrote one pest, "but I'm a better singer than you are right now, and if you weren't afraid of the truth you would give me a chance at least."
To the mild-mannered Parker, this had all of the characteristics of a challenge, so he contacted the writer and told him that he was to replace Parker on one of his programs, and that he should be sure to be at a certain NBC studio at a given time.
At the prescribed time Parker awaited the opportunist, but the rehearsal had progressed nearly 20 minutes before there was a timid knock at the door. Opened, it revealed a slender young man whose knees beat a tattoo.
"I'm -- looking for Fr-Frank Parker," he stammered.
Parker came forward and genially greeted the frightened lad.
"Come in," he said, "we're waiting for you."
The boy's bravado deserted him entirely at that unexpected warm welcome and he admitted to Parker that he had talked out of turn. He was afraid, he said, that he would be a complete bust if he attempted to fill Parker's shoes -- and from that spineless admission Parker knew it was all too true.
"He just wasn't ready," pointed out the tenor triumphantly -- not triumphant because an aspirant had failed, but because the experience bore out his contention that those who are caught unprepared for opportunity may just as well go back home and whip themselves into shape to grasp it on its next round.
Lest readers think that Parker gives that sort of advice without benefit of personal experience with its fullest value, he cites his own case. This resonant-voiced singer began his professional career not as a vocalist, but as a dancer. And he was eager for success in his field. Singing, so far as it concerned him, was purely a matter of pleasing himself. He had no notion that anyone even had heard him as he went caroling to himself.
But the director of a show in which Parker was working sensed a splendid quality in the boy's voice and urged him to accept a role which included singing. Here was Parker's opportunity to test his simple platitude -- his brief formula for success. He was ready.
He accepted the part as blithely as though he had been Dennis King -- "and then," he says, "I made it my business to learn how to sing. Up to that time I had never had a lesson. And just like the lad to whom I later offered the big chance, someone asked me to fill in one night on the radio. But I didn't say I would come back and try later. I just got up there in my supreme faith and complete ignorance of technique ... and when I came to after it as all over, somebody was poking a contract into my hand to sign."
Parker adds that he didn't get by very long on what vocal talent he possessed at the time, but he had at least stuck his foot in the door, and by dint of endless study and practice, he eventually was able to get his whole self through the portals.
"Perhaps," he says, "when I have reached a point where I think the scorers can mark 'Success' behind my name, I will be more eager to give advice, but at present I think I am fair from qualified to advice anyone else -- and besides, who wants to be a Beatrice Fairfax?"