Martha Tilton Thought She Failed Benny Goodman Audition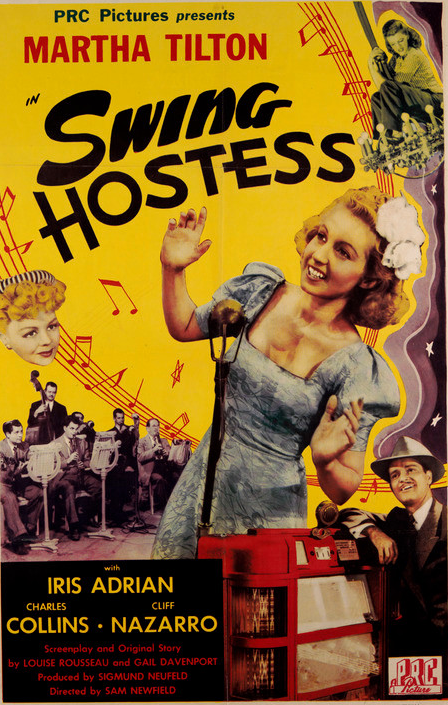 Sam, the man who made the pants too long, gave Martha Tilton her first job on an air show. Her singing suited the tailor man fine and he paid her the lordly sum of twenty-five dollars for her renditions over a Los Angles radio station-thousand watter KFAC.
The day she got her first paycheck from the sponsor Martha rushed over to a department store and bought three items: a new hat, imitation pearls for her mother and a pink sweater for her dog who was enduring a cold winter. Martha spent everything and to her chagrin was later put off the street car when she failed to come up with the requisite fare.
Thus started rather chaotically a career which was to see Martha Tilton put off no stations thereafter. She became a swing singer of note on American's Radio Hall of Fame and her motion picture appearance also helped enhance her renown.
For, as it happened, Martha's singing over KFAC was heard by a prominent agent. He approached the petite blonde who had come to Los Angeles from her native Corpus Christi, Texas, at the age of seven and asked her if she would like to sing at the Cocoanut Grove. Martha assented to the salary of $45 for she had always wanted to be a professional singer, had thought about it since her graduation from high school at seventeen. Yet she was far-sighted enough a little later to shift to Hal Grayson's band at a salary cut of fifteen dollars because she would be able to tour the country and meet the people.
Her strategy was successful for her next step was to sing on Three Hits And A Miss. While on this program she was given an audition as vocalist for the Benny Goodman band. Benny listened patiently to one number and walked out on the second. Martha noticed the retreat and immediately thought that her next stop would be Los Angeles or Corpus Christi. She went home in what is know as a blue funk.
When she arrived she heard the telephone ringing. Thinking it was another bill collector she picked up the receiver, heard a voice say angrily, "Why did you walk out?" "Who wouldn't?" returned Martha with asperity, "Goodman left and that's why I did." "Well," said the voice which was that of Goodman's manager-"Benny liked you and he wants to talk to you." She was hired the next day at $125 a week and sang with the Goodman band for three years.
Martha had many exciting experiences while singing with Goodman. When Benny was at the Paramount in New York a couple of enthusiasts jumped on the stage and started dancing. This is the first known instance of such exhibitionism. The incident was unforgettable because the boy who was dancing accidentally kicked Martha and she collapsed on the stage.
Tilton returned to the coast, joined NBC, and was featured in a program called "Lilton ' Martha Tilton Time" which ran for a full year. She was a guest star on the Fibber McGee and Molly, Jack Carson and Dick Powell programs, as well as many others.
In 1944, Martha shipped off for a South Pacific tour with Jack Benny, Carole Landis, Larry Adler and June Bruner. She was a hit from here to Guadalcanal and back. Then on Radio Hall of Fame, Tilton each week welcomed a famous guest whose career was reviewed in song and story. Personable, unspoiled she managed to delineate her own charming character in each of the songs she sang.
Martha's path to success was never easy-her father Fred was in the wholesale rug business and that was no guarantee that one is to be an outstanding singer for young rug-cutters. Martha had an up-and-down row to hoe until she impressed Benny Goodman.
That meeting with Benny Goodman affected her life in more ways than one. She eventually married Benny's manager, Leonard Vannerson, who had been a seaman, first class, in the Navy, and whose return to civilian life found him back in his old position with Goodman's band. Much of his managing comprised of his wife's activities. When a girl appears in pictures, sings a song, "I'll Walk Alone" which sells a million copies and is on Philco's Hall of Fame, she has already stepped into big. business -- a far cry for Martha Tilton from the days she sang hopefully for Sam, the man who made the pants too long.
Add a Comment
All comments are moderated before publication. These HTML tags are permitted: <p>, <b>, <i>, <a>, and <blockquote>.