The Opera Singer Lily Pons Lost 5 Pounds During Performances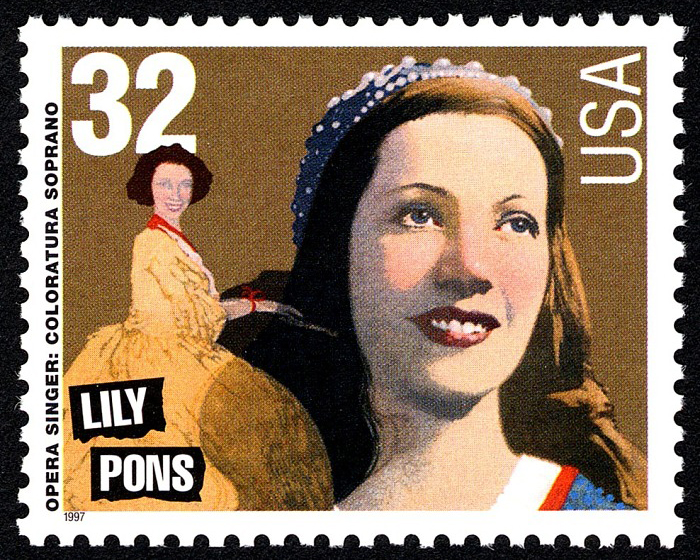 I've dressed numbers of opera stars but Lily Pons is the most glamorous and dynamic. I know she isn't a movie star and perhaps the editor will bawl me out for including her here, but I feel that enough people have heard her over the radio to be interested in her.
Lily is a great shock at first because one thinks of opera singers as being robust and dramatic. Pons is very tiny -- I think her actual weight is a hundred and five pounds -- and she is as quiet and as shy as a mouse.
She was brought into my shop by Jetta Goudal and all during that session the two of them conversed in French. I designed a dress for Pons to wear at her Los Angeles concert and, after the order had been placed and the measurements taken, we discovered that none of the dummy figures -- upon which the clothes are draped -- were small enough.
When the dress was finished I sent one of my fitters to the theatre so that she could see that everything was all right before Pons stepped on the concert stage.
This is a little honor which we usually save for brides -- having the fitter who made the bridal dress on hand to pat into place the last fold of the bridal train.
Pons came back after her first series of songs and said to my fitter, "But I cannot find my voice. I do not know what is wrong." To the audience, her voice was as brilliant as usual, but there did seem to be a change during the second half of the program. Pons became radiant and sang so beautifully that the audience almost stampeded toward the stage.
When she finished the concert she came back to her dressing room and sank down upon a chair. She confessed, to my fitter, that during each concert she often lost as much as five pounds -- from worry and exertion.
Add a Comment
All comments are moderated before publication. These HTML tags are permitted: <p>, <b>, <i>, <a>, and <blockquote>.