The Audition That Changed the Lives of Chester Lauck and Norris Goff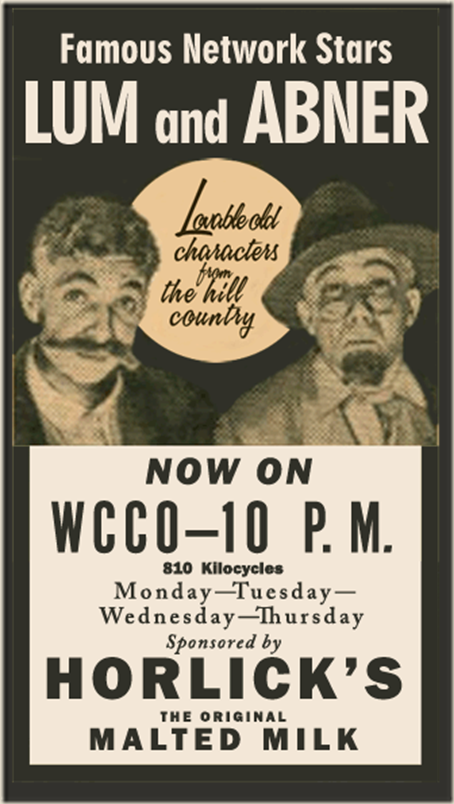 A strange sight would have greeted the eyes of anyone entering the board of directors room of the Quaker Oats Company on a summer morning in 1931. On one side of the room you would have found all the staid and dignified directors of the company, seated with their faces to the wall. On the other side you would have seen two young men talking hillbilly dialect to a broom handle!
That was the turning point in the careers of the two boys who have become famous in radioland as Lum and Abner, the Ozark hillbilly philosophers. The boys, Chester Lauck and Norris Goff, had gone to Chicago for their vacation. They had been doing their Lum and Abner show down at radio station KTHS in Hot Springs, Arkansas.
While they were in Chicago they decided to make a try at big-time radio. So they went over to the National Broadcasting Company studios in the Merchandise Mart for an audition. They didn't know much about auditions but they'd heard others speak of such things and so they guessed they'd try one, too.
And so to NBC where they met Sen Kaney. In Sen's office they watched and listened while he tuned in auditions from the various studios. Singers (both men and women), speakers, announcers, sports reporters, newscasters -- the whole gamut passed through that loudspeaker in a parade of aspiring young talent. They noticed that Sen would listen only to a minute or two of each person and then turn back to continue talking to them.
Finally they got their chance. So they got up before the microphone without a script, without anything in fact except their deft young minds and a long memory of childhoods spent in a rural district.
They did about 15 minutes and then hurried back to Sen's office. He didn't say a word as they entered. For a long moment he sat there looking at them. Then he spoke.
"Well, boys, you've got something -- but darned if I know what! You used that word 'thar' 27 times in 15 minutes."
Goff turned to Lauck and grinned. If Kaney knew they had used that word 27 times it proved he had listened to a lot more than just a minute or two of their work. At least he'd listened a lot more to them than he had the others who had been on while they had sat in Kaney's office before their turn came.
Kaney offered them $150 a week as sustaining (non-commercial) artists. They had been working at KTHS in Hot Springs for nothing -- for the fun of it -- but suddenly decided that if they were good enough to go on an NBC network they were good enough to get a lot more money than that.
They turned him down and that was the luckiest move of their lives.
Goff's father was a wholesale grocer and Norris was one of his buyers. The result was that he knew the Quaker Oats salesman who covered the Arkansas territory. The salesman had often suggested that if Norris ever got to Chicago he should look up the company and visit their plant. So before coming the boys had armed themselves with a letter of introduction from Norris' father.
There luck entered the picture once again. That company was sponsoring Gene and Glenn as a radio series. Gene and Glenn were going on vacation and the company wanted something to fill in with during their absence. So one of the officials mentioned the fact and immediately the boys offered to do a Lum and Abner audition for them.
Although Lum and Abner are strictly hayseed characters, old timers from the rural mountains, the boys themselves are really young and modern. They realized they couldn't accomplish a thing if the officers could see them.
So they herded all of the officials in the board of directors room and seated them facing the wall. In such a position they couldn't see the boys work but could hear them just as any radio fan would. Then the boys went to the opposite wall. They spied a broomstick and brought it into service as a microphone.
The Quaker Oats officials liked the act immediately. In fact, they signed them to fill in for Gene and Glenn's vacation although another act had been promised the job.
But let's pause a moment to look back into the lives of the boys and get acquainted with them.
Chester Lauck is Lum. In addition he plays the parts of Grandpappy Spears, old citizen; Butch Dolan; Oscar Fields; Dan Davis; Frank Foster; Clarence O. Willoughby; and Snake Hogan, Pine Ridge's public enemy no. 1. He was born February 9, 1902, at Allene, Arkansas, but soon the family moved to Mena, Arkansas, where he was raised. He attended the University of Arkansas and the Chicago Academy of Fine Arts. He edited a magazine in the Texas Rio Grand Valley. Later he returned to Mena to enter the bank and then became manager of the auto finance company there. He is married and has two children, Shirley Mae and Nancy.
Abner is really Norris Goff, born May 3, 1906, in Cove, Arkansas. He also moved to Mena early in life. He attended the University of Arkansas and University of Oklahoma. Later he worked for his father in the wholesale grocery firm in Mena and finally became the company's secretary and treasurer. He also is married. He has one son, Gary. In addition to being Abner, Norris (Toughy) Goff is Duck Huddleston, proprietor of the store and post office, and some others.
Both men were companions since childhood and used to indulge in much local entertainment. Their first venture in radio came on April 26, 1931, when they were asked to assist the Mena Lions Club in a town-boosting program over KTHS. Lum and Abner had planned to put on an act as black characters but discovered shortly before the program was to go on the air that another team was scheduled for the same performance doing the same thing.
With a half hour to work in, they decided to "sit and talk" much in the manner of the old Ozarks residents whom they had known all their lives. With five minutes to spare before the program opened they decided to call themselves Lum and Abner. The presentation was such a success that Lum and Abner were invited back to KTHS to repeat for eight more broadcasts. The deluge of fan mail was the greatest up to that time in the station's history.
That led them up to the Chicago audition and their first sponsor. They stayed with the Quaker Oats Company long after Gene and Glenn returned to resume their broadcasting. When that happened the company sent Lum and Abner to broadcast on stations in Fort Worth and Dallas, Texas.
Subsequently the team was sponsored by the Ford Motor Company, for whom Lum and Abner developed a program known as the Pine Ridge Sociable in addition to their nightly 15-minute show.
The Horlick Malted Milk Company of Racine, Wisconsin, took over sponsorship of the act during the early part of 1934. No network spot being available at that time, Lum and Abner were shipped up to Minneapolis to do a one-station stand via WCCO.
At the instigation of the Horlick Company, the Mutual Broadcasting System was formed in the fall of 1934 in order to bring Lum and Abner to a wider radio audience. The network consisted of WGN, WLW, WXYZ and WOR.
About their personal habits: both of them go in for golf, handball and tennis. For real entertainment they visit places like Coney Island. They have the native horse-sense of their home territory when it comes to business dealings, and considering the fact that they are among the best paid stars in the radio world they live lives that some people might consider modest and frugal.
The answer to this frugality is that they have laid the groundwork for eventual retirement by investing in annuities, insurance polices for their wives and children, and property holdings of one type or another that will net them an income in the future. Not given to lavish entertainment, both men prefer an evening of bridge and conversation with a few friends.
And there you have Lum and Abner, the men themselves, the characters of their radio series and something about the history of how they reached fame via the Ozark Mountains -- a fame which was proved when they offered to give away copies of their newspaper, the Pine Ridge News, and 350,000 requests came in!
Add a Comment
All comments are moderated before publication. These HTML tags are permitted: <p>, <b>, <i>, <a>, and <blockquote>.