What's in a Name? A Lot in Portland Hoffa's Family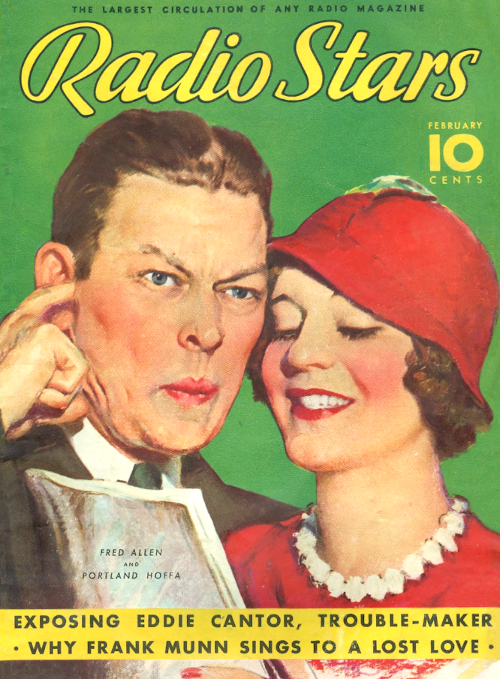 When Fred Allen met Portland Hoffa on the vaudeville circuit in 1922, he was telling jokes and performing badly as a juggler. She was a dancer. The two future comedy stars hit it off because of a conversation about her name:
"I'm a doctor's daughter," Hoffa advised him. "My father named me after the city where I was born. Out in Oregon, you know."

"I know," said Allen. ''You ought to be glad you weren't born in Terre Haute or Gila Bend or Hastings-on-the- Hudson."

"One of my sisters was called Lebanon and another Last One," said Hoffa.

"Good gracious."

"Dad thought she'd be the last one," Hoffa continued serenely, "but she wasn't. So he changed her name to Next-to-Last."
This story is mostly true. Portland Hoffa was born in Portland, Maine, and had a sister named Lebanon (of Pennsylvania) and brother named Harlem (New York City). There also was a sister named Last One. She wasn't last after all and the next and final child was named Period, but went by the nickname Baby.
One Hoffa child eluded location-based naming and was called Fredericka after their father Frederick, a traveling optometrist.
In 1966, the actress Jessica Walter had to be rescued when a fire broke out in her 10th floor apartment in New York City. A firefighter checked on the occupant of the apartment one floor below, as the syndicated newspaper columnist Leonard Lyon wrote in the Oakland Tribune of October 10:
He asked her name. "Mrs. Hershkowitz," she said. "First name? "Last One." The fireman asked her to repeat it. "Last One," she said. Her parents had chosen odd names for all their children. Her sister, Portland, married Fred Allen. Another sister was named Lebanon, another one Period, a brother was named Harlem.

Mrs. Hershkowitz began to spell "Last One." The fireman said, "Never mind. What's your husband's first name?"
Add a Comment
All comments are moderated before publication. These HTML tags are permitted: <p>, <b>, <i>, <a>, and <blockquote>.