Feet First Into Fame: Red Skelton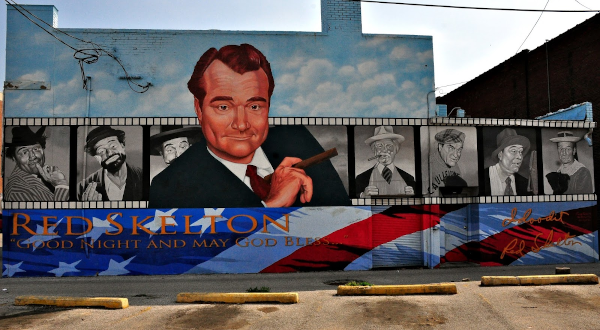 Some people think J. Edgar Hoover ought to nab Red Skelton before he completely sabotages the FBI's crime-doesn't-pay drive. When the average fellow "puts his foot in it," that's his misfortune. But when this human electron puts his foot in it, fame and fortune come his way. Even Lady Luck has to smile.
Skelton gets a fourfold chance at blundering around in his current radio program. He's not only the headliner in Red Skelton and Company, but he's also three separate blitzes in the "And Company" tag, luring behind the character names of Clem, Deadeye and Junior.
His actual supporting cast is of stellar caliber in its own right. Bandleader Ozzie Nelson and singer Harriet Hilliard have long been able to set an audience humming.
When Red Skelton and Company hit the air, the folks set their teeth, hang on to their hats, and get ready to zoom about on the lunatic fringe. Skelton doesn't think much of the slow and peaceful life.
He's never really grown up, from the time he was a bad little boy back in Indiana. When he managed to fall out of his crib at the tender age -- even for Skelton -- of one week, his mother pulled out her first gray hairs and wondered if either of them would survive. Later on, school didn't interest him -- listening to teachers was no fun. So at 10 he ran away to join a medicine show where he could do the talking. That's where he developed his fancy footwork, dodging around the wagon with the truant officer lumbering after him.
Soon the prairie grass grew too long under his feet, so he shook 'em loose, packed up his liniment and ukulele and set out to disrupt a wider area by touring with stock companies and minstrel shows. He wasn't really getting anywhere, however, until he met the present Mrs. Skelton.
Unlike most wives, Edna Skelton didn't want to reform him, but wrote skits (as she still does) which made him more of a blight on the world than ever. Between them, they smashed a road to success for Skelton, even storming Hollywood.
Skelton's not the whole company, though he's four parts of it. He's hounded into many an iniquity by his chief stooge and heckler, former shoe shine boy Wonderful Smith. Wonderful is the real name of this big, good-natured Arkansas-born comedian who made his first big-time success in Duke Ellington's show in Los Angeles, with his skit of a rookie soldier calling President Roosevelt to tell him his problems.
Bandleader Ozzie Nelson and his singing wife, Harriet Hilliard, represent peace and sanity on the program. Ozzie brings to it both eastern culture and a touch of nobility, for he's the Jersey City-born descendant of a titled Swedish grandfather. A four-letter athlete at Rutgers, he worked his way through law school leading an orchestra and then decided to make music his career. Iowa-born Harriet Hilliard was wheeled on the stage by her actress mother before she could even walk and has been entertaining ever since.
For two years now, Mr. and Mrs. Nelson have been trying to keep Skelton from being such a ba-a-d boy. Luckily for listeners, they haven't succeeded.
Add a Comment
All comments are moderated before publication. These HTML tags are permitted: <p>, <b>, <i>, <a>, and <blockquote>.