Andrews Sisters Never Took Singing Lessons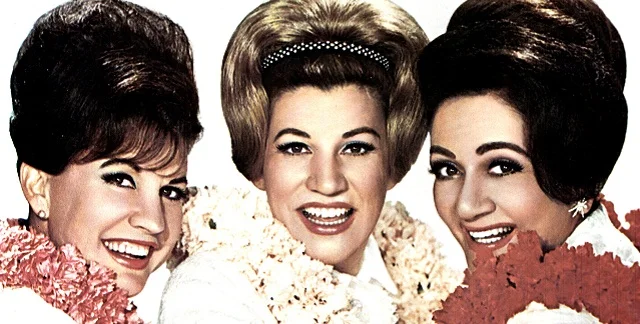 Everyone in the United States who doesn't need an ear trumpet has heard the Andrews Sisters. They're almost as inescapable as the ubiquitous Bing. And the effect of their mad chanting harmony is a lot more penetrating.
Maxene, Patty and LaVerne (the order in which they invariably line up to have their pictures taken) first dazzled the open-mouthed jive world as jukebox queens, when they bansheed a record of the plaintive Jewish melody, "Bei Mir Bist Du Schoen," This was in 1937, and by 1939-40 it was already estimated that the gals were running second only to the Automat as nickel-pullers. When you consider that every disc the public buys nets a neat two cents for the Andrews pocketbook, the trio of songbirds isn't doing so bad.
But what makes these boogie-woogie balladeers remarkable is that they never let go of a show business crown once they have it, just keep adding additional hot-lick wreaths on top. Right now in 1945, for example, they're still dynamite in the jitterbug emporiums -- as anyone who has ever tried to escape "Rum and Coca Cola," "Don't Fence Me In," and "Ac-cent-tchu-ate the Positive" knows only too well. In addition, these "belles of fire" (their own description) have managed to storm every other citadel on the entertainment horizon -- rhythm-rockin' a whole series of Hollywood movies, vocal-gymnasting their way across the nation's stages, heat-beating the airwaves to success as radio stars.
Just what magic talents have put the Andrews Sisters on the map is a debatable question. Unique style is one answer, strict attention to business another. As far as their voices are concerned, plaudits have been far from universal. Tall dark LaVerne, oldest of the sisters, boasts the lowest pitch, and critics attempting to describe it have floundered between "a sort of baritone" and "something like a bass." Maxene, middle as to age, tops as to looks, gives out with a high soprano, And blonde, talkative Patty, proud possessor of the in-between range, has complacently told reporters ''I've been hoarse like I had a bad cold" ever since the teens. (If you' re curious about their ages, best estimate is that the lasses are all still in their twenties -- but statements as to the actual number of years they've piled up vary from time to time.)
There's no doubt but that manager Lou Levy (now married to Maxene) has been a big help on the road to fame. It's Levy who spots the tunes that are going to be hits -- by the simple process of eliminating those he can't remember two days after hearing them. The New York music publisher has been guiding the trio's destinies ever since that banner year of 1937, when he sensed hidden possibilities in the then-obscure "canaries" and brought them to the attention of the Decca Records people. Levy's also the lad who stopped the Andrews Sisters from learning anything about music. (LaVerne's the one exception -- she can not only read notes but also gave up plans of being a concert pianist when she joined up with the two other jivesters.)
It wasn't until their technique and name was well-established that the girls decided they really ought to take some professional singing lessons. They attacked study with characteristic high-powered energy -- until Lou heard of it. He put his foot down hard, made it plenty clear that orthodox notes would just ruin their unique style.
Bouncing, informal, with all six feet firmly planted on the ground, the Andrews Sisters don't believe in changing horses in the middle of a stream -- nor in forgetting the ffiends who pushed them into the spotlight. Orchestra leader Vic Schoen of the Sunday afternoon radio show is the same veteran arranger and baton-wielder they've worked with for years on records. (His name, by the way, has often been a source of confusion to strictly "American" talkers who think he must have something to do with "Bei Mit Bist Ou Schoen." There's no connection.)
Back in 1938, before movies made the Andrews Sisters' faces as well known as their rumba-boogie records, many fans thought only a Black group could produce so much rhythm. As a matter of fact, the girls' father is Greek, used to run a restaurant in their home town of Minneapolis. Along with their Norwegian mother, Olga Solli, he's now abandoned the food business to travel around with his daughters and take an active interest in their professional gambols. The girls are all proud of their Minneapolis origin, make it a point to take a few weeks off every year to visit the friends of school days who still live there.
It was in this city, too, that they got their start -- bouncing on stage in a "Kiddy Revue" that didn't make much of a splash. In early years it looked. as if Patty (who now docs most of the solos) might some day win stage fame as a tap dancer, for she was "juvenile champion" of Minnesota. That didn't seem to work out, though, so she teamed up with the others to form a singing act for Larry Rich, and later for Lon Belasco's band.
Most exciting part of their careers, of course, came after they were on their own. Remember what the Andrews Sisters did with "Joseph, Joseph," "Hold Tight," "Ti-Pi-Tin" and "Beer Barrel Polka"? The jitterbugs went wild, the conservatives apoplectically labeled the trio "public nuisances" -- but, in any case, nobody could ignore them.
Early movies brought the same sort of divided response. "Buck Privates," "Hold That Ghost" and "What's Cookin' " did OK. at the box office, but even the sisters themselves admit that they screamed and retreated from the projection booth when first they saw themselves on the screen. And the Harvard Lampoon named their performance in "Argentina Nights" the most frightening of the year.
Such criticism is pretty much past history now, however, and with the continued applause given their Western-flavored Eight-to-the-Bar Ranch radio show, the Andrews Sisters have been accepted as a breezy part of the scene.
Add a Comment
All comments are moderated before publication. These HTML tags are permitted: <p>, <b>, <i>, <a>, and <blockquote>.