The Old Maestro Ben Bernie Was a Lousy Violin Salesman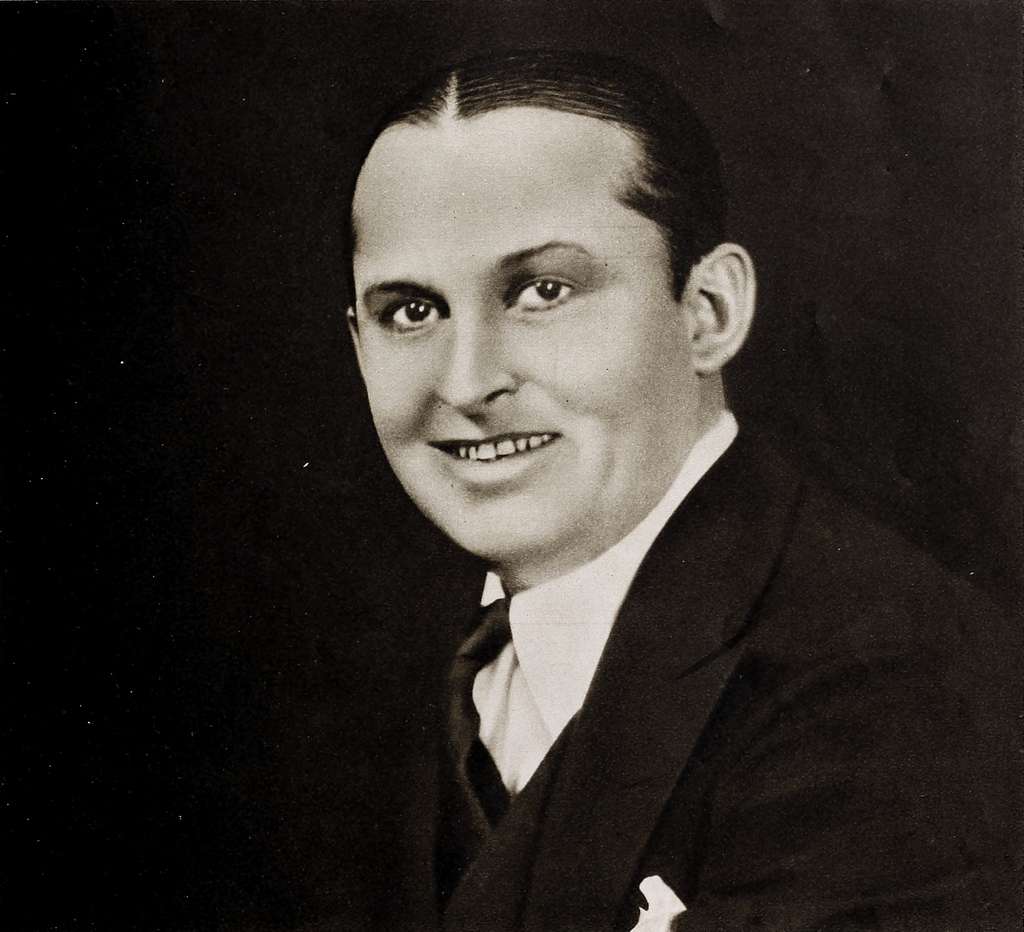 It was really aversion to silence that resulted in the professional debut of Ben Bernie. Years ago, but not too many says the Old Maestro, in the shadow of the Brooklyn Bridge in a tiny blacksmith shop, a son with a rhythmic cry was born.
The father, a master smithy, wanted him to become an engineer, but the mother, a gentle-voiced little person who was sometimes discovered gazing entranced into a violin store window, held out for their son to be a musician. Bernie developed into a dutiful son. He studied to be an engineer and learned to play the violin in his spare time.
But fate interjected a long slim finger which pointed another way. Bernie was seventeen and he was a violin salesman in a New York department store. It was his duty from nine to five each day to produce melodies of one kind or another on the $4.98 instruments marked down from $7.50.
They were pretty bad as fiddles go, and so apparently was Bernie. He took to explaining to what prospective customers there were that if his playing annoyed them, it was even worse on him because he had to stay with it.
Somehow the patter caught hold, just as it did years later on dance floors all over the country. Crowds fell into the way of gathering around the original violin salesman. Because he told them that the violins were awful and the upkeep was something terrible, he sold more than anybody else ever had.
One night Bernie wished on the stars on his way home and the next morning a visiting booking agent happened along. He veni-ed, he vidi-ed, he vici-ed and Bernie signed on the dotted line. The Old Maestro was launched in the show business!
After success as a single act in which he discovered his patter combined with his violin was an unbeatable team, he found himself on the same vaudeville bill as Phil Baker. They tell this story that happened in a small Minnesota town. Bernie was standing out front one evening talking to the cashier when a husky miner came up and put down a quarter.
"But it will cost you 50 cents," said the cashier.
The customer pointed a knobby finger at a sign reading "Evenings, 50 cents; matinees, 25 cents," and demanded, "How about that?
"Yes, but that 25 cents is for the matinees."
"Oh, that's all right," responded the son of toil. "I'd just as soon sit in one of those."
After the war, Bernie organized an orchestra with himself as its wise-cracking leader. It was an immediate vaudeville hit and a one-month engagement at the Roosevelt Grill in New York stretched into five years. His stomping ground of late has been the College Inn in Chicago.
It was there that he developed his penchant for 20 long, black cigars a day; there, too, that his love for horse racing first became known. Bernie says he has paid for more horses than the Whitneys or Vanderbilts, but they never let him take them home.
Right now Bernie and his orchestra are on tour, but in the fall they will be back at the Inn. "I hope you like it," says Bernie, and slowly knocks the ashes from the end of his slim cigar.
Add a Comment
All comments are moderated before publication. These HTML tags are permitted: <p>, <b>, <i>, <a>, and <blockquote>.