Dusting Off an Antique Radio from Grandma's Attic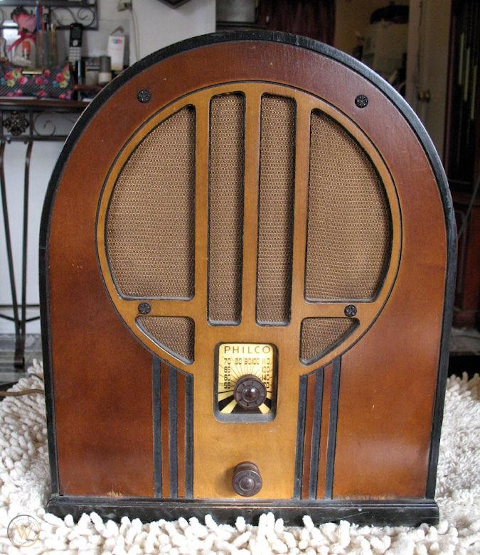 Anyone old enough to recall the days before television remembers that radios, large or small and usually with gleaming wooden cabinets, were the nerve centers of the country's living rooms.
Around them huddled America's families, with only each other to look at, listening intently to Jack Benny's jokes and Benny Goodman's notes, President Franklin Roosevelt's fireside chats and Edward R. Murrow's London reports.
After decades of dusty silence in grandma's attic, nearly three-quarters of a century of radios are sputtering to life again in thousands of American homes. This time the people crowded around them are a swiftly growing family of collectors.
"Our objective is to preserve this equipment, to let people know about it. It's a heritage," says Bruce Kelly, 77, a longtime collector. Forty years ago he and two other men founded what is now America's largest and oldest radio collectors club, the 4,000-member Antique Wireless Association.
"Collecting got off to a slow start in the '50s and '60s, picked up some in the '70s, and really took off in the '80s," says Brian Belanger, 51, a collector and newsletter editor of the Mid-Atlantic Antique Radio Club (MAARC). Founded in 1984 with 15 members, it now has about 850 and is America's largest regional radio club.
During the same time the number of regional radio clubs has grown with similar speed. Today there are two national clubs and about 40 regional ones, Belanger says, and more regional clubs are forming.
Collectors have various motives: nostalgia, the beauty of the venerable radios or the fun of being able to repair them.
Belanger, an electrical engineer from Rockville, Maryland, himself heard the siren song of radio collecting in the late 1970s. One day he was killing time in a shopping center while his wife bought fabric and wandered into an antique store. He came out with his first antique radio, an aptly named "American Beauty," made in 1926 in Missouri. He was hooked; he now has "about 80 radios, the last time I counted."
Days he works with the most modern technology as deputy director of advanced technology program of the National Institute of Standards and Technology. Evenings he works with the technology of the '20s and '30s, repairing venerable radios at home.
They include wonderful old names, now long gone, in the history of American radio. There's an unusual Federal 61, a hard-to-find black-fronted box with 14 dials, made in 1924. A 1922 Aeriola, Sr., by Westinghouse: You had to listen through headphones. A battery-powered Radiola 18, with its long-and-low shape.
And the classic "antique radio" to most Americans -- a graceful, arch-shaped set known as cathedral-style. Many makers built cathedrals: Belanger has several, including a restored 1931 Philco model 70. A dominant '30s brand, Philco epitomizes antique radios to many Americans.
Collecting antique radios is practically an addiction, Belanger says.
Joe Koester knows what he means. A 50-year-old Defense Department manager from Laurel, Maryland, he says dryly: "I never met an antique radio I didn't like," paraphrasing Will Rogers' view of people.
Koester, a founder and president of the Mid-Atlantic Antique Radio Club, has certainly met a lot of radios: He admits to having "about 250" in his collection.
Kelley has been collecting since before Belanger and Koester were born: He and a friend started in 1936. When they saw a radio they thought should be preserved "we repaired it and set it aside," says Kelley, fittingly now the curator of the Antique Wireless Association's museum.
The kinds of radios they set aside then are much desired now. Particularly in demand by collectors are cathedrals; Atwater Kent "breadboards" from the early '20s made without cabinet and with innards fastened atop a breadboard-shaped piece of wood; splended-toned Scott radios; and colorful, Catalin-plastic sets of the late '30s and '40s.
Prices of these and other antique radios depend on condition, manufacturer and model, and location (the East Coast is more expensive). Most range from $50 to several hundred; some, like particularly desirable Catalins, run into the thousands.
As with anything else, high prices reflect scarcity. But most collectors think some old time radios will always be available. One reason, Koester says: "Younger collectors are also interested in the radios of their youth, and are beginning to collect the much-later transistor radios and TVs."
Many radios aren't working when collectors purchase them. Their new owners restore a lot of them, both for the pleasure of seeing them gleam and the joy of hearing them crackle.
And when they crackle they bring back another era. Once in a while Belanger rigs up a '30s set so that he can listen to a recording of an old radio show through its speaker. With 1930s fidelity the raspy voice of Jack Benny fills the room, deadpanning a punchline and convulsing an audience.
"It's fun," Belanger says. "At night you can draw the drapes and turn the lights down low and by the glow of your radio listen to Jack Benny. It's a time warp."
Add a Comment
All comments are moderated before publication. These HTML tags are permitted: <p>, <b>, <i>, <a>, and <blockquote>.