All-Time Favorite Radio Shows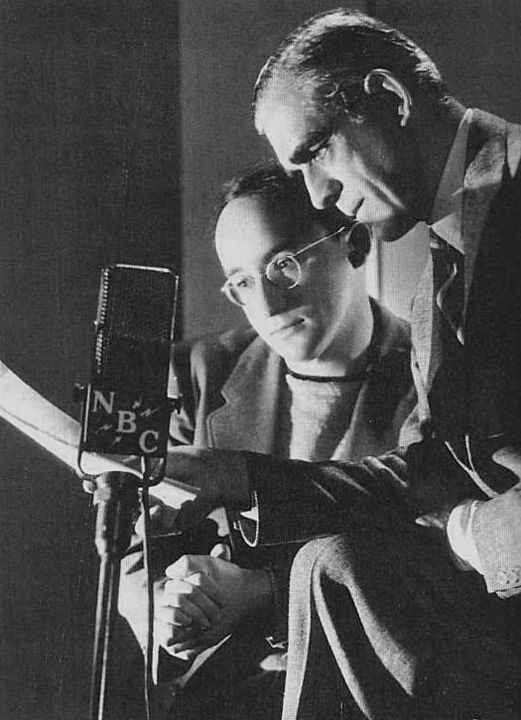 Radio's Best Private Eye Show: This was a tough one. There were some real dandies in this category and picking the best was pretty hard. Philip Marlowe was great, as was Michael Shayne. The Fat Man and Mr. and Mrs. North were also tops. Johnny Dollar and Nero Wolfe were tough to beat. After much sifting and sorting, I did manage to come up with one name ... Sam Spade. He was rough and tough, sardonic and sarcastic, a ladies man, and smart as a whip. (Just how smart is a whip?)
Howard Duff played Spade to the hilt and the role fit him like a glove. Even today, hearing Duff's voice on TV, I am reminded of Sam Spade and all the adventures I indirectly shared with him. Spade was the best and I really dug him! (Sorry, I couldn't resist the pun.)
The Best Sidekick in Radio: This is another category that is overflowing with names. Almost every comedian had a sidekick. Many times the sidekick would be funnier than the star of the show. Jack Benny and Fred Allen specialized in this. Often it was a case of the sidekick topping the stars' joke over and over again. Network radio didn't really have too much ad-libbing, so when you heard Rochester topping one of Jack Benny's gags you knew that it was all planned. And it worked just fine. The star would get his laugh and then bask in the laughter from being topped by his sidekick.
To me, the best of these sidekicks was Elliott Lewis. He played a character named Frankie Remley and/or Elliott on The Phil Harris and Alice Faye Show. Frankie was a left-handed guitar player who always had a scheme that would get Phil and himself in trouble. The schemes were always outrageous and downright flaky. Every one of them was surefire things that couldn't go wrong but always did.
Any time Phil needed someone to repair or do something, Frankie would say, "Hold it, Curly. I know a guy ..." Well, Phil Harris knew the guy to do the job on his radio show ... Elliott Lewis.
The Best Performance by a Radio Actor: It might seem like old stuff to those who have been collecting radio shows for a long time, but stop and think. What was one of the very first radio shows you ever grabbed onto? Chances are that it was the Mercury Theater's version of The War of the Worlds. Right? This particular show became part of America's history and the star of that show became world famous. Orson Welles is the winner here, with second place not in sight!
The Best Performance by a Radio Actress: It seems that most of the really memorable radio performances were done by one woman, Agnes Moorehead. For a long time she brightened up the airwaves as The Shadow's girlfriend, Margo Lane, but she reached her peak as the terrified invalid on the classic Suspense show "Sorry, Wrong Number." This performance set a milestone in radio drama and a new standard for other radio people to strive for. It was the new state of the art. Agnes Moorehead was perfect!
The Best Horror Type Program: At one time or another most of the dramatic radio shows tried their hands at horror. Many times with varying degrees of success. A few specialized in this genre, most notably Quiet, Please; Dreadful John at Midnight; Macabre; and Inner Sanctum. The best of them all, however, was Arch Oboler's Lights Out. If you remember an old radio show that really made your skin crawl, chances are that it was on the Lights Out show.
From slimy creatures that crawled out of your cellar to a chicken heart that continued to grow, to the sudden disappearance of everyone on earth, Lights Out covered them all ... and more! My favorite had a person turn inside out but still remain alive. Think about it. I did and it scared me silly. Exactly what it was intended to do. Lights Out, a legend in its own time!
These have been my own personal picks. You probably don't agree with some or all of my selections but that's what made old-time radio shows great. There was something for everyone.
Add a Comment
All comments are moderated before publication. These HTML tags are permitted: <p>, <b>, <i>, <a>, and <blockquote>.