Bob Sylvester and his Orchestra Featuring Olga Vernon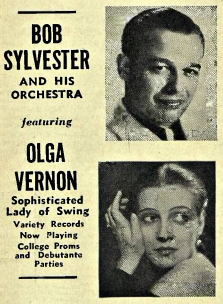 Five feet, five inches of scintillating personality, a voice with soft, mellow depths and a soothing quality, red hair (though she insists it's auburn), a creamy complexion. In short, an eyeful. That's Olga Vernon, the Sophisticated Lady of Song, who appears with Bob Sylvester and his Orchestra on a hand-picked network of Southern stations.
You can hear her every Tuesday night at 10 p.m. EST over WJSV, Washington; WRAV, Richmond; WBT, Charlotte; WGST, Atlanta; and WAPI, Birmingham, in a program sponsored by the Lance Company and originating in the WBT studios in Charlotte.
Vernon studied voice at the American Conservatory of Music in Chicago, and got her professional start singing with Charlie Agnew's orchestra. Then came a number of appearances on various Chicago radio programs, in which she built up a reputation that reached the ears of Jan Garber. Garber lost no time in signing her up as his radio songstress.
Now Vernon's present boss, Bob Sylvester, enters the story. He'd heard her singing with Agnew and liked her voice, but he never met her until one day they were introduced by a music publisher. At that time Vernon was Hal Kemp's arranger, and it was through his influence that Kemp heard her and hired her away from Garber.
Five years ago, Sylvester became ambitious for a band of his own, and when he left Kemp and organized his own group Vernon went with him. The ups and downs of the band business left them stranded, at last; the band broke up and Vernon went on the musical comedy stage on Broadway while Sylvester returned to arranging.
He didn't give up his dream of having a band of his own, though, and eventually tried it again -- this time profiting by the mistakes he'd made before. Once more Vernon gave up her job -- which was then singing on a network sustaining program in New York -- to go with him.
The Cavalier Beach Club at Virginia Beach was the new band's first stop, and since then it has climbed steadily.
Vernon has a soft, deep alto voice that blends aptly with the original and distinctive style of the Sylvester arrangements. It's a combination that should prove a best bet on anybody's dial.
Add a Comment
All comments are moderated before publication. These HTML tags are permitted: <p>, <b>, <i>, <a>, and <blockquote>.