Ida Bailey Allen Cooks on the Radio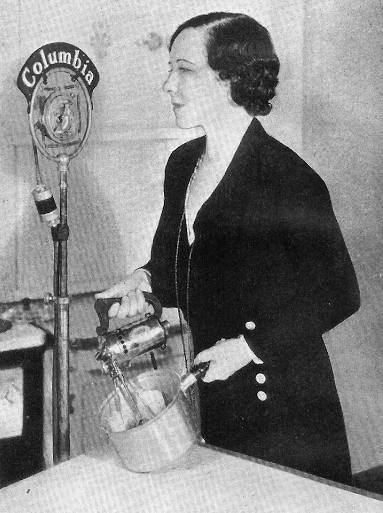 Ida Bailey Allen, known as the Nation's Homemaker, was found in her sunshiny and electrically equipped kitchen testing a recipe for Scotch soda scones, which was sent by a member of her National Homemaker's Club, which she organized last June, and of which she is now president. Each of her members are on their toes submitting their recipes in hopes of winning the monthly prize she offers for the best recipe.
This kitchen, located on the 15th floor of an office building overlooking the Hudson River, is quite thrilling. Oh so compact, and yet it contains the necessities so dear to a woman's heart, such as an electric ice-making machine, electric stove, colored dishes, tan kitchen table and chairs, glistening pots and pans, with dainty curtains completing the picture.
The writer was taken into Allen's office, a place where her personality is reflected. Cretonne drapes, flowers, a soft rug, a few pictures, books, a few comfortable chairs and a purring cat. Allen, who is an attractive looking woman, has created a niche for herself in this busy and hustling world.
When asked what prompted her to become a cooking expert, the mantle of years seemed to drop from her and once again she was a child. Pausing to think of those happy days, she said, "My mother is to blame for my success. When I was small, it was my delight to dress as a grownup and parade around in the kitchen, as mother said that eight years was not too young to learn to cook.
"She was everlastingly patient with me. Always encouraging and never fussy if I made a mess out of the kitchen -- something I could do very easily. Then, the big event of the week was the night I was allowed to prepare the evening meal and could invite a girlfriend for dinner. When I grew older, I preferred to invite the boys, as I was flattered by their praises. I became more absorbed in cooking problems and finally decided to take domestic science courses at college."
"What do you do with your spare time, if you have any?" asked the interviewer.
"I have so little spare time," she laughingly replied, "that I must crowd everything into a few hours. I am a real housekeeper and personally direct the education of my two children, Ruth Elizabeth, six years old, and Tom, 12 years old. The three of us are great pals and always together.
"At the present time we are studying French and have plenty of fun conversing in the French language. As I am very fond of singing, Tom, who plays the piano quite well, accompanies me while I practice. We go to the opera and take long walks together. After the children go to bed, I read and listen to my radio."
We then discussed broadcasting, a subject that she was very much interested in. Allen broadcasts every Tuesday morning at 11 a.m. from station WMCA, and has an invisible audience of over 10,000 people. She has gained so many friends during the last six months, they come to her with their problems! Who should discipline the children, the mother or the father? How to make ends meet on the husband's small salary? A couple are considering getting a divorce. Are they right in doing so? Those are just a few of the many with which she is confronted each week.
Add a Comment
All comments are moderated before publication. These HTML tags are permitted: <p>, <b>, <i>, <a>, and <blockquote>.