Phil Harris: Why Alice Faye Moved from Movies to Radio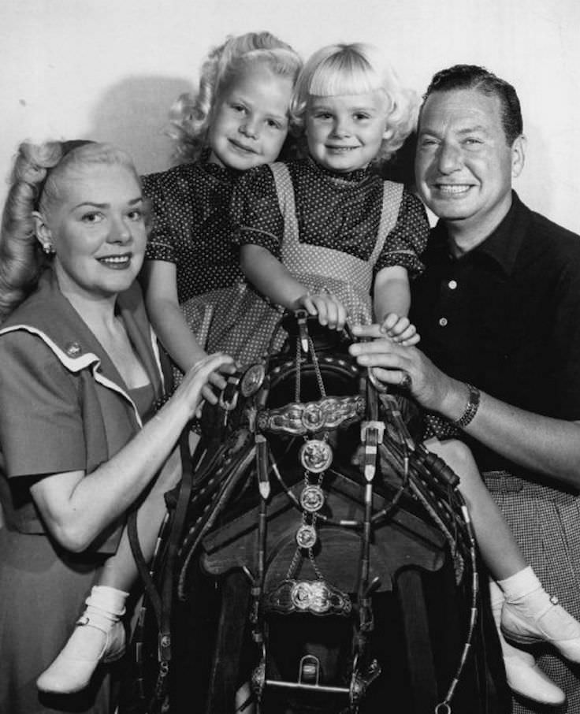 Maybe I never should have taken Alice Faye as my bride on that day in May seven years ago. Until then, all this beautiful, big hunk of talent talks about is show business. Then she marries me, gets a house, has babies, and all she wants is to push one of those wire carts around the grocery store.
First thing you know I'm not allowed to make tours with my band any more, either. "We're through living by an upside down clock," Alice says. I've got my band on the Jack Benny show so I feel all right about it -- the biscuits are rollin' in regularly. But I'm thinking all the time, how can I get Alice back in front of the public again? She's too beautiful, too talented to retire.
Answer's obvious: radio. Doesn't take up so much time as picture making. I can shoulder all the organization, share the performing job, and she'll have time to herself. So now we got our own half-hour air show -- The Fitch Bandwagon -- right after Benny on Sundays.
Today I still run the orchestra for the Benny show and get off a few lines every week. Just before I scoot across the hall and start the Bandwagon going. To me Jack is the real father of radio, master of them all. I've been with him 12 years and I've soaked up everything I've seen the man do. Benny helped me launch the Faye-Harris Bandwagon. Alice and I play ourselves, you know. Not wantin' to copy anyone else, we figured like this -- let's get a nice story with a believable background and real breathin' people.
Our permanent characters are ourselves, our two children (Alice Junior and Phyllis); our business manager who is Alice's brother, Bill Faye (on the air we call him William); my old pal Frank Remley; Julius the grocery boy (he's the only one who doesn't actually exist in real life) and Mr. Fitch, head of the company that sponsors the program.
We were launched in the fall of 1946. We had the advantage that both of us were known; I had my fans from the Benny program and Alice had her big movie following. But ahead was a lot of unbroken ground; we hadn't proved anything on the air yet, as a team. A radio program has to have some age on it, the characters have to become established before the public really latches onto it.
We think we're in the groove now. One mistake we made in the first year was picturing the family life too sweet. The public likes it more normal, with struggles and troubles. Now the children say things that embarrass the devil out of us -- very realistic -- and I get into ruinous trouble. Alice is the understanding wife on whose shoulders everything falls.
Our children are too young (five and three) to play themselves. Two young actresses do their parts. Jeanine Roose, aged 9, who got her start doing child parts on the Benny program, plays Alice. Anne Whitfield, aged 9, who is Penny on One Man's Family, plays Phillis.
Add a Comment
All comments are moderated before publication. These HTML tags are permitted: <p>, <b>, <i>, <a>, and <blockquote>.