Inside Kate Smith's Kitchen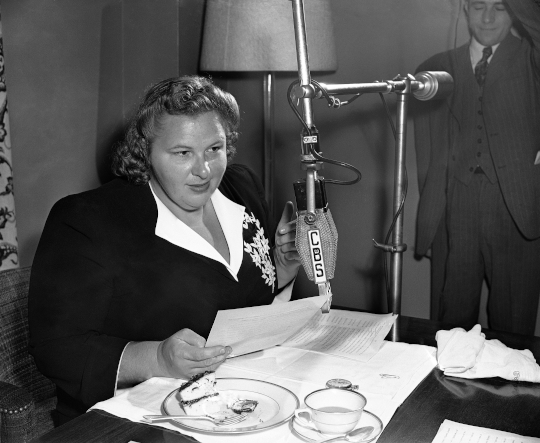 "Hello, everybody. This is Kate Smith."
How often you've heard that cheery greeting! The rich, friendly tones of the speaker's voice bring instant recognition apart from the spoken words and you find yourself responding as you would to the warm handclasp of an old friend.
Well, after all, this is an old friend I am presenting to you here, this Catherine Elizabeth Smith, who for years has been bringing the moon over the mountain and into your living room.
You've learned to love Kate Smith for the songs she sings and the lovely way she sings them, to admire her for the kind things she does for children and soldiers -- the sick and distressed all over the country. But you'd love her for herself if you could meet her, away from studio and mike, as I did, in her own New York apartment.
"I think it has a homey, comfortable look, don't you?" asked Smith when I expressed my admiration for the lovely living room in which she greeted me. It was indeed both homey and comfortable, the type of place you know Smith would like.
The walls are in the palest, softest shade of apple green, the curtains of crushed rose damask. Couches and chairs, upholstered in light green silk brocade, boast of down-filled pillows into which you sink in complete and happy relaxation.
A desk, as tall as the nine-foot windows, is of Italian inspiration, the fireplace mantle is American colonial and the three loveliest of the many lamps are Chinese.
"My furnishings do not conform to any period, you will notice," Smith explained, as she saw me making mental notes of my surroundings. "They're what I like, though -- just livable. I'm out of sympathy with all-modern interiors, though I don't mind one or two modern things."
The most conspicuously modern thing in Smith's living room is her radio -- a huge one, taking up almost one entire end of the room. But let's leave this room and go on out to the kitchen, to which my hostess led the way with pride and pleasure.
Here you would find that everything is modern indeed.
"I have every electric cooking device imaginable," said Smith, pointing out these various possessions. "I have an electric waffle iron, toaster and mixer. Then, though the mixer has a reamer for fruit, I also have, for good measure, an electric fruit juice extractor. And I have three electric percolators -- one of which makes 18 cups of coffee! I'm so electric-minded that I even own a nutcracker and an ice cube crusher which also work by electricity."
The colors used in Smith's kitchen are green and cream. The saucepans conform to the general color scheme, too, being of that new enamelware that is green on the outside, with black bottoms for better hearing and with measuring lines inside each saucepan which add to their practicability.
The woodwork in the kitchen is cream, the linoleum and curtains green, while those two colors are combined in the edgings of the well-stocked kitchen shelves.
Once we had reached the culinary department it did not take me long to discover that here indeed is one radio hostess who knows her groceries. That's not meant to be facetious, either, for though Smith happens to broadcast for the A&P stores, her cooking experience dates back far beyond any connection with her present sponsors.
"Even as a child," she told me, "I always was allowed to fuss around in the kitchen. And I loved it!"
She still loves it, does Smith. So much so that, to this day, her idea of joy is to get out into the kitchen and fix up a scrumptious meal for her friends, or for her mother, who comes frequently to visit her.
"Mother is a wonderful all-around cook, Smith declared with proud conviction, "but she says my pies and cakes are better than hers! I'm a pretty good baker, I guess, for I can make breads and rolls and coffee cakes, as well as the more showy sweets. And my doughnuts are great."
Her chuckle as she said this was a delight to hear.
"I use a yeast-raised dough for my doughnuts," she continued; "they're real old-fashioned, you see. I can make up a batch of four dozen and in two days they're all gone."
Smith didn't tell me how many of these she herself consumes, but as she refuses to diet I imagine she cooperates in the inroads on this generous supply.
For Smith likes to eat and insists on having food with her meals. No bird rations or calorie charts for her! No anemic piece of lettuce tastefully (?) dressed in mineral oil, masquerading as lunch! No dinner consisting of a lean lamb chop and a slice of pineapple! No meal, actually, that would even remotely conform to the Hollywood Diet ever appears in Smith's home. That's why a bid to dine at her house is not just another dinner invitation, but a golden opportunity to learn what an honest-to-goodness home-cooked meal should be.
Add a Comment
All comments are moderated before publication. These HTML tags are permitted: <p>, <b>, <i>, <a>, and <blockquote>.