Harry Ackerman Produced Our Miss Brooks, Gunsmoke on Radio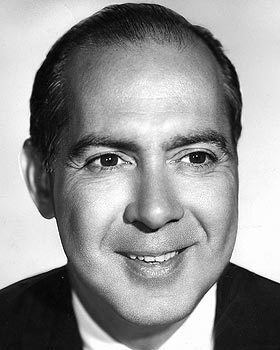 Harry Ackerman, long-time executive at CBS radio died Feb. 3, 1991. He worked on many of network radio's successful shows, including Our Miss Brooks and Gunsmoke.
After graduating from college in 1935, Ackerman became an assistant to Raymond Knight and appeared as part-time announcer and comic poet on Knight's Cuck Coo Hour at NBC. Later he became the assistant director of the Phil Baker Show.
From New York he moved to Detroit, where he was hired as agency producer for The Lone Ranger. Then he was hired to produce two Hollywood programs, The Phantom Pilot with Howard Duff and Elliott Lewis and Landendoft News Dramas, which he later described as a "kind of West Coast March of Time."
When Ackerman was Sperdvac's guest in 1988, he recalled with pleasure his work on the Gulf Screen Guild Theatre, which featured performers who donated their earnings to the Motion Picture Home. "That was a dream experience," he observed. "In the three years I was producer/director. I had absolute carte blanche. 1 could do any script I wanted and cast it with whatever stars I could find available.
Ackerman was supervisor of programs, and later vice president in charge of programs, at Young and Rubicam in 1948, when CBS hired him to work as an executive producer in New York. There he was in charge of all CBS programs originating from New York. Six months later he was transferred to Hollywood to be head of West Coast programming for the network.
For a while, he continued to work as director of The Aldrich Family on NBC, even though he was a CBS executive.
He was still in New York when CBS was about to bring Our Miss Brooks to the radio airwaves. He tried to get Shirley Booth to play the lead. "All she could see was the down side of the underpaid teacher. She couldn't make any fun of it," he observed. Following his transfer to California, Ackerman hired Eve Arden to play the lead.
After bringing the Adventures of Phillip Marlowe to CBS, William S. Paley asked Ackerman to "develop a Phillip Marlowe of the early west." The result was Gunsmoke. At the first he and others at CBS were not sure what position the lead Gunsmoke character should have. "We experimented in writing scripts with him as sheriff for a while and I think in one version we had him as a private eye," Ackerman told SPERDVAC. "Then we finally settled on him being a marshal.
His job at CBS included responsibility for the continued success of the programs that moved from NBC to CBS during the famed 1948 talent raid. "When you're responsible to a boss like Bill Paley, you've got to turn out an excellent product or you'll lose your job," he commented.
Add a Comment
All comments are moderated before publication. These HTML tags are permitted: <p>, <b>, <i>, <a>, and <blockquote>.