Richard Diamond, a Girl's Best Friend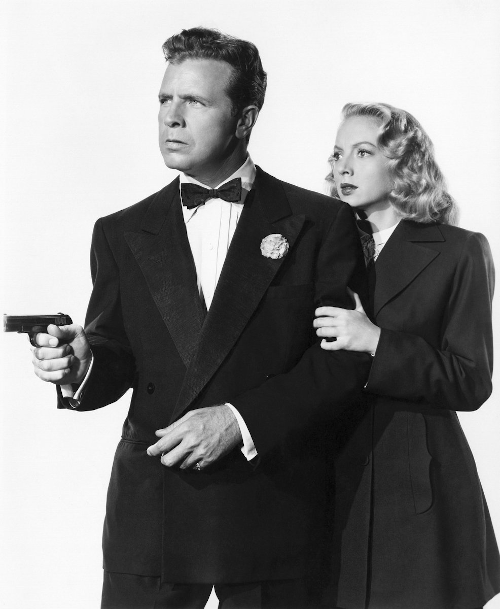 The Richard Diamonds now in circulation are a must for the detective show freaks in the OTR audience. Dick Powell, the flip lady-killer crooner, is perfect as the flip lady-killer crooner detective. With more humor than Howard Duff's Sam Spade, with more unbelievable scripts than I Love a Mystery, with more dazzling chicks than Mike Shayne, the Richard Diamond series must be rated No. 1. On most shows, Powell answers the phone with his newest slogan for his business, like "Diamond speaking, a girl's best friend," or "Diamond's tough when he's in the rough."
The shows are far out too. Take "The Gray Man" (02/16/1951), who has been poisoned and is gradually turning colors, or the "Blue Serge Suite" case where every blue serge suite in town is disappearing! Or the time Rick takes a job in a butcher shop where "The Stakes Are High."
Helen is the perfect girlfriend. Unlike most detective's girls, she stays out of every case. You know Margo Lane had to be snooping over Lamont's shoulder. And Ann Williams, Casey's sidekick in crime photography, had to be taking every other picture. Edith Miller in Mr. DA even helped to solve crimes for goodness sakes! But not Helen. She waits in her rich, stately penthouse for Rick to finish his case, and when he finally shows up, he croons the Camel commercial, the kiss and fade out ... Diamond, you're a chauvinist pig but I love ya!
Here are the Diamond cases that I have heard. Maybe there are others you know of to add to the list.
05/29/1949: Blackmail
06/19/1949: Three Murder Suspects
06/??/1949: Grounds for Divorce
08/24/1949: Phony Seance Racket
01/19/1951: Man with the Scar
01/26/1951: Rollins Case
02/02/1951: Gaspary Case
02/09/1951: Blue Serge Suite
02/25/1951: Lady in Distress
03/02/1951: Red Horse
03/09/1951: Butcher Shop
03/23/1951: Monsieur Beauchard
03/30/1951: The Carnival
12/21/1951: Xmas Story
12/28/1951: Plaid Overcoat
01/04/1952: Merry-Go-Round
01/11/1952: White Cow Case
01/18/1952: Simpson Case
01/25/1952: Al Brennar Case
02/01/1952: Gerrbalki Case
02/08/1952: Eddie Burke Case
03/14/1952: Dixon Case
03/21/1952: Hank Burton Case
03/28/1952: Mr. Walker's Problem
04/04/1952: Enigma of Big Red
Undated Shows
Gurman the Gunmaker
8:00 Killer
Moran Suicide
Murder in Oklahoma
An Xmas Carol
Big Foot Grafton
Mona Lisa Case
Jacobi's Back in Town
Ice Pick Murder (Rexall sponsored)
Baxter Matter
Police Officer Symposium in Chapel Hill
George Lexington Case
Nancy Fowler Case
No One Was Murdered Case
Marilyn Conners Case