Obituary for Radio Drummer Roy C. Knapp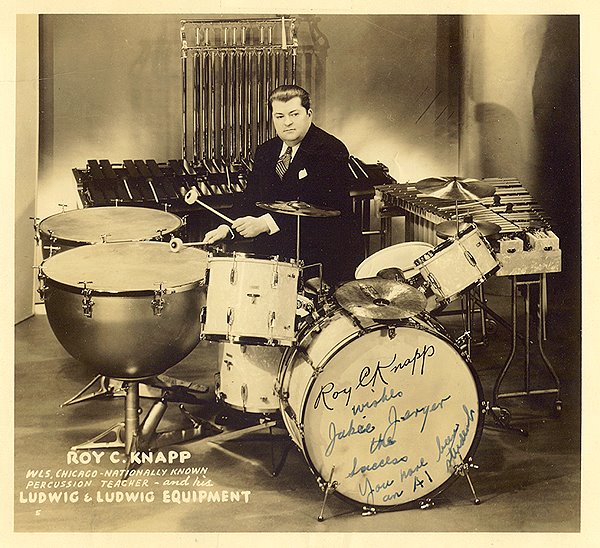 Roy C. Knapp, a network orchestra musician during radio's golden area in Chicago and a highly respected percussion teacher in the city for decades, died June 16, 1979, at Northwestern Memorial Hospital in Chicago. He was 87. The cause of death was not released.
Knapp was a longtime resident of Chicago's Near North Side. He was born on Oct. 26, 1891, in Waterloo, Iowa, where his father operated the town's first movie theater. Knapp could play several musical instruments and when the drummer for the theater's orchestra became ill, Knapp filled in for him. The experience inspired him to pursue music as a career.
The young stickman moved to Chicago in his twenties, becoming a sought-after studio musician skilled as a drummer, percussionist and xylophone soloist. He then extended his craft by becoming a teacher whose students included the jazz drummers Gene Krupa, Dave Tough, George Wettling and Louie Belson. He was a longtime orchestra member on shows broadcast on WLS.
In 1938, Knapp and his wife opened the Roy C. Knapp School of Percussion in Chicago at 509. S. Wabash Avenue. Ads proclaimed the Knapp school of music as "the cradle of celebrated drummers," offering students tutelage in the skills needed to join a "top flight" radio, television, theater or concert orchestra.
In addition to his performances for radio and movies, Knapp played the drums on the National Barn Dance from 1923 to 1960. He also played on Chicago's radio program The Breakfast Club. Though he was retired as a performer he still offered private lessons at the time of his death.
A Chicago Tribune obituary lists his survivors as a daughter, Dorothy Law; sons Donald Knapp and James Knapp; seven grandchildren and four great-grandchildren.
Related Stories:
Add a Comment
All comments are moderated before publication. These HTML tags are permitted: <p>, <b>, <i>, <a>, and <blockquote>.