Radio Announcer Reed Browning Makes a Spectacle of Himself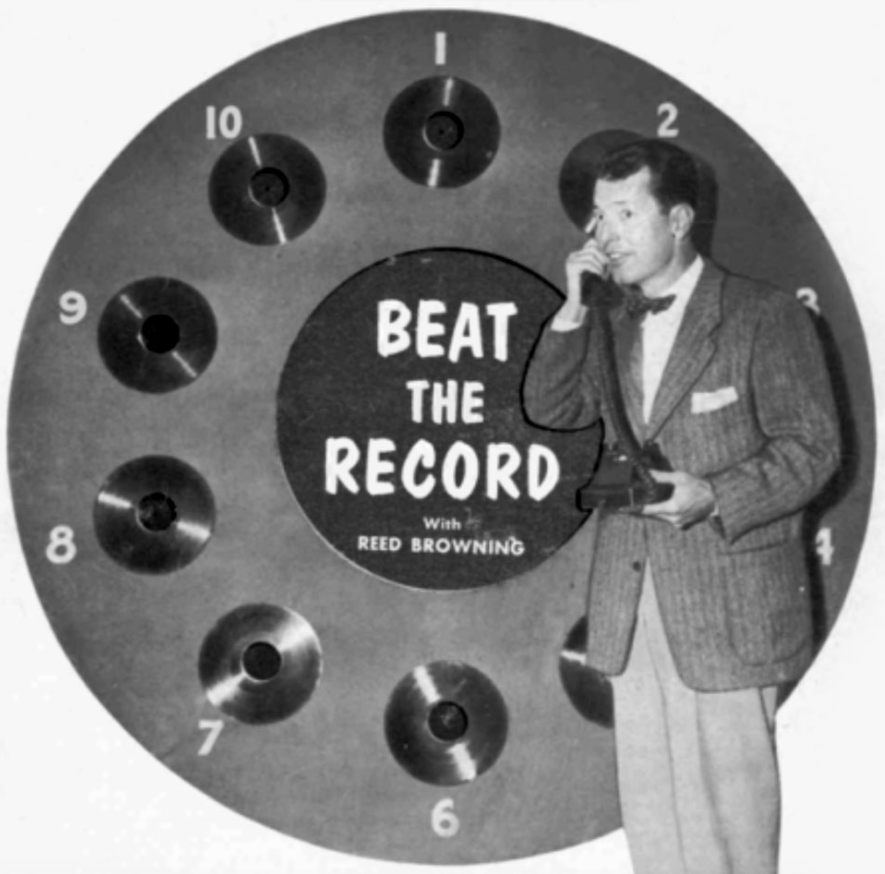 Folks visiting Hollywood -- or those who live there -- have three easy and pleasant ways to meet one of the friendliest and most cheerful emcees in show business, Reed Browning. Anyone appearing in the vicinity of Sunset and Vine any weekday morning or afternoon is quite apt to become an active part of Reed's two all-around-good-fun shows: Beat the Record, heard locally over station KABC, or the Reed Browning Show, heard over the ABC network.
Both programs offer a delightful fare of music, spontaneous fun and prize quizzes, and feature popular performers such as Rex Koury, Art and Dotty Todd and Ronnie Kemper. If, by chance, visiting firefighters miss either of these happy sessions, they can drop by the famous Cocoanut Grove and join Reed in his evening coast-to-coast Cocoanut Grove Party.
If Reed's face looks familiar and his voice sounds the same, it is undoubtedly because this busy emcee has appeared on a stream of radio and TV shows, from the Breakfast Club and Philco Hall of Fame to the Jack Owens Show and Crusade in Europe.
Originally, Reed had wanted to be a trumpet player, but while still a student in Decatur, Illinois, his football activities prevented him from playing in the band. Hence, his musical career ended. As an English major at the University of Illinois, Reed became interested in radio, so, after graduation, he sent records of his voice to a host of radio stations. One of these was station KGMB in Honolulu. On the strength of his long-distance audition, the station hired Reed as an announcer and emcee.
In short time, he became a tremendous favorite with the local populace and was affectionately known as "Unka Beel." He also made a hit with an attractive young actress named Laurel Ensminger who was appearing in a play in Honolulu and whom Reed soon took as his bride. After two years in the land of swaying palms, Reed and Laurel returned to the States where he got a job with station KYA in San Francisco.
A year later, NBC approached him. During an ensuing interview, Reed -- whose real name is Bill Livesay, was told by the big boss, "The name Livesay will have to go." Anxious to get the job, Reed got together with friends and came up with Reed Browning. Months later, the NBC boss met Reed at an office party and asked why he'd changed his name. "Because you told me to," Reed replied. "Oh," laughed the boss, "I was only kidding. We were going to hire you anyway."
When NBC was split and the American Broadcasting Company was formed, Reed was sent to Hollywood as a member of the ABC staff. For the next few years, nothing spectacular happened to Reed's career. Then, recently, he bought himself a pair of horn-rimmed glasses. From the day he donned the specs, his career has skyrocketed.
Says Reed, "Until I bought a pair, I had only one radio show. Now ABC has suddenly discovered, after knowing me for a dozen years, that I am a composite of Robert Q. Lewis, Bill Cullen, Steve Allen and Dave Garroway. So they've given me the big build-up as California's answer to those four guys."
While success has become Reed's business byword, at home, in North Hollywood, he continues to pursue his quiet, easygoing way of life with Laurel and their youngsters: Wendy, 13; Billy, 11; Kenneth, 6; and Elizabeth Anne, who is one. The Browning backyard houses a much-used swimming pool, which Reed helped to build, and an outdoor barbecue, a family favorite. While others concentrate on semi-tropical vegetation, the Brownings make a hobby of keeping their place as "Eastern" as possible, to remind them of Illinois. Reed enjoys gardening and "fussin' and fixin'" around the house and is also a ham radio operator.
The Browning home is situated just 10 minutes from the ABC studios on Vine Street. This is a convenience Reed enjoys to the fullest, for he hates traffic. But what is more important, Reed loves people -- and there's no doubt of how much folks far and wide love Reed. He's a spectacular, spectacled favorite.
Add a Comment
All comments are moderated before publication. These HTML tags are permitted: <p>, <b>, <i>, <a>, and <blockquote>.