Freeman Gosden and Charles Correll Created Amos 'n' Andy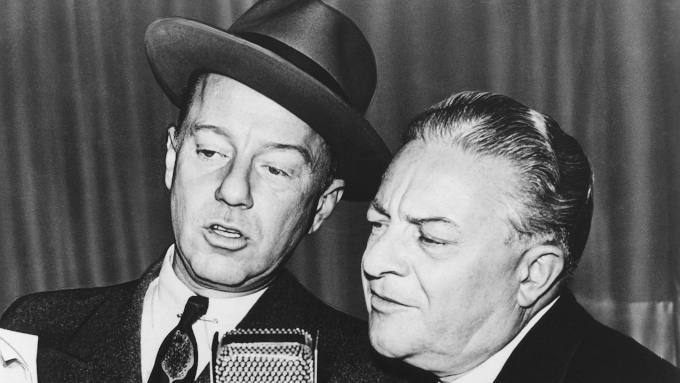 Amos 'n' Andy are two of the best known radio characters in America, and in the last six months -- the time they have been on the National Broadcasting Company networks -- they have made radio history in broadcasting at least 150 times, which is the equivalent of three years on the air for an ordinary program.
Amos 'n' Andy operate the Open Air Taxicab Company in Harlem. Each night a microphone picks up the highlights of their day as revealed in their discussions with their associations. Their business ventures, their amusements, even their affairs of the heart, are told in their conversations. The story goes on and on, and it has been asserted that if you listen in three nights in succession, you'll be an Amos 'n' Andy fan. The program is the first daily comic strip on the air.
Amos 'n' Andy are, in very private life, Freeman F. Gosden and Charles J. Correll. Gosden is Amos and Correll is Andy. Correll was born in Peoria, Illinois, and grew up with the ambition to become an actor. Gosden, a native of Virginia, was an actor when the two met in North Carolina almost eight years ago. They became partners and for a while traveled about staging amateur revues for Junior Leagues and other organizations. Then they teamed together in a theatrical company.
In 1925 they appeared for the first time before the microphone. In 1926 they introduced Sam 'n' Henry to the radio audience. Two years later they created Amos 'n' Andy, popularizing them throughout the midwest. In 1929 NBC, on the lookout for outstanding radio talent, signed them up and subsequently put them on the air under the sponsorship of Pepsodent toothpaste.
Not even the sponsors realized how popular they were until a strange thing happened. When Amos 'n' Andy changed from the Columbia Broadcasting System to the NBC network, their program was scheduled for 11 p.m. EST. Parents and children protested. It was too late for the youngsters and the youngsters who were Amos 'n' Andy fans numbered in hundreds of thousands.
It was then arranged to present the pair at 7 p.m. in the evening, in order that youngsters might listen in. Then the squall broke. Seven p.m. Eastern time means 6 p.m. Central, 5 p.m. Mountain and 4 p.m. Pacific. Fans who had become interested in the adventures of Amos 'n' Andy found that they would either have to give up their jobs or give up Amos 'n' Andy.
The storm broke in Denver, where there was virtually a mass meeting of irate listeners. Thousands upon thousands of letters and telegrams of protest were received by NBC and the sponsors. Something had to be done. The result was that a precedent was established in radio. Amos 'n' Andy continued to go on the air at 7 p.m. Eastern time, but only in the Eastern time zone. The same evening they went on the air over a Central and Western network at 11:30 p.m. This proved to be the solution to the problem, and while it cost more money there seemed to be no other way out.
Only the president is considered to have right-of-way over Amos 'n' Andy. When it became necessary to eliminate the program for an evening in order to rebroadcast Big Ben in London on New Year's, there were protests. Any rumor that Amos 'n' Andy are going off the air is followed by a flood of letters. Once when the program failed to go on, it was necessary to have the continuity for that night printed in newspapers.
What is the fascination of the program? Smart showmen declare it is the continuity of interest. They point to newspaper comic strips as an example of the same technique.
Correll and Gosden have ideas of their own. "It isn't a wise-cracking program," Correll said in discussing their success. Incidentally both men are somewhat amazed by it all. "People don't listen because of the jokes that are told. In fact, the program at times has a decided touch of pathos. Amos 'n' Andy are very human. They have more than their share of faults and they have many likeable characteristics. They are always blundering into scrapes and getting out of them. In other words, they are doing what anyone is likely to do under the same circumstances. The comedy is human."
Add a Comment
All comments are moderated before publication. These HTML tags are permitted: <p>, <b>, <i>, <a>, and <blockquote>.