George Hall and His Orchestra, Live from the Hotel Taft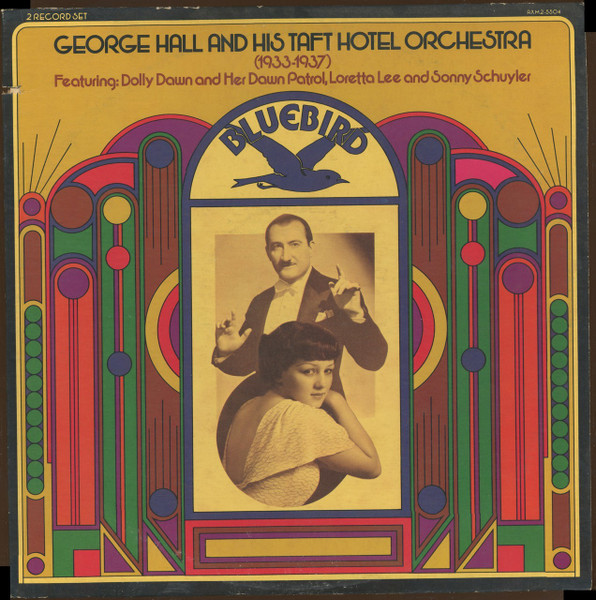 George Hall leads the popular dance orchestra in the grill of the Hotel Taft. His band broadcasts 11 times a week -- which means that it is heard more often than any other band on the air. Noon, night and morning its rhythms and harmonies are carried into all the cities and all the towns and the smart country hamlets where the Columbia Broadcasting System bears romance and inspiration to the organdied girlfriends of tuxedoed youths.
It is a very good thing indeed for the egos of the tuxedoed youths that the girlfriends can only hear and cannot see George Hall leading his orchestra -- although George, being the fine fellow that he is and married besides, would never do the girls any harm -- or good, as you will.
George stands over six feet in height. His shoulders are broad, his hips are narrow, his waist is slim. He wears his jet hair sleekly combed and it glistens handsomely above his seashell complexion (he would go wild over that description). He has a little mustache, carefully waxed and pointed, teeth that flash and eyes with both fire and the dreaminess of his Spanish and Italian temperament.
Interviewing Hall was a difficult assignment, for he sat back smoking a long, evil looking cigar as black as a racketeer's income tax record, and inwardly froze.
"What," he demanded, "is there to say about me? My band plays here for luncheon, dinner and supper -- and then I go home. After all, what else is there?"
It was not an encouraging start. If the man would not talk about himself, what in truth was there to say? However, something had to be said. With a graceful gesture of long artist's fingers, Hall flicked an ash off his cigar. Ah, the cigar!
"That," it was suggested, "must be a strong smoke."
"It's a very good smoke," he replied, looking at the formidable contrivance affectionately.
"What brand," it was asked in a floundering way, "do you smoke?"
"Any brand," returned Hall. "Touring the country, I got over being squeamish about brands. Every section has its own favorite brands. I smoke 20 a day."
Twenty a day! He must, it was hinted, have a powerful constitition. He did, he agreed. It required some time and more desultory conversation to find out where he had acquired it. Then it developed he had been a schoolboy football and basketball star at Brooklyn Boys' High.
"It's an interesting thing," he remarked, characteristically avoiding recital of his prowess on courts and gridiron, "every fellow on that basketball team went into music. Felix Bernard composed Dardanella. You remember Dardanella. Ray Sherwood is writing songs. Bert Ruel is a pianist. And Bert's brother Jimmy has been coach for Morton Downey, Belle Baker, Eddie Cantor and lots of others."
He sat back with that outburst, and after a pause, remarked, "I'm not used to being interviewed. What can I say?"
He was very earnestly modest about it, and quite sincerely embarrassed. There was only one thing to do. The Columbia Broadcasting System had his record typed out on mimeographed sheets. Out came the record.
Now what was this about his middle name being Flag? Oh yes. He had been born on Flag Day, and so his parents had named him Flag. It was a good thing it had not been February 14. That line of talk did not seem to be moving in any special direction. Wasn't his name George Hall? No, as a matter of fact it was George Passilia.
"My father," he explained on painful questioning, "is Joseph Passilia. He played the first violin for Victor Herbert for many years. My mother was Vita Ciaccio before she was married. She had a lovely contralto voice. I was the only musical child. I have three brothers: a doctor, a schoolteacher and a bank clerk. And two married sisters."
And that was that.
Little by little, and chiefly through the prompting of the mimeographed record, it came out that George had started playing the piano by ear at the age of six. How had it happened? Oh, just naturally. The home was a musical one. The piano was there. So-o-o, as Ed Wynn would remark. Unlike the young Liszt, George had not had to hide in an attic to practice. And his father, hearing him, had taught him the violin.
So it came to pass that when he was 14, George Hall was sitting in Victor Herbert's orchestra at his father's playing elbow, learning by example and experience how to keep his resined horsehair steadily midway between delicate bridge and long ebony fingerboard and absorbing the spirit and technique of good music. And at sixteen, he was leading the orchestra at the Imperial Hotel in Brooklyn.
"It's a funny thing," mused George Hall, becoming alarmingly loquacious about himself for a few minutes, "but you've heard about so many barbers and butchers and lawyers and even bootleggers making their kids practice the violin or the piano and wanting them to become great artists. Well, my father wanted me to be a doctor."
And being a dutiful Latin son, George went to Cornell Medical School, which is, perhaps, where he acquired that ingratiating bedside manner so evident when he sits at a dinner table dangling pince-nez at the end of a black cord and speaking, when he is not conscious of being interviewed, in his so soothing voice.
Working his way through Cornell, however, George Hall became a Broadway figure summertimes with his orchestra. Then the war came along. George joined the Navy and organized bands at the Great Lakes Training Station for overseas service. After the war, it looked like a long, hard grind ahead to become a medical man. A musical career was at hand. George seized it.
"That," said George Hall, relaxing with evident relief, "is how I became a musician. I have been one ever since."
The interview was at an end, and there was no mistaking the fact that George was very happy about it.
"Will you have a cigar?" he offered gratefully, as mimeographed record and copy-paper notes went into hiding. But it was another of those long, black, startling-looking affairs. The offer was declined with thanks.
Add a Comment
All comments are moderated before publication. These HTML tags are permitted: <p>, <b>, <i>, <a>, and <blockquote>.