Will Rudy Vallee Quit Music to Become Governor of Maine?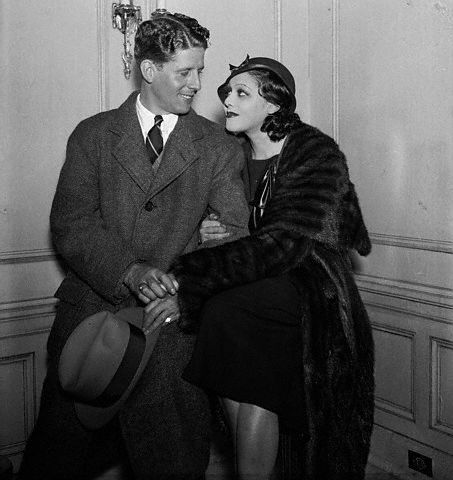 Will Rudy Vallee abdicate his throne as King of the Crooners? He will. But when Vallee steps away from the microphone for the last time, he will march into a high executive post in the radio world.
Vallee may become the highly paid chieftain of the artists' bureau in a great network. Many believe it is more likely that he will be enshrined as the first Will Hays of radio -- the dictator of the air needed to pour oil on the so frequently troubled ether waves. This is the consensus of opinions of those who have closely watched the latest chapters in the vivid, colorful Vallee saga.
Charles A. Lindbergh flew the Atlantic and, from the status of a pilot, rose to become a financial power in the world of aviation.
Vallee captured the applause and admiration of millions when he started this crooning business. After the first overwhelming rush of adulation had passed, he wisely reserved his personality and voice for a few selected broadcasts.
Thus his public was not sated, and he retained his fame and popularity while other stars rose and then waned. He made a million or more dollars before the microphone. He realized every ambition that a radio star can possibly entertain -- and he knows that sooner or later every star must grow dim.
He is as popular with the radio magnates as he is with the fans -- because he has not developed temperamental complexes, and still works as hard as when his Connecticut Yankees were barnstorming the studios.
So he believes that, just as Lindbergh became a mogul of aviation, he can become a big businessman of radio.
Vallee is now studying law under Dean Gleason L. Archer of the Suffolk Law School in Boston. He has probably been secretly perusing the statute books for more than a year. He is studying law not as a whim, or to croon to juries -- as some facetious commentators have smilingly indicated -- but for a mature purpose.
He is concentrating on law as he concentrated on music -- in dead earnest -- despite the soft voice and the wavy locks. If Vallee is to become the dictator of the radio industry he must know law. Didn't baseball pick a judge as its arbitrator? And isn't Hays an attorney?
How soon will the great transition take place? That depends. At present Vallee's voice is heard on the ether but once a week. Vallee is smart that way. It is understood that he is considering contracts that will carry him through the next two years.
Two years from now Vallee's law course will have been completed -- and he'll probably know more about the ins and outs of courtroom practice, under the expert tutelage of Dean Archer, than most young attorneys. So two years isn't a bad guess.
It might be sooner, however. There are whispers wandering around the New York broadcasting castles. The whispers hint that Vallee fears he is losing his voice. It sounds silly -- his voice on the air sounds as clear as ever -- but the whisperers want to know why Vallee has installed expensive air conditioning machines in his home, why he is so careful to sing only under perfect conditions, and then infrequently.
There is something else to be considered. Some observers believe that Vallee, when he abdicates the throne, will not become a radio dictator but a politician. Can Vallee be elected governor of Maine? Can he climb to the top of the political regime with the same ease as he ascended to the throne of radio?
Seriously, there are many who believe that if an election were held today he would become Maine's governor. They idolize Vallee in Maine. His Stein Song is the national anthem on the rocky and rugged coast. And there is no doubt whatsoever that he would get almost all of the women's votes.
How will Vallee's Horatio Alger tale end -- from crooner to radio dictator, or from crooner to governor?
Either job will be acceptable to Vallee.
Add a Comment
All comments are moderated before publication. These HTML tags are permitted: <p>, <b>, <i>, <a>, and <blockquote>.