Algiers Was Hedy Lamarr's First Performance on Radio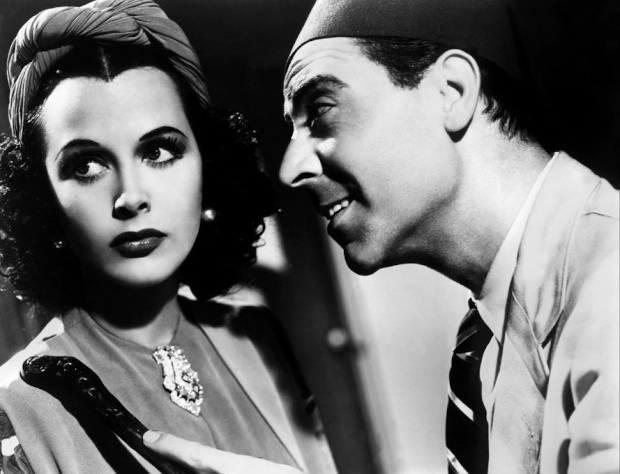 Since Metro-Goldwyn-Mayer's picture Come Live With Me with Jimmy Stewart, little has been heard from Hedy Lamarr, one of Hollywood's most glamorous ladies who broke into screen fame with her rather unclad part in Ecstasy, a European picture. It was therefore with interest that the editors of Movie-Radio Guide observed that Hedy (she likes it pronounced Hay'-dee) was booked by the DeMille Radio Theater to co-star with Charles Boyer in a radio adaptation of their Algiers.
This was news from two points -- first, because it was the final performance of the season for the Radio Theater, and second, because it was Lamarr's very first radio broadcast.
A third point of interest was the rumor that the Viennese ex-stenographer had been feuding with her home studio and was on suspension. At radio rehearsal she was interviewed.
"Have you been off pay or on suspension?" she was asked. "I haven't missed a single week getting my paycheck," she replied. "Here, do you want to see it?" I did, naturally enough, but being a gentleman said no and let it pass. But I did observe in talking to her that she obviously was under a great tension just before the broadcast. Who wouldn't be -- breaking into radio in a program with 25 million listeners throughout the country waiting to say, "she's awful!"
It developed during our chat that Lamarr has been on a three-month vacation following Come Live With Me.
The glamorous brunette was clad in a black chiffon floor-length dress, and was wearing black wedgie sandals over bare feet, with her toenails enameled a cherry red. She was plenty nervous about that first broadcast, too, but was calmed considerably by Cecil B. DeMille, producer of the program, who succeeded in making her laugh just before the "on the air" sign flashed, and also the ever calm Charles Boyer.
We listened to her Algiers. She'd lost much of her accent, and her radio version was not quite as sure as her screen Algiers. We checked with our better half for her opinion. She said: "Hedy sounded just like Joan Bennett." That was a compliment, because La Bennett is an accomplished sure-fire radio performer.
Gene Markey would have agreed. He was married to both actresses in turn.
Add a Comment
All comments are moderated before publication. These HTML tags are permitted: <p>, <b>, <i>, <a>, and <blockquote>.