KDKA in Pittsburgh Became the First Radio Station on Nov. 2, 1920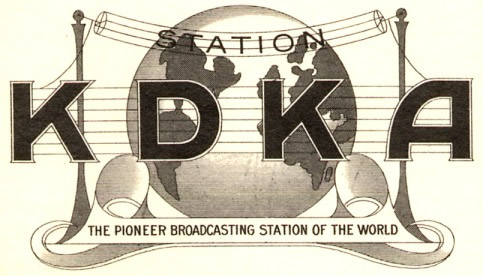 Radio is so new to most of us that it seems incredible that anything connected with it could be having a sixth anniversary. But an interesting series of dates has been furnished by the Pittsburgh station, which will constitute the genesis of the history of broadcasting when it is written.
It was Nov. 2, 1920, that KDKA first went on the air to do regular broadcasting, and the subject matter was the result of the Harding-Cox election. Other interesting first time performances include Jan. 2, 1921, when the first service was broadcast direct from a church; Jan. 15, 1921, marked the first pick-up of a banquet hall where Herbert Hoover was the principal speaker. Feb. 18, 1921, was the first pick-up from a hotel, and the same date must have been a great day in Pittsburgh for it was then that the first report was received that KDKA had been heard outside the United States, the confirmation coming from London and several points in Canada. April 11 of the same year marked the introduction of the prizefight to the air, when Florient Gibson, sports announcer, gave a blow-by-blow account of a lightweight battle direct from the ringside, paving the way for the Jack Dempsey-Georges Carpentier contest in Jersey City the following July. Beginning also in April the regular broadcasting of baseball scores was inaugurated by KDKA.
In fact, it appears that we are indebted to Pittsburgh for practically all our standard features, and while to those of us who are accustomed to the highly specialized broadcasts of today those initial experiments would undoubtedly seem very crude, it is interesting to note that they paved the way and set a line of conduct that is still adhered to by practically every standard station in the country. Those trail blazers must have had an exciting time with no established precedents to follow, and it is a matter worth noting that a religious service should be practically their first attempt, for one would naturally assume that there would be some timidity in producing anything so radical until the attitude of the listening public had been determined. But apparently timidity and lack of assurance have played no part in the history of broadcasting. The rash pioneers were willing to try anything once, and one supposes that the explorers at the receiving end were so amazed by the marvel of being able to hear anything that they bore little relation to the critical, over-pampered listeners of today.
Speaking of this pioneer station, one feels safe in saying that there is no dial-twister throughout the land, no matter wat his geographical location, who hasn't at some time heard KDKA. In our own early days it seemed that the first week the triumphant cry was, "I've got Pittsburgh," and the second week, "I can't get anything but Pittsburgh." True, at that time, due to its reputation as our most exasperating fader, no one in our vicinity ever thought of receiving all off a program from KDKA, but in this era of tremendous power, and receivers which amaze us by their performance, the fading is reduced to a minimum, and it is now possible to spend an evening with the Pittsburgh station with as good reception as any other equally distant broadcaster. At times, in fact, they register with such volume that it is either a case of tuning them out or getting out of the house, and if there is anyone in South Africa who hasn't heard the Westinghouse Band, when the engineers are trying to get it there, he would do well to check up on his set.
One is constantly running across some interesting experiment when tuning in on this station which would relieve the monotony, if such a thing could exist where the versatility of broadcasts is going on from the various studios from morning 'til night. And the many educational and informative programs that are continually going on the air are as familiar to the average listener as the murky condition of the atmosphere surrounding KDKA's antennae. One notes a painstaking thoroughness in everything they do. For instance when Pittsburgh gives football scores it isn't the results of a meager dozen or more major games you hear -- it's a sporting lexicon of every contest taking place on American soil that day. And so dependable are the news broadcasts from the Pittsburgh Post studio that when something of importance breaks, it is a common thing to hear, "Well, we'll wait and get it from Pittsburgh."
Our oldest friends among KDKA's standard features are the aforesaid Westinghouse Band and Victor Saudeck's Little Symphony Orchestra, the latter one of those sterling radio organizations that is always to be depended upon for sound presentations of standard works. In the days before the large symphony orchestras were put on the air we were indebted to this group for some of our most precious half-hours of musical enjoyment, and they still preserve their high standard.
In addition to its sustaining programs, KDKA presents a number of commercial features, one which has interested us being the Teaberry Hour, and in addition has its own combination of hook-ups, though whether this claim is to be continued under its apparent arrangement with the National Broadcasting Company is not entirely clear at the present time.
But whatever develops in this rapidly moving industry, one is confident that the pioneer station will go steadily on furnishing us with dependable entertainment as it did back in those primitive days when its audience was listening painfully through uncomfortable headsets instead of taking its ease before elaborate mahogany cabinets from which rolls music in tremendous volume. And one notes with much satisfaction that no matter how many pirates perch on the 309 meter wave, the Westinghouse station apparently just increases its power and comes roaring through as though it were alone on the air.
Add a Comment
All comments are moderated before publication. These HTML tags are permitted: <p>, <b>, <i>, <a>, and <blockquote>.