Four Radio Shows Hired Les Tremayne to Replace Don Ameche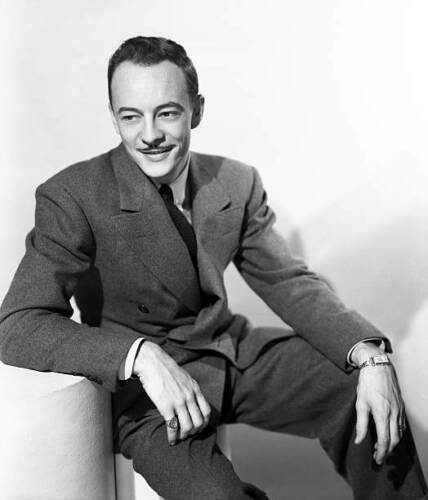 For the first six years of my radio career, I was very particular about keeping a daily record of every show I worked -- the date, time, name of show or episode, each character I played (and sometimes there were up to 10 in a single show!), and, later on, pertinent observations and specific comments pertaining to these or made by others, which I felt important enough to record.
My career accelerated to such an extend (up to 45 shows a week!) that I found it impossible to keep this radio log current and abruptly stopped recording the facts on May 30, 1936.
This curtailment was brought about also by the fact that I took my first vacation beginning on April 20, 1936 -- four days after my 23rd birthday and a month before I began my stint on The First Nighter program as the romantic leading man and co-star with that exquisite actress, my lovely leading lady Barbara Luddy. This role lasted until I quit the show in the middle of 1943 and went to Hollywood for the second time.
Actually, I had been working on The First Nighter on and off in various roles since 1934. The program first hit the air on Thanksgiving night in 1930, over WIBO on Chicago's far north side, with its creator, Charles P Hughes, playing the role of Mr. First Nighter the host. June Meredith was the leading lady and co-star with my dear friend, Jack Doty, a superb actor with an outstanding voice as the leading man. Hardly anyone seems to remember Doty as the original leading man. He wasn't with the show very long, which may account for that fact.
When Doty left, the Campana Company, our sponsor, came up with a young, handsome, dashing leading man named Don Ameche. Ameche, at the time I knew him, was the No. 1 actor around Chicago.
It came about that I -- physically quite opposite to Ameche, which, thank goodness, didn't matter in radio -- replaced him in five different parts on four different shows as he left each program: Capt. Hughes and Coach Hardy, both characters on Jack Armstrong, the All-American Boy (that was primarily because Don's voice was almost identical to that of his younger brother Jim, who played Jack Armstrong); Bob in Betty and Bob; the romantic leading man and co-star with Ann Seymour in Grand Hotel; and ultimately the leading man in The First Nighter.
Related Stories:
Add a Comment
All comments are moderated before publication. These HTML tags are permitted: <p>, <b>, <i>, <a>, and <blockquote>.