Jean Hersholt and Don Ameche Star in Sins of Man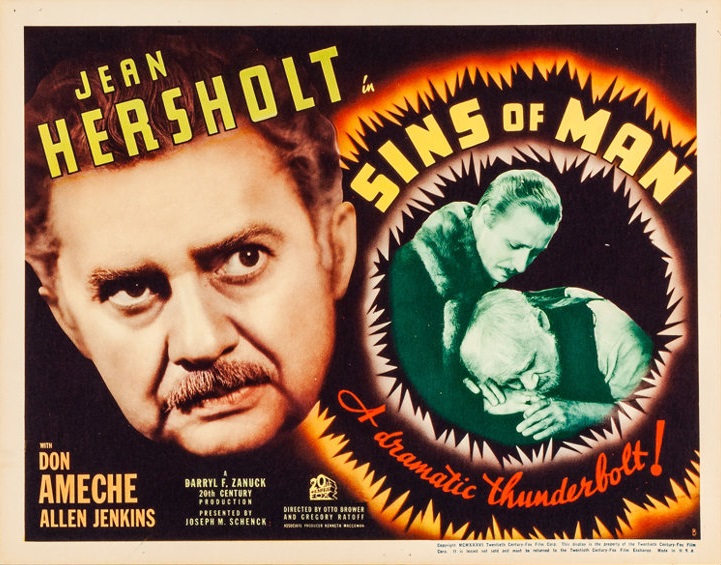 It draws a parallel between the patience of Job and the patience of a Tyrolean church sexton, but Sins of Man will be regarded by many not as cinema proof of the infinite wisdom of things, but only as a picture in which Jean Hersholt triumphs over a draggy, overly sentimental script. And the many would be right.
There is, of course, the qualifying thought that Hersholt's performance in Sins of Man makes the film real, believable and important. So important, in fact, that we can easily come to accept that infinite wisdom of things which the photoplay asks us to accept.
Sins of Man is on a par with those pathetic productions in which Emil Jannings used to suffer so nobly: those films in which our greatest character actresses take delight in appearing. The religious theme of the current picture is not stressed so heavily that it overshadows what is, after all, the stereotype tale of a simple soul who sinks exceedingly low, only to be uplifted by good fortune and good faith.
The Tyrolean bell-ringer is a familiar of ours. We recognize him in any guise, and under any adverse circumstance. This time, his eldest son is driven from home because he wants to be an aviator; his youngest son is born deaf. The flyer dies; the youth disappears during the war and the father winds up in a Bowery flophouse to be jeered by its occupants.
He hears, in time, the cheerful tolling of his own beloved church bells, incorporated in the composition of a young Italian musician. Seeking out the man, the bellringer turned sandwich man discovers his own long-lost son, whose deafness has been cured by the detonations of the war-time shells which had razed their home.
We might quibblingly ask just how this once-deafened youth could remember the sound of church bells he had never heard. But the innate beauty of the symphony in which those bells are heard, and the dramatic necessity for that symphony, make the question unimportant.
Sins of Man is not, as might be imagined, an overwhelming production. It has been stretched far beyond its deserved length, and its co-directors have striven too valiantly to evoke audience tears. On the other hand, they never once become maudlin.
Hersholt, in the major role, makes the film a beautiful, heart-warming affair. His every appearance is so perfectly right, it seems a pity that the script is not so strong as it should have been.
Don Ameche, a newcomer to the screen, is effective in a double role. He first appears as the flyer; later as the musician. In the latter portrait, he is superb. It is easy to predict a brilliant screen future for this gentlemen whose performance so impressed his company that he is re-introduced to us at the close of the film.
Allen Jenkins is refreshingly different in a minor role, and bits have been entrusted to J. Edward Bromberg, Ann Shoemaker, Fritz Lieber and others.
Related Stories:
Add a Comment
All comments are moderated before publication. These HTML tags are permitted: <p>, <b>, <i>, <a>, and <blockquote>.