Amanda Snow: From a Nightclub to Gospel Radio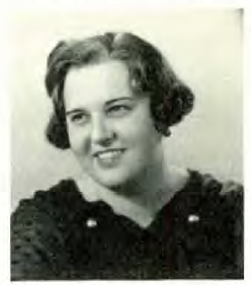 Hymns have always been joyous and inspirational music to Amanda Snow, NBC's newest singing personality. Perhaps that is why she is now a radio star.
To begin with, Snow sang in the Rockford, Illinois, Mission Tabernacle and its Bethesda Church. She later sang in the First Swedish Baptist Church of Minneapolis before coming to New York. And when she finally came to the Big City, she didn't forget her hymns.
When Snow came to New York for an audition, she was reluctant to offer hymns as a sample of what she had to offer a large audience, After all, she concluded that perhaps hymns and homey patter were all right for listeners back in Minneapolis. But maybe this audience was different. What would their reaction be?
Accordingly Snow devoted the first part of her audition to semi-classical selections. But it was the second half in which she sang her beloved hymns and spoke in her cheery voice, that really impressed the auditioning executives. The result found her with a six-times weekly program over a large network of stations.
Strangely enough, though, the "voice in the old village choir" began her commercial singing career in, of all places -- a nightclub.
Snow was residing in Minneapolis at the time, and although she sang soprano for the church congregation, she had no idea of becoming a singer, Her sister, Miriam, was the "voice" of the family. Miriam was a professional singer in a Minneapolis nightclub, while Snow was the "home girl" of the family. One night Miriam could not fulfill her engagement and pleaded with Amanda to take her place,
Amanda Snow agreed only because a singer was absolutely necessary to satisfy the club's patrons. When the manager asked her what type of songs were her specialty, you can just picture the expression on his face when Snow told him in one word. Simply "hymns."
Under the doubtful eye of the manager, Snow came out on the night club floor, and instead of singing torchy numbers amazed the gathering with several beautiful hymns. To her surprise-and the manager's, she received encore after encore and as a result was offered a professional contract on the spot. She accepted on condition that she be allowed to choose the numbers she would sing. And while sister Miriam sang hot, torchy numbers, Amanda stuck to her hymns.
When she was offered a chance to sing on station WTCN in Minneapolis, she left the employ of the nightclub and remained with the station for some time. Here, she had an opportunity to sing all the hymns she pleased and had ample time to take vocal lessons and increase her repertoire. Then she came on to New York and auditioned successfully.
Snow weighs 287 pounds but she doesn't care who knows it. In fact, she tells people she weighs 300 pounds. "After all," she says, "I have a round figure so I might as well make it a round number."
She doesn't resent anyone kidding her about her weight but when it is carried too far she's ready with fitting reply. There was the time a particularly persistent heckler asked her where she came from and she good-naturedly replied "Minneapolis." The would-be smart guy smirkingly inquired if they had enough room for her there. "Don't forget," squelched the alertful Snow, "Minneapolis is called the Twin City."
Snow intends to adhere to the homey type of program featuring the old-fashioned favorites, hymns and her cheery patter. Religion she believes, should be given more emphasis through radio.
"Perhaps the public is realizing," says Snow, "that religion, of which trust and faith are the forerunners, does bring happiness. All music should be sung joyfully-and religious music most of all. People are undoubtedly also realizing that hymns can be gay and joyful too, In radio generally the mood is being felt in the increasing popularity of religious programs and singers. The Hymn Singer, Ed McHugh, the Gospel Singer, The Hymns of All Churches program and Smilin' Ed McConnell are all programs having a large audience.
"If your heart is happy and you are sincere, then you can sing hymns with meaning, Proof of this is found in the many letters I receive from persons who say the old songs about the simple virtues make them happy. That is exactly what real religion should do for everyone."
Add a Comment
All comments are moderated before publication. These HTML tags are permitted: <p>, <b>, <i>, <a>, and <blockquote>.