Ray Starita and His Ambassadors Band recorded the song "Blue River" with Eddie Collins on vocals in London on April 5, 1938, for the Columbia label. The performers were Starita, who played clarinet and tenor sax and directed the band, Andy Richardson and Sylvester Ahola on trumpet, Bill Hall on trombone, Chester Smith on alto sax, Reg Pursglove on violin, Donald Thorne on piano, Jack Hill on guitar, Arthur Calkin on brass bass and Rudy Starita on drums and vibes.
Ray Starita was a British dance band leader and reed player who was born in Sicily and grew up in the United States. He performed in London from 1925 to 1932, then returned to the United States and operated an amusement park.
"Blue River" is a song first recorded in July 1927 by either the Original Dixie Rag Pickers or The Harmonizers. The music was written by Joseph Meyer and lyrics by Al Bryan. Meyer also wrote the songs "California, Here I Come" and "If You Knew Susie."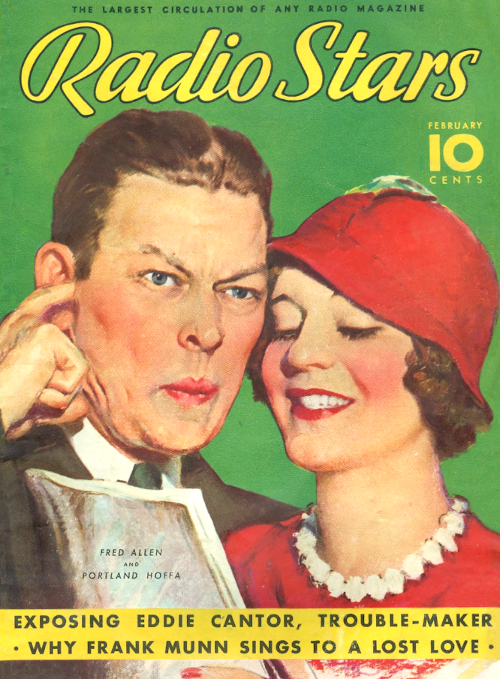 When Fred Allen met Portland Hoffa on the vaudeville circuit in 1922, he was telling jokes and performing badly as a juggler. She was a dancer. The two future comedy stars hit it off because of a conversation about her name:
"I'm a doctor's daughter," Hoffa advised him. "My father named me after the city where I was born. Out in Oregon, you know."

"I know," said Allen. ''You ought to be glad you weren't born in Terre Haute or Gila Bend or Hastings-on-the- Hudson."

"One of my sisters was called Lebanon and another Last One," said Hoffa.

"Good gracious."

"Dad thought she'd be the last one," Hoffa continued serenely, "but she wasn't. So he changed her name to Next-to-Last."
This story is mostly true. Portland Hoffa was born in Portland, Maine, and had a sister named Lebanon (of Pennsylvania) and brother named Harlem (New York City). There also was a sister named Last One. She wasn't last after all and the next and final child was named Period, but went by the nickname Baby.
One Hoffa child eluded location-based naming and was called Fredericka after their father Frederick, a traveling optometrist.
In 1966, the actress Jessica Walter had to be rescued when a fire broke out in her 10th floor apartment in New York City. A firefighter checked on the occupant of the apartment one floor below, as the syndicated newspaper columnist Leonard Lyon wrote in the Oakland Tribune of October 10:
He asked her name. "Mrs. Hershkowitz," she said. "First name? "Last One." The fireman asked her to repeat it. "Last One," she said. Her parents had chosen odd names for all their children. Her sister, Portland, married Fred Allen. Another sister was named Lebanon, another one Period, a brother was named Harlem.

Mrs. Hershkowitz began to spell "Last One." The fireman said, "Never mind. What's your husband's first name?"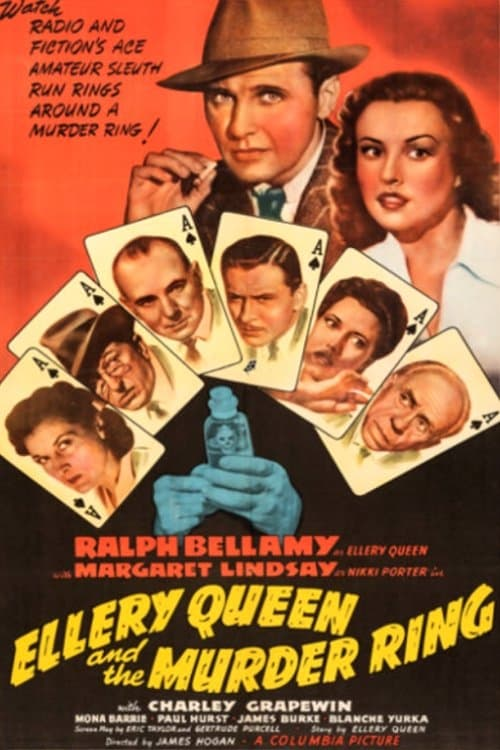 Martin Grams Jr. has gained the reputation of being somewhat of a research dynamo. Rarely will you speak to Grams when he's not engrossed in researching a particular show for an article, a book or simply for the sake of knowing more about it. He's gotten the reputation of being one of the most productive old time radio scholars today.
For his latest book, The Sounds of Detection: Ellery Queen's Adventures in Radio, Grams teamed up with Francis M. Nevins. Francis is an accomplished mystery writer himself and has also written non-fiction books on the subjects of Cornell Woolrich, Hopalong Cassidy and (ironically enough) Ellery Queen. Obviously, this multiple Edgar Award winner (Nevins) and this Ray Stanich Award winner (Grams) make for a fine teaming for the authorship of this book.
Nevins tackles what he knows best: the history of Queen in print, radio and film. He left the task of creating a thorough and comprehensive log of the show's nine-year-run to Grams, a task that he obviously tackled with great gusto. The long is one of the most comprehensive and informative logs that have been published yet, and the introduction to the show and its authors reads in a breezy, informal manner. It's a treat from start to finish, and this comes from a person who has never heard the Queen show or read one of the books.
To further flesh out the impact of the show we're treated to additional essays by Anthony Boucher and William Nadel. We get short biographies of each guest of the show, and as a special treat, a forward written by the late Larry Dobkin, who played Queen on radio for a short time (in addition to other roles on radio which must number over a thousand).
If you're a fan of the Queen novels or are interested in the radio program, The Sound of Detection is well worth having. The amount of research and knowledge on the part of the authors shines through on every page.
The Maryland Dance Orchestra recorded the song "How I Love That Girl" in New York in November 1924 for the Coliseum label. The performers were Ben Bernie and His Orchestra, featuring Donald Bryan and Harold Rehrig on trumpet; Frank Sarlo on trombone; Mickey McCullough, Len Kavash and Jack Pettis on reeds; Al Goering and J "Kenn" Sisson on piano; Paul Nito on banjo and violin; Al Armer on brass bass; Sam Fink on drums; and Irving Kaufman on vocals.
Ben Bernie, whose real name was Benjamin Anzelwitz, was a popular bandleader, jazz violinist and radio host. In the 1920s he formed a band, The Lads, that included Oscar Levant on piano. His orchestra performed in the first NBC radio broadcast on November 15, 1926, and he went on to success hosting musical variety shows such as Ben Bernie, The Old Maestro in the 1930s. The show's announcer was Jimmy Wallington.
"How I Love That Girl" is a 1924 foxtrot with lyrics by Gus Kahn and music by Ted Fiorito. Fiorito was a bandleader who also collaborated with Kahn on the songs "Eliza," "No No Nora," and "When Lights are Low." Kahn's classic songs include "It Had to Be You," "Yes, Sir, That's My Baby," and "Toot, Toot, Tootsie, Goodbye."
Radio's newest program type to run the gamut and come through a success is the kid disc jockey. The latest is Betsy King, daughter of Gene King, program director of WCOP, Boston. Betsy handles a much longer session than most of the disc jockeys who have to sit on phone books to cue up discs. She handles the program as though it were two half-hours from 9 a.m. to 10 a.m. She calls her hour Let's Have Fun, and she does.
Because she feels that Sundays must have prayers, she ends each session with a prayer -- one of her own -- and sends her listeners off to church. The reason she has planned her program as two half-hours is a religious one, also. She feels that the first group of listeners start for church on the half hour and that the second has returned home from earlier services.
One reason why it's possible to have a disc jockey session for the youngsters is because today there's a wealth of recorded music, nursery rhymes and stores especially pressed for the just-out-of-diapers trade. Whereas a year ago a disc jockey like Betsy King would have run out of discs to play in a very few weeks, today there are literally thousands of recordings which are not only entertaining for the youngsters but have the approval of the PTAs and educators generally. When there are plenty of discs to spin, it's logical that there will be a solid increase in jockeys to spin them.
Betsy King's appearance on the air was an accident. ABC cancelled Coast-to-Coast on a Bus, a network program with a big following in Boston. WCOP wanted to hold that audience and decided to replace the network program with one of its own that had the same basic appeal. It was one thing to make this decision, and still another to create a program that would hold the critical young audience.
Practically all the children who auditioned for the program went stiff before the mike, and the station was about to forget the whole thing when Gene King finally sold Mrs. King on letting their daughter have a crack at it.
Although Gene is program director of the station, he is a disc jockey at heart. He held down the Midnight Jamboree at WEVD New York for a long time, and then moved to WOR for an afternoon period of record spinning.
Eight-year-old Betsy had grown up in a show business disc jockey atmosphere, and when she sat down to play records and talk about them, it was just as though she were mimicking Daddy. She doesn't go to the studio, she goes to Daddy's office. That doesn't change the fact that she feels she has a responsibility to "her audience." She has to earn the dime a week her stint pays her -- the rest goes into a bank account about which she knows nothing.
Recently Betsy offered 100 sundial watches to the first 100 writers of letters to her program. She received 2,655 requests from 145 different communities. The cards and letters were not only bids for the watch, but also included requests for favorite discs like "I Luv a Wabbitt," "Mickey and the Beanstalk," and Betsy's theme song, "Peter, Peter, Pumpkin Eater."
Betsy insisted on checking each postmark on the letters to make certain that the first 100 writers received their watches. To the rest she insisted on writing letters telling them that she was sorry there weren't enough watches to go around. "After all," she explained to Daddy, "I can't afford to lose all my listeners."
It's Betsy's unspoiled quality, plus the extensive collection of discs from which she can choose records to spin, that has given her a higher rating than Coast-to-Coast on a Bus was receiving when it went off the air. It's only a Pulse of 4.3, but that's slightly terrific for Sundays at 9 a.m.
While giving tiny Betsy a great deal of credit, it's also wise to keep in mind that her scripts are written by her program director father. Also, Betsy rehearses. What she does comes naturally, but the reason that she's such a success is because even at eight, she's a performer.
There's an extra factor. Dad has never forgotten that it takes promotion to build even a kid session. Burl Ives crowned Betsy "Queen of the AFRA Ball" in Boston, and that too was part of what it takes in show business, on or off radio. The program hit the air for the first time last November, and it's growing in impact practically broadcast by broadcast.
The Piccadilly Dance Band recorded the song "Kitty's Kisses" in London for Piccadilly Records in August 1928. The recording was directed by Allan Selby and includes Phil Lever on trumpet; L. Cooper on trombone; Sid Lenton and H. Brooks on reeds; Bobby Davis on piano; Hal Pike on banjo; R. del Perugia on brass bass; and G. Marshall on drums.
"Kitty's Kisses" was the title song from a 1926 summer musical that faded to obscurity until its music was rereleased by PS Classics in 2009. The music was by Con Conrad, lyrics by Gus Kahn and the theater book was coauthored by Otto Harbach.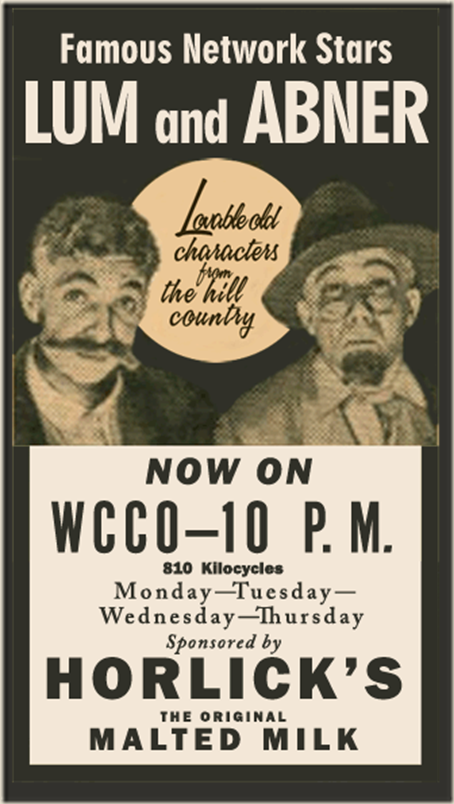 A strange sight would have greeted the eyes of anyone entering the board of directors room of the Quaker Oats Company on a summer morning in 1931. On one side of the room you would have found all the staid and dignified directors of the company, seated with their faces to the wall. On the other side you would have seen two young men talking hillbilly dialect to a broom handle!
That was the turning point in the careers of the two boys who have become famous in radioland as Lum and Abner, the Ozark hillbilly philosophers. The boys, Chester Lauck and Norris Goff, had gone to Chicago for their vacation. They had been doing their Lum and Abner show down at radio station KTHS in Hot Springs, Arkansas.
While they were in Chicago they decided to make a try at big-time radio. So they went over to the National Broadcasting Company studios in the Merchandise Mart for an audition. They didn't know much about auditions but they'd heard others speak of such things and so they guessed they'd try one, too.
And so to NBC where they met Sen Kaney. In Sen's office they watched and listened while he tuned in auditions from the various studios. Singers (both men and women), speakers, announcers, sports reporters, newscasters -- the whole gamut passed through that loudspeaker in a parade of aspiring young talent. They noticed that Sen would listen only to a minute or two of each person and then turn back to continue talking to them.
Finally they got their chance. So they got up before the microphone without a script, without anything in fact except their deft young minds and a long memory of childhoods spent in a rural district.
They did about 15 minutes and then hurried back to Sen's office. He didn't say a word as they entered. For a long moment he sat there looking at them. Then he spoke.
"Well, boys, you've got something -- but darned if I know what! You used that word 'thar' 27 times in 15 minutes."
Goff turned to Lauck and grinned. If Kaney knew they had used that word 27 times it proved he had listened to a lot more than just a minute or two of their work. At least he'd listened a lot more to them than he had the others who had been on while they had sat in Kaney's office before their turn came.
Kaney offered them $150 a week as sustaining (non-commercial) artists. They had been working at KTHS in Hot Springs for nothing -- for the fun of it -- but suddenly decided that if they were good enough to go on an NBC network they were good enough to get a lot more money than that.
They turned him down and that was the luckiest move of their lives.
Goff's father was a wholesale grocer and Norris was one of his buyers. The result was that he knew the Quaker Oats salesman who covered the Arkansas territory. The salesman had often suggested that if Norris ever got to Chicago he should look up the company and visit their plant. So before coming the boys had armed themselves with a letter of introduction from Norris' father.
There luck entered the picture once again. That company was sponsoring Gene and Glenn as a radio series. Gene and Glenn were going on vacation and the company wanted something to fill in with during their absence. So one of the officials mentioned the fact and immediately the boys offered to do a Lum and Abner audition for them.
Although Lum and Abner are strictly hayseed characters, old timers from the rural mountains, the boys themselves are really young and modern. They realized they couldn't accomplish a thing if the officers could see them.
So they herded all of the officials in the board of directors room and seated them facing the wall. In such a position they couldn't see the boys work but could hear them just as any radio fan would. Then the boys went to the opposite wall. They spied a broomstick and brought it into service as a microphone.
The Quaker Oats officials liked the act immediately. In fact, they signed them to fill in for Gene and Glenn's vacation although another act had been promised the job.
But let's pause a moment to look back into the lives of the boys and get acquainted with them.
Chester Lauck is Lum. In addition he plays the parts of Grandpappy Spears, old citizen; Butch Dolan; Oscar Fields; Dan Davis; Frank Foster; Clarence O. Willoughby; and Snake Hogan, Pine Ridge's public enemy no. 1. He was born February 9, 1902, at Allene, Arkansas, but soon the family moved to Mena, Arkansas, where he was raised. He attended the University of Arkansas and the Chicago Academy of Fine Arts. He edited a magazine in the Texas Rio Grand Valley. Later he returned to Mena to enter the bank and then became manager of the auto finance company there. He is married and has two children, Shirley Mae and Nancy.
Abner is really Norris Goff, born May 3, 1906, in Cove, Arkansas. He also moved to Mena early in life. He attended the University of Arkansas and University of Oklahoma. Later he worked for his father in the wholesale grocery firm in Mena and finally became the company's secretary and treasurer. He also is married. He has one son, Gary. In addition to being Abner, Norris (Toughy) Goff is Duck Huddleston, proprietor of the store and post office, and some others.
Both men were companions since childhood and used to indulge in much local entertainment. Their first venture in radio came on April 26, 1931, when they were asked to assist the Mena Lions Club in a town-boosting program over KTHS. Lum and Abner had planned to put on an act as black characters but discovered shortly before the program was to go on the air that another team was scheduled for the same performance doing the same thing.
With a half hour to work in, they decided to "sit and talk" much in the manner of the old Ozarks residents whom they had known all their lives. With five minutes to spare before the program opened they decided to call themselves Lum and Abner. The presentation was such a success that Lum and Abner were invited back to KTHS to repeat for eight more broadcasts. The deluge of fan mail was the greatest up to that time in the station's history.
That led them up to the Chicago audition and their first sponsor. They stayed with the Quaker Oats Company long after Gene and Glenn returned to resume their broadcasting. When that happened the company sent Lum and Abner to broadcast on stations in Fort Worth and Dallas, Texas.
Subsequently the team was sponsored by the Ford Motor Company, for whom Lum and Abner developed a program known as the Pine Ridge Sociable in addition to their nightly 15-minute show.
The Horlick Malted Milk Company of Racine, Wisconsin, took over sponsorship of the act during the early part of 1934. No network spot being available at that time, Lum and Abner were shipped up to Minneapolis to do a one-station stand via WCCO.
At the instigation of the Horlick Company, the Mutual Broadcasting System was formed in the fall of 1934 in order to bring Lum and Abner to a wider radio audience. The network consisted of WGN, WLW, WXYZ and WOR.
About their personal habits: both of them go in for golf, handball and tennis. For real entertainment they visit places like Coney Island. They have the native horse-sense of their home territory when it comes to business dealings, and considering the fact that they are among the best paid stars in the radio world they live lives that some people might consider modest and frugal.
The answer to this frugality is that they have laid the groundwork for eventual retirement by investing in annuities, insurance polices for their wives and children, and property holdings of one type or another that will net them an income in the future. Not given to lavish entertainment, both men prefer an evening of bridge and conversation with a few friends.
And there you have Lum and Abner, the men themselves, the characters of their radio series and something about the history of how they reached fame via the Ozark Mountains -- a fame which was proved when they offered to give away copies of their newspaper, the Pine Ridge News, and 350,000 requests came in!