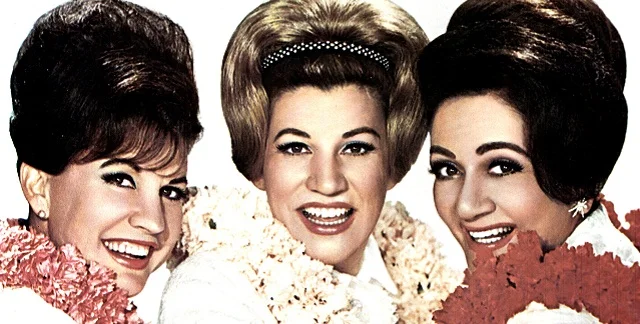 Everyone in the United States who doesn't need an ear trumpet has heard the Andrews Sisters. They're almost as inescapable as the ubiquitous Bing. And the effect of their mad chanting harmony is a lot more penetrating.
Maxene, Patty and LaVerne (the order in which they invariably line up to have their pictures taken) first dazzled the open-mouthed jive world as jukebox queens, when they bansheed a record of the plaintive Jewish melody, "Bei Mir Bist Du Schoen," This was in 1937, and by 1939-40 it was already estimated that the gals were running second only to the Automat as nickel-pullers. When you consider that every disc the public buys nets a neat two cents for the Andrews pocketbook, the trio of songbirds isn't doing so bad.
But what makes these boogie-woogie balladeers remarkable is that they never let go of a show business crown once they have it, just keep adding additional hot-lick wreaths on top. Right now in 1945, for example, they're still dynamite in the jitterbug emporiums -- as anyone who has ever tried to escape "Rum and Coca Cola," "Don't Fence Me In," and "Ac-cent-tchu-ate the Positive" knows only too well. In addition, these "belles of fire" (their own description) have managed to storm every other citadel on the entertainment horizon -- rhythm-rockin' a whole series of Hollywood movies, vocal-gymnasting their way across the nation's stages, heat-beating the airwaves to success as radio stars.
Just what magic talents have put the Andrews Sisters on the map is a debatable question. Unique style is one answer, strict attention to business another. As far as their voices are concerned, plaudits have been far from universal. Tall dark LaVerne, oldest of the sisters, boasts the lowest pitch, and critics attempting to describe it have floundered between "a sort of baritone" and "something like a bass." Maxene, middle as to age, tops as to looks, gives out with a high soprano, And blonde, talkative Patty, proud possessor of the in-between range, has complacently told reporters ''I've been hoarse like I had a bad cold" ever since the teens. (If you' re curious about their ages, best estimate is that the lasses are all still in their twenties -- but statements as to the actual number of years they've piled up vary from time to time.)
There's no doubt but that manager Lou Levy (now married to Maxene) has been a big help on the road to fame. It's Levy who spots the tunes that are going to be hits -- by the simple process of eliminating those he can't remember two days after hearing them. The New York music publisher has been guiding the trio's destinies ever since that banner year of 1937, when he sensed hidden possibilities in the then-obscure "canaries" and brought them to the attention of the Decca Records people. Levy's also the lad who stopped the Andrews Sisters from learning anything about music. (LaVerne's the one exception -- she can not only read notes but also gave up plans of being a concert pianist when she joined up with the two other jivesters.)
It wasn't until their technique and name was well-established that the girls decided they really ought to take some professional singing lessons. They attacked study with characteristic high-powered energy -- until Lou heard of it. He put his foot down hard, made it plenty clear that orthodox notes would just ruin their unique style.
Bouncing, informal, with all six feet firmly planted on the ground, the Andrews Sisters don't believe in changing horses in the middle of a stream -- nor in forgetting the ffiends who pushed them into the spotlight. Orchestra leader Vic Schoen of the Sunday afternoon radio show is the same veteran arranger and baton-wielder they've worked with for years on records. (His name, by the way, has often been a source of confusion to strictly "American" talkers who think he must have something to do with "Bei Mit Bist Ou Schoen." There's no connection.)
Back in 1938, before movies made the Andrews Sisters' faces as well known as their rumba-boogie records, many fans thought only a Black group could produce so much rhythm. As a matter of fact, the girls' father is Greek, used to run a restaurant in their home town of Minneapolis. Along with their Norwegian mother, Olga Solli, he's now abandoned the food business to travel around with his daughters and take an active interest in their professional gambols. The girls are all proud of their Minneapolis origin, make it a point to take a few weeks off every year to visit the friends of school days who still live there.
It was in this city, too, that they got their start -- bouncing on stage in a "Kiddy Revue" that didn't make much of a splash. In early years it looked. as if Patty (who now docs most of the solos) might some day win stage fame as a tap dancer, for she was "juvenile champion" of Minnesota. That didn't seem to work out, though, so she teamed up with the others to form a singing act for Larry Rich, and later for Lon Belasco's band.
Most exciting part of their careers, of course, came after they were on their own. Remember what the Andrews Sisters did with "Joseph, Joseph," "Hold Tight," "Ti-Pi-Tin" and "Beer Barrel Polka"? The jitterbugs went wild, the conservatives apoplectically labeled the trio "public nuisances" -- but, in any case, nobody could ignore them.
Early movies brought the same sort of divided response. "Buck Privates," "Hold That Ghost" and "What's Cookin' " did OK. at the box office, but even the sisters themselves admit that they screamed and retreated from the projection booth when first they saw themselves on the screen. And the Harvard Lampoon named their performance in "Argentina Nights" the most frightening of the year.
Such criticism is pretty much past history now, however, and with the continued applause given their Western-flavored Eight-to-the-Bar Ranch radio show, the Andrews Sisters have been accepted as a breezy part of the scene.
Eddie Elkins and His Orchestra recorded the song "May I" for the Rex label on April 26, 1934. Elkins, who also performed under the name The Knickerbocker Orchestra, was a San Francisco native who was among the first leaders of dance bands. With a keen eye for talent, Elkins hired and developed musicians including Tommy Dorsey, Oscar Levant and Red Nichols.
Elkins and his band were featured in the 1929 Eddie Cantor movie Night on the Ziegfeld Roof. He retired to work in the stock market in 1932 and died in 1984 at age 87.
The song "May I?" was written for the 1934 film We're Not Dressing with words by Mack Gordon and lyrics by Harry Revel. Bing Crosby and Sam Ash both sing it in the movie and Crosby went on to reprise it often in his career. Gordon and Revel were frequent collaborators, signing together with Paramount Pictues and writing the scores for 11 films. They moved to Paramount in 1936 and scored eight more films, including Stoaway and Love Finds Andy Hardy.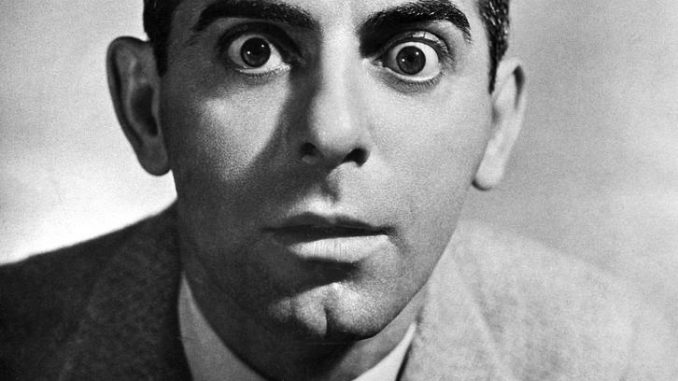 Raymond Bowes, who wrote hundreds of scripts for Eddie Cantor during the golden age of radio, died on May 16, 1984, when the light plane he was piloting struck utility wires and crashed near the village of Bentley Creek in Bradford County, Pennsylvania. He was 67.
His sister Vivian Bowes told the Buffalo News that Raymond wrote 259 radio scripts for Cantor. "He and I wrote scripts for Eddie Cantor in Hollywood," she said. After two years he left California to return to flying.
At the time of the crash, Bowes was transporting documents for Marine Midland Bank to Buffalo, where he resided in North Buffalo with Vivian and brother Clifford.
Bowes flew for the Royal Canadian Air Force and Army Air Corps during World War II, earning the Distinguished Flying Cross, two Bronze Stars and the Air Medal. He became a pilot for Trans World Airlines in 1959 and retired from that job in 1974. He also worked as the pilot for Texas oilman Sid Richardson.
Vivian Bowes told the newspaper, "We tried to get him to quit flying. I said to him last week he should stop." This was his reply: "I don't want to retire -- ever."
Lew Stone and His Band recorded the song "Wings Over the Navy" with the singer Sam Browne for the Decca label on November 13, 1939. The personnel were Stone as director, Chick Smith and Bert Bullimore on trumpet, Lew Davis and Eric Tann on trombone, Joe Crossman, Jim Easton, Laurie Bookin, and Dan Barrigo on reeds, Bobby McGee on piano, Dan Perri on guitar, Arthur Maden on string bass and Jock Jacobson on drums.
Stone was a jazz pianist, bassist, cellist, arranger, and dance band leader who led one of the most popular bands in England in the 1930s. He was also the musical director of British and Dominion Films for several years that decade.
The song "Wings Over the Navy" features lyrics by Johnny Mercer, music by Harry Warren, ukelele arrangement by R.S. Stoddon and additional lyrics by Charles Dunn. It was first recorded for the 1939 movie of the same name, which starred Charles Brent, Olivia de Havilland and John Payne. Mercer wrote the lyrics to over 1,500 songs, including the classics "Moon River", "Days of Wine and Roses", "Autumn Leaves", and "Hooray for Hollywood."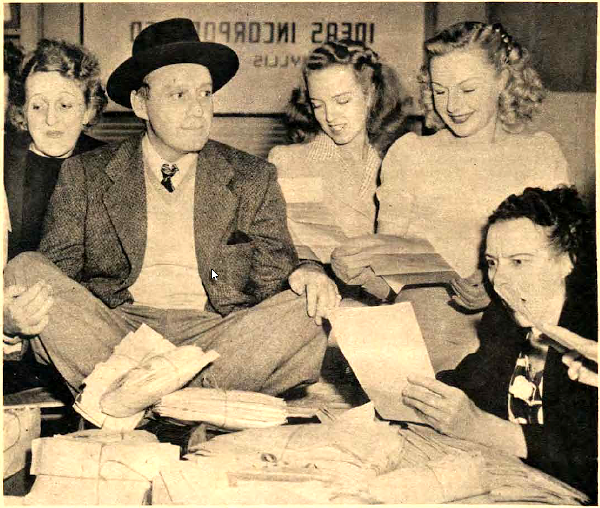 So you tore off a carton top? Visualizing thousand-dollar bank notes, shiny new automobiles and post-war electric refrigerators, you were a "goner"' before the announcer's pear-shaped vowels reached "in twenty-five words or less."
On the back of the cart top you detailed in pulsating prose why you simply cannot exist without Fluffo Flakes. With fingers crossed, you dropped it in the corner mailbox and went home to wait for the postman.
But he didn't ring -- with your prize parcel. So you became a skeptic. All contests were crooked. They probably were won by a nephew of the sponsor from Dubuque. Your letter wasn't even read. At least, that's the way you sized it up. Want to know what really happened to your entry after it left your trembling fingers and what were its mathematical chances of copping a prize?
First, consider your chances. If it was an average contest, it drew at least 100,000 entries. So right at the start the odds against you winning first prize were 100,000-to-1. And they weren't much better for you to place or show.
Do you have any idea of who might have judged your entry? It could have been anyone of five: the personnel of the program about which the contest was held, the station or network carrying the program, the program's sponsor, the advertising agency handling the sponsor's account, or, finally, an outside organization.
Usually the contest is the sponsor's baby. But the chances are that the sponsor won't take on the judging, but toss it in any one of three directions. He could hand it to the program personnel, as was done in the cases of the Jack Benny and Guy Lombardo contests. Or he might push it into the lap of the advertising agency handling his account.
The last alternative is to call in an outside organization specializing in contest- judging, This, usually, is the most satisfactory choice. Chances are if the sponsor makes this choice the call will go to the Reuben H. Donnelley Corp. of New York City, the nation's No. 1 specialist in picking contest winners.
There are other professional judges, but Donnelley is No. 1. Prof. Lloyd D. Herrold of Northwestern university does freelance judging, assembling a staff to judge individual contests on assignment. Elsie Dinsmore does all the judging for the Proctor and Gamble contests.
Donnelley has worked out judging to an exact science. It not only has a trained staff that can handle the largest and most complicated of contests, but the corporation knows how to avoid the headaches that plague the uninitiated. For a fee, Donnelley will take over all the entries, picking them up direct from the post office, guarantee that they are impartially and accurately judged, select any stipulated number of winners, and even mail out the prizes. And if anybody gets mad because they didn't win, Donnelley even will try to placate them with documented evidence showing that it was on the up-and·up.
The Donnelley concern got into contest judging quite unintentionally. Up to 10 years ago they had gone in for such services as conducting surveys, consumer-sampling, handling premium requests, compiling mailing lists, and conducting mail order campaigns. Then a client asked them to judge a contest he was sponsoring. The research department was filled with competent, potential judges, so Donnelley obligingly took it on. The contest went off so smoothly that Donnelley decided to take on judging as another of its services.
The Donnelley staff, which includes 150 college graduates, can in a few weeks go through a million entries. This staff does not stand by waiting for contests to be taken on. but are members of various Donnelley departments and are available when there's judging to be done. If necessary, Donnelley can put 600 judges on a contest.
H. G. Davis, Donnelley manager who originated their judging system, points out that there are so many technical aspects to judging a contest that it poses a major headache for a novice. In addition to the large volume of mail, all entries have to be classified, standards set up for judging the contest, and the post Office, sponsor, and contestants kept satisfied that the contest is being conducted fairly.
Here's what happens to your entry, if the contest you submitted it in happens to be Donnelley-handled. First, it is given a reading by one of the primary judges. The only factors that will eliminate it here are illiteracy, illegibility or an occasional obscene or vicious note. Or if it happens to be a right -or-wrong contest, an incorrect answer will send it into the reject pile.
If it hurdles this initial barrier, your letter detailing why Fluffo Flakes gives you the strength to carry on against even the most grueling odds then goes to the secondary readers, or junior judges, Here the entry gets its first real screening, according to standards set up for judging this particular contest. These standards may give credit for originality or novel slant, or it may penalize for using undesirable words or trite approach.
If your letter survives the junior judges, it then goes to the senior judges, who give it a more severe screening and attach an actual rating, scored point by point. The highest rated entries after this screening go to a group of three or four executives, including Davis, who review the ratings and select the winner.
To insure impartiality, Donnelley often keys the entries, deleting both name and address of contestant so that the reader knows the entry only by such identification as "K69" or "TP4". In keying entries, Donnelley often has them all retyped or photostatted. Such a procedure eliminates the suspicion that the sponsor might arrange to have winners geographically distributed so as to maintain goodwill in all sections.
Davis then sets up the standards, or yardstick, by which entries will be judged. This includes working out a tiebreaker, which is the 25 words or less that you add to your suggested title for a bar of soap, setting forth why you think "Breath of Spring" is the best name. Then, if 500 people send in the same name, the winner can be determined on the basis of the merit of the tiebreaking 25 words or less.
If you stage a nationwide contest, chances are inspectors from the post office department will be around to see you before the contest is many days old. Since the entries pass through the mails, they become of federal concern, and Uncle Sam is interested to the extent that all entries are read and all sponsorial promises kept.
Donnelley's charge for handling a contest varies with the type of material to be judged, but the fee is on a unit basis. It may run anywhere from 10 cents for short letters to 90 cents for entries including objects d'art fashioned from box tops. Anything that adds to the work of the judges, adds to the judging fee.
After a contest is over, Donnelley bales up the entries, all of which have been initialed by the judge who checked them, and sends them to the sponsor for final disposition. It is necessary for entries to be kept for awhile in case a contestant has a beef about the handling of their entry.
Donnelley, for instance, handled the recent Woody Herman contest, a typical box-topper. This contest, with six weekly winners and a final grand winner, called for carton tops of the sponsored product along with 25 words or less on "why I like Woody Herman's music."
Sometimes the "boners" committed by contestants are amusing, but they also have the sobering effect of eliminating the contestant from the running. In the Woody Herman contest, a lot of entries were sent to the wrong address. Instead of sending in a hair tonic box top, one mother sent a snapshot of her four-year-old son. One contestant wrote his 25 words on why he liked the sponsor's product, ignoring the dulcet charm of Herman's music.
Jack Benny handled his own contest, due to the fact that the contest idea originated with him and his writers, and because practically all hands save his press agent advised him against it. Contests, he was told, were to praise the product, not to damn the talent. But Jack figured the radio public could go along with a gag. So he set up a loose organization, headed by Peggy Perrin, wife of one of his script writers. On the basis of early returns, Jack estimated the contest would draw 75,000 letters. By the end of the first week 68,000 had come in. He got a larger place and frantically drummed up a staff of readers, nine on the day shift and eight on the night shift.
By the time the contest closed, Jack and his readers had gone over 277,104 letters, some of them four times. It cost Benny a little more than the $10,000 he gave away to judge the contest, which was tough on a man with Benny's reputed financial philosophy. It must have yanked his heartstrings as well as those of his purse when he had to pay $4 daily on letters sent with postage due.
In case you're determined to win some of that "easy" money, here are a few points to keep in mind. If you don't follow the rules, there's no point wasting the postage. The same holds true if you write illegibly. Keep in mind that you'll be up against thousands of other "easy" money seekers, many of whom will send in entries that would do justice to a $15,000-a-year copywriter. So unless you're willing to take a little time and do a workmanlike job, you'd be better off to put your money on a sweepstakes ticket -- it'll stand more chance of bagging a winner.
Jack Grose and His Metropole Players performed the song "Alone With My Dreams" in London on September 6, 1932, for Eclipse records. The personnel included Jay Wilbur directing, Billy Farrell and Bill Shakespeare or Max Goldberg on trumpet, Ted Heath or Tony Thorpe on trombone, Laurie Payne, Jimmy Gordon, and George Clarkson on reeds, Norman Cole on violin, Billy Thorburn or Pat Dodd on piano, Bert Thomas on guitar, Harry Evans on string bass, Jack Kosky on drums, and Jack Plant on vocals.
Jay Wilbur was a British bandleader in the Big Band era who recorded under his own name and many pseudonyms, as he did in this recording as Jack Grose and His Metropole Players.
The song "Alone With My Dreams," which has words by Frank Eyton and music Jack Buchanan, is from the 1931 movie A Man of Mayfair. Eyton was a British lyricist who contributed songs to several films in the 1930s and 1940s.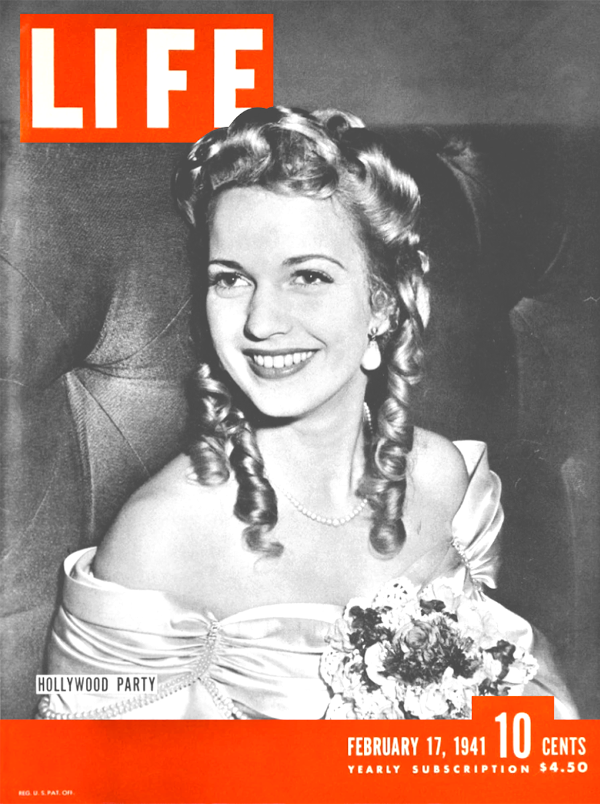 At 17, attractive Cobina Wright, Jr., isn't the least bit worried by microphones. In fact, says she, "I love 'em."
And she speaks from a wealth of experience, for the blond and beautiful daughter of an equally well-known mother has appeared before some of the nation's best mikes. These ventures into radiodom include guest appearances on We, the People, with Eddie Cantor's Camel Caravan, Consolidated Edison's City of Light, and the True Story hour, not to overlook a recent fling into the mystic realms of television.
Cobina Jr., is pretty enthusiastic about broadcasting. "I like it because you can do so very much more in front of a microphone," she declared, opening her blue eyes wide with sincerity. "Radio reaches so awfully many people. I think broadcasting is one of the most fascinating things I've ever tried."
The young lady, as you probably know, is the talented protege of her astute mother who, after seeing the Wright fortunes collapse in the general melee of 1929, set out anew to restore the social and financial status of both Cobinas by a vigorous application of wits, talent and good business sense. She did it.
High-pressured to the ranks of the glamour girls, Cobina Jr. is tallish and slim, with trimly formed features and a wealth of blond hair. Despite her seventeen years, she possesses the poise and mannerisms of a maturer woman, tinged occasionally by some girlish inflection or gesture. Product of her patrician mother's tutelage, she aspires to a continued career before the microphone and on the stage. Like Brenda Diana Duff Frazier, with whom she went to school, Cobina Wright Jr.'s name has today become nationally synonymous with the term "glamour girl."
One of the features of guest broadcasting which she finds particularly appealing is the colorful tempo of the studios. "Things are at such tension all the time," she exclaimed. "That's what I like best. You sit there, waiting for airtime, and the little second hand on the clock just creeps around and around until suddenly -- you're on the air. Also, you can never tell when somebody is going to tiptoe up behind you and cut out or change part of your script to make it longer or shorter -- right on the air, too!" Her eyes opened wide again at this almost unbelievable phenomenon.
Cobina Jr. recalls vividly the ordeal she once went through just before her guest appearance on Columbia's We, the People. There had been a mix-up over arrangements for her scheduled song, and the one she planned to use was somehow mislaid . Minutes were precious, so slim Cobina sang her way through "All Yours" minus orchestral accompaniment while Mark Warnow and his band listened with an attentive ear. Then, instrument by instrument, the orchestra picked up the tune to match Cobina's arrangement. That night no one beyond the shiny walls of the studio noticed the slightest imperfection in either music or Cobina's own flawless voice.
She thinks her love of radio dates back to her own impromptu air debut at the age of fourteen. (If anybody doesn't believe Cobina is only 17, challenges Cobina Wright Sr., they can look it up in the records of the New York Hospital.) This debut was at the Hotel Ambassador and -- oddly enough -- also with Mark Warnow. Mrs. Wright, once an opera singer of note, was a vocalist. and so introduced Cobina Jr. without fanfare. She merely marched up in front of the orchestra to that intriguing microphone and sang "Love on a Dime."
Everyone applauded enthusiastically. They didn't know, however, that it was the first time this young girl had ever sung with an orchestra or before so many people. Listeners heard her over the air, wrote glowing letters. Mrs.Wright, who has taught her daughter all that she knows about music, glimpsed the beginnings of a possible career for Cobina Jr. Engagements followed at Palm Beach, Boston and back again in New York. The young lady, however, will not sing in any nightclubs. That was settled long ago. Right now mother and daughter are working on a joint radio program which they hope to offer over a nationwide network next fall.
Eddie Cantor has done much for Cobina Jr., inviting her frequently to share his microphone. Only sometimes, in spontaneous Cantor style, he shifts lines on her so that the show doesn't exactly follow the rehearsed script. "It keeps me on my toes," she explained, "but I guess that's good for me if I'm ever going to make an attempt at a stage career."
Cobina Jr never tells her friends to listen when she's slated for a guest appearance. "1 don't know why that is," she confessed, "unless maybe I'm superstitious. I'm afraid that if everybody tunes in perhaps I'll make a mistake or something. Anyhow, I never lell them to listen. I just hope that they will."